Kayaking is a wonderfully versatile pursuit that can be enjoyed both recreationally or as a sport.
One of the key reasons I took up the sport was that I could include my whole family. I would say over 50% of my time out on the water is spent with some or all of my family unit.
Regardless of age, sex, or physical ability as long as you are well prepared there is very little preventing anyone wishing to attempt the sport from giving it a go.
A Kayak, a Paddle, a PID, and some suitable clothing is all you need… oh, water. You need water…I nearly forgot that one!
But before you rush out to the lake, take a moment to read our Top 10 Kayaking Tips For Beginners
So why 10 top kayaking tips? Well, I couldn't think of 11 and 9 is just plain weird! Drrr!!
1. Take a Lesson
Kayaking doesn't need to be hard and is a super easy sport to learn but a difficult one to master.
Yes, you could just buy a Kayak and Paddle, jump straight in the water, and paddle off down the river.
Does that mean kayaking lessons are pointless and not needed?
Hell, no. Why?
Well;
2. Choose the right Kayak
Choosing the right Kayak means; selecting a type of kayak that matches both the water conditions of intended use and your physical ability.
Type of Kayak – there are many different types of kayak; Hard shell or Inflatable? Recreational or Touring? Sit-On or Sit-In? All have their unique benefits and dis-benefits, with certain combinations better suited to different types of water conditions or paddlers. Some are better suited to rivers and lakes, others the sea or open water.
Physically Ability – If you are larger than the average paddler or have limited mobility, you will have different needs that will directly affect your kayak choice. Typical this type of paddler will and should opt for; A wider more stable kayak. With a larger cockpit, its is easier to enter and exit.
Check out our Best Kayaks for Big Guys and Girls guide for more information on kayaking for the plus side paddler
3. Buy a Dry Bag
This is a lesson that I found out the hard way. Mobiles phones and water are not the greatest of friends, who knew? Although you may think that a screw-topped storage bay is just as watertight as the doors on a submarine, don't assume it is! My tip is that you'll want to invest in a good dry bag.
A dry bag will not only keep your gear dry; it allows you to take a change of clothes, a mobile phone, or other personal items with you on the journey. Dry bags come in a variety of shapes and sizes, a must have accessory for the budding Kayaker. Top tip; better to have multiple smaller bags than 1 one large bag. Far easy to stow and distribute the weight across the full length of the kayak.
4. Dress for the Water, Not the Weather
They say clothes make the man, well they also make your kayaking experience.  Even on the warmest of summer days, the water can be deceivingly cold.  Investing in suitable Kayaking clothing and wet gear is essential as good tires on your car…. one day it might just save your life.  
I am not saying you need to wear full arctic gear in the middle of summer. But, a 2mm or 3mm shorty style wet suit would be more than adequate. And, a 5mm to 7mm full length in the cooler months.
But regardless of the weather, you'll need the must-have accessory, a good get of Kayaking Gloves
5. Buy a Life Jacket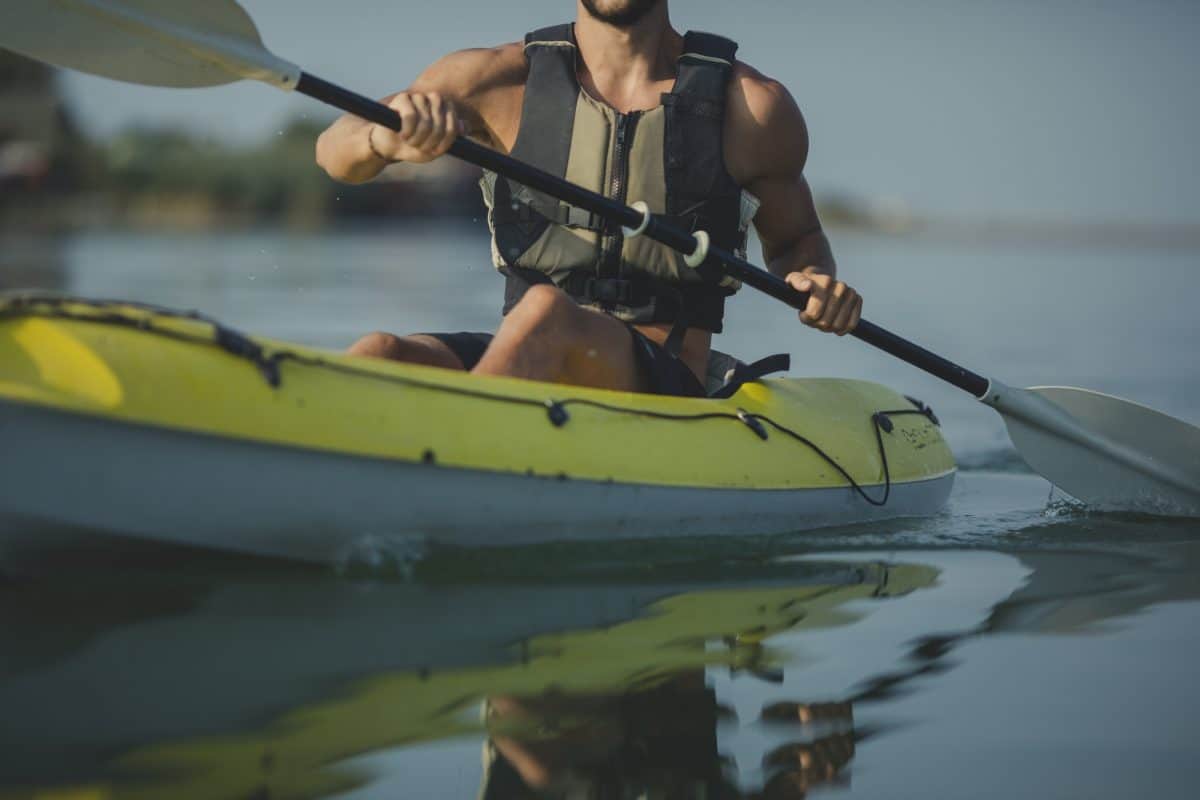 What's a PFD you say? Isn't that a Big Friendly Giant…sorry, my bad that's the BFG.
PFD is a Personal Floatation Device, basically a sport-style life jacket. It will keep you buoyant in the unlikely event that you fall overboard. Don't go thinking that because you are a world champion swimmer that you don't need a PFD, that's just crazy talk. And, possibly illegal.
If you are injured falling from your Kayak, the PFD may be the single item that keeps you alive.
They are especially important if Kayaking alone, out on the open water or anywhere with strong currents. Please always wear one.
Check out our guide to the Best kayak life vest to ensure you get a PFD that is great for paddling, safe and super comfortable.
6. Buy the Right Paddle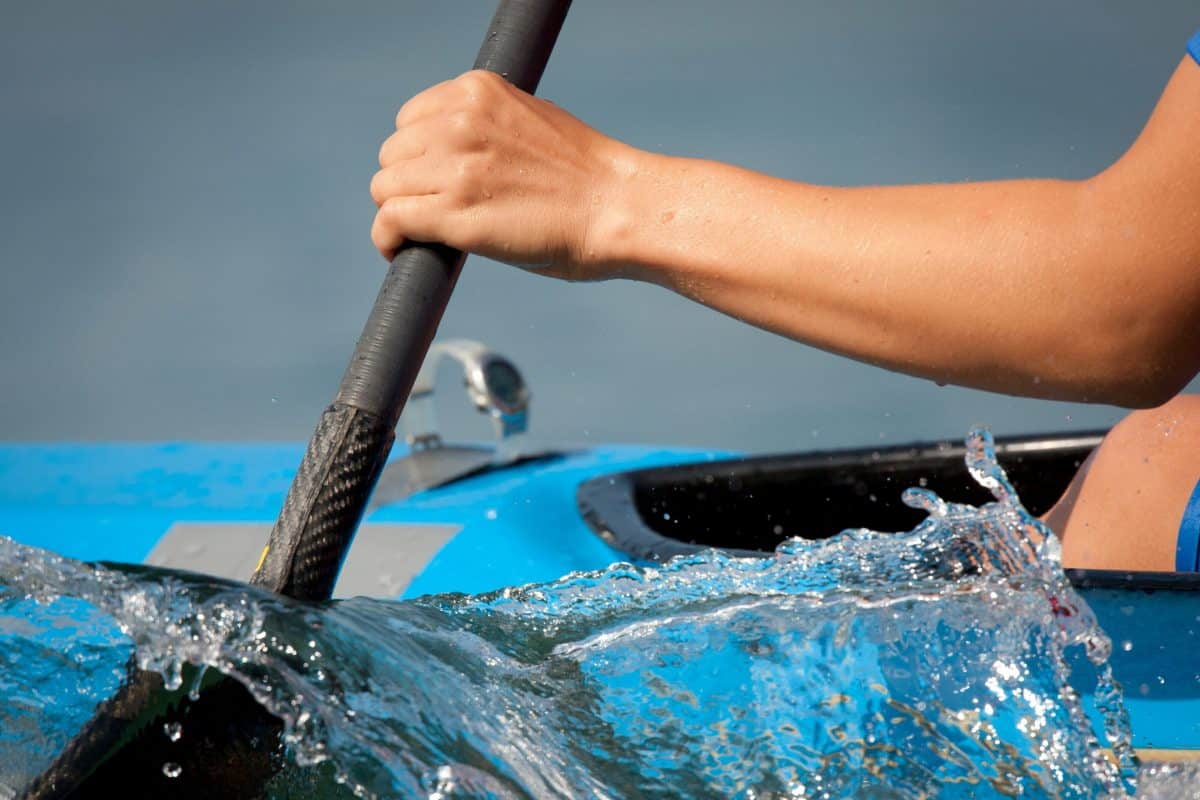 When I say right, I don't mean best. Although right and best are not mutually exclusive, there are some fundamental things to consider when choosing a paddle.
Check out our guide to the Best Kayak Paddle
7. Check the Weather
Whether you plan to be out on the open water or just on your local lake or pond, it's always wise to check the current weather conditions and forecast before your kayaking trip. Being aware of any potential adverse weather beforehand allows you to prepare and pack appropriately. Or, even postpone your trip, saving the adventure for another day. Better to be safe than sorry!
If the weather looks like rain, ensure you have a suitable wet weather gear pack, including a cockpit cover. Even a small amount of rain can quickly swap your cockpit, causing you to capsize.
Check out our guide of the top wet weather gear for kayaking
8. Check the tides
Not checking the tides before setting out on your journey could leave you stranded with no way back until the tides change. Make sure you pack your Wilson ball for the full Tom Hanks desert island experience.
Even if you manage to catch the changing tide and paddle back to base, this might mean cutting your day out on the water prematurely. Personally, as a beginner it's best to avoid tidal waters.
Create a float plan, or at the very least, always tell someone your kayaking itinerary, call them when you arrive back so they know you're safe. Should they not hear from you, they can raise the alarm and summon help. This is especially important if you plan to kayak at night .
If you plan to Kayak on a tidal lake, river or the sea, check local tide charts and tidal level forecasts.
For North American and Canada tide information check out the Center for Operational Oceanographic Products and Services (CO-OPS) Web Site.
For mainland Europe, check out the Tide-Forecast web site.
For the UK, Tide information is available on the BBC website
One last thing that you should pay especial special attention to is the position and location of any low-head dams along your routine. They are called the 'drowning machine' for a very good reason – avoid them at all costs
9. Learn the correct side and orientation of the paddle
A sure-fire way of spotting a newbie out on the water is that they have the paddle up or around the wrong way! Not only will this radically reduce the paddle's effectiveness, but it also makes you look like a complete dumbo!
As a general rule; the brand's sticker will be on the front of the blade. Looking at the blade face, the sticker will be readable if the blade is up the right way. Simple….
You're still going to get it wrong, aren't you?! Come on man!!!
10. Bring a drink
Our final kayaking tip, I know this seems the most obvious of items to bring with you. Yet, I have lost count of the number of newbie buddies that have arrived ill-prepared hydration wise.
Kayaking can be a physically demanding sport. Lack of hydration will not only affect your performance and enjoyment; it can make you feel quite unwell.
And please, no matter how temping, don't boat under the influence of alcohol – It's illegal to do so in most part of the world and will result in you being charged with a DUI / BUI. Plus, alcohol is a primary known contributing factor in boating accidents resulting in death.
Stay hydrated people – Stay safe