Waterproof but breathable fabrics, water-tight gaskets, and enough room for thermal layers you can wear underneath to stay warm and dry; that's what the best kayaking drysuits bring to the table.
You'd be silly not to invest in one if you often find yourself navigating colder waters.
But here's the tricky part:
Choosing the right drysuit isn't as easy as finding one that fits.
Allow me to guide you through the wide selection of kayaking drysuits available on the market – and we can choose the best one together!
We may receive a commission if you click a link on this page and then go on to purchase something, but at no extra cost to you. Learn more here.
At a Glace; Our Top Picks for Best Drysuits for Kayaking
In A Rush? After 41 Hours Of Research – The Winner Of Best Kayaking Drysuit:
Kokatat Hydrus 3L Drysuit
Why is it better?
Made from Kokatat's proprietary three-layer fabric that performs comparably to Gore-Tex waterproofness- and breathability-wise
It's a front-zip drysuit, complete with a relief zipper for maximum convenience
Reasonably priced and suitable for kayakers on a budget while still being as feature-rich as some pricier models
It has a self-draining, zippered chest pocket and a key lanyard
Features built-in dry socks and reinforced seat and knee patches
The dual adjustable overskirt ensures a better seal when paired with a spray skirt
Backed by Kokatat's limited lifetime warranty
Do I Need A Drysuit For Kayaking?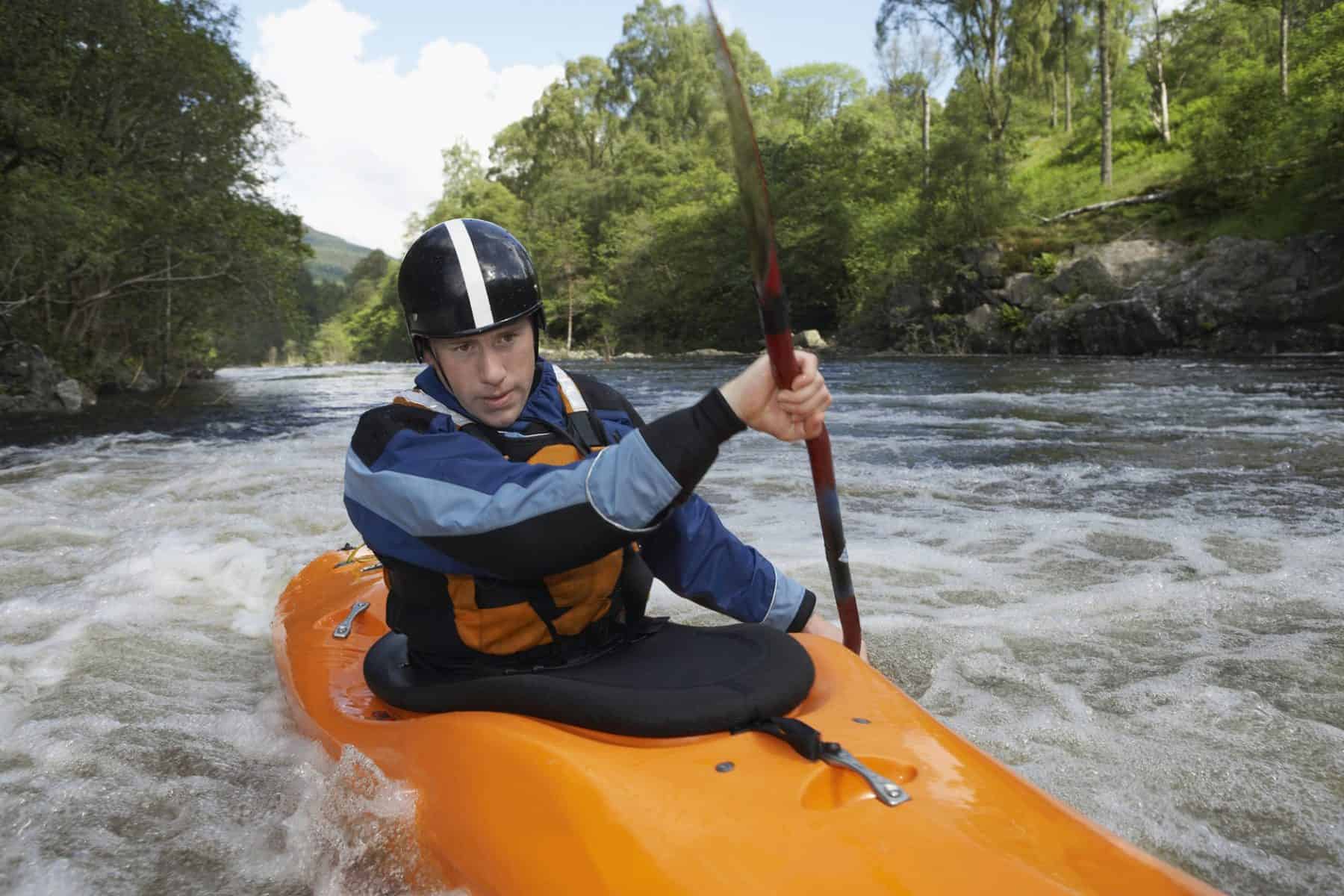 The not-so-straightforward answer to a question like that begins with a counter-question:
Where – and, more importantly, in what conditions – will you be kayaking?
A drysuit is a piece of water sports equipment that, as the name implies, is meant to keep a person dry while they're on the water. The combination of waterproof fabrics and water-tight gaskets on the neck, wrists, and ankles seals the moisture out.
You can stay on the water for hours, end up taking a swim – and you'll still come out as dry as you were when you first got to your put-in spot.
As such, a kayak drysuit is an effective means of staying dry and protecting yourself in case of immersion. Even more so, given the loose-fitting design and the fact that you're in control of the level of warmth – based on the layers worn underneath – drysuits are inherently more versatile, too.
When deciding whether you need a drysuit for kayaking, it's best to do a quick risk assessment that'll factor in the temperatures and the environment.
Will you be in a cold water environment, where the temperatures are at – or below – 60 degrees Fahrenheit? Will you be kayaking in open waters or running whitewater rapids? Is there a risk of cold shock and hypothermia if you end up in the water? Would you prefer to stay dry?
If the answer is "Yes," then – yes, you do need a drysuit for kayaking.
There are instances where a wetsuit for kayaking would be the preferred choice, such as when the risk of hypothermia is moderate to low.
However, generally speaking, in water temperatures below 45 degrees Fahrenheit, kayaking drysuits are the only efficient method of staying dry and warm.
How To Choose A Drysuit For Kayaking: Things You Need To Consider
Your kayak drysuit will likely be one of the most expensive pieces of equipment – other than the actual kayak, that is – that you'll invest in as a paddler.
How much does a drysuit cost, exactly?
Well, you can expect to spend at least half a grand – but higher-quality, feature-rich drysuits can cost upwards of a thousand bucks. But I'd like to add that they last a very long time – 15 or so years on average.
Still, when choosing the best drysuit for kayaking, make sure that you're getting the best value for your money.
Drysuit Material: What Are Kayaking Drysuits Made Of?
Drysuits are made of waterproof – and, ideally, breathable – materials. But what exactly are your options in terms of construction?
You generally have two options – Gore-Tex and nylon. However, many manufacturers came up with proprietary laminate materials for making drysuits for kayaking that perform almost as good as Gore-Tex but are a bit easier on the wallet.
Here's a quick run-down of the most commonly used materials:
Gore-Tex – This highly durable, high-end laminate fabric is made of ePTFE or expanded polytetrafluoroethylene. It's more expensive than other materials since it boasts a higher level of breathability, so it's reserved for making high-end kayaking drysuits. The extra cost is almost always worth it, as no other material comes close to Gore-Tex in terms of breathability and durability.

Nylon – Cheaper drysuits are typically made from this material. Urethane-coated nylon fabrics – essentially, nylon that's treated with a waterproof coating – are good at sealing the water out but aren't as breathable. Sweating and, in turn, build-up of moisture inside the drysuit will likely be an issue.

Proprietary Laminate Materials – These are also a combination of a waterproof-but-breathable membrane that's sandwiched between two fabric layers. Brands developed these fabrics as a cheaper alternative to Gore-Tex, and while they can be almost as good, they're generally not as breathable as the "original."
What About The Seals?
The seals – also known as gaskets – are the second most crucial part of a kayaking drysuit to consider construction-wise. In addition to the waterproof fabrics, water-tight seals are vital for ensuring that the drysuit functions properly.
Latex is the most common choice of material for making the neck, wrist, and ankle gaskets, as it's very efficient at keeping the water out of the drysuit.
However, for those who are allergic to latex or find the latex neck gaskets a little uncomfortable, neoprene can be decent – albeit not entirely water-tight – alternative.
Relief Zipper: Waterproof & Strategically Placed
Entry points are generally strategically placed to ensure maximum efficiency of a kayak drysuit; it's not your average piece of clothing that we're talking about here, after all.
Now, in terms of entry points – this is pretty much a fancy way of saying "zippers" – you'll have two options:
Front entry, where the main entry zipper runs across the chest, starting at the shoulder and toward the side of your waist. Front relief zipper drysuits are generally easier to put on and zip up by yourself.
Rear entry, where the zipper runs across the back of the drysuit, between the shoulders. Rear-zip drysuits are a popular choice among whitewater kayakers, who need to pair the suit with a spray skirt. However, you'll probably need someone's help closing it.
Up until recently, these were your only options.
However, there's now a third style of kayaking drysuits – the so-called two-piece drysuits – with a zipper that runs across the waist. The zipper joins the top and bottom parts into a full-body drysuit while also allowing you to use them separately.
Besides the main – or entry – zipper, you want to check if the drysuit comes with the so-called relief zipper.
If you've ever worn a wetsuit before, you're probably aware that you generally have two options when it comes to bathroom breaks:
Taking the entire suit off every time or – well, peeing in it.
While that's something you could technically do in a wetsuit, drysuits have a different design – and that means bathroom breaks usually involve a bit more forethought.
In any way, a relief zipper – also called a "drop seat" on women's models – is a feature to consider when choosing the best drysuit for kayaking.
Size & Fit: How Do I Know A Drysuit Fits Me?
When you start browsing the market, you'll notice that the best kayaking drysuits can be labeled as "loose-fitting," "relaxed," and, in some cases, even "tight-fitting."
You can generally expect drysuits to be roomy and comfortable; you're supposed to add a layer or two underneath for warmth, after all. As for the tight-fitting models, don't expect them to be as skin-tight as wetsuits tend to be:
They're just less bulky and don't have as much excess fabric to allow for improved mobility.
With that in mind, when checking the fit of a new drysuit for kayaking, consider the following:
Does it accommodate the insulating layers you'll wear underneath?
Does it feel tight when you sit down or bring your elbows together?
Does it fit well around the waist?
Do the built-in dry socks fit you?
How tight are the gaskets, especially the neck one?
Does it allow for freedom of movement throughout your paddling stroke?
Additional Features: Your Wants & Needs
You're paying a lot of money for that kayak drysuit; you're entitled to some wants and needs.
There are plenty of extra features that make the best kayaking drysuits more functional, comfy, safe, and user-friendly. Not all of them are absolutely necessary per se – but they often make a difference between "good" and "great."
Here are some examples of the additional kayak drysuit features worth considering:
Waterproof pockets will allow you to store essential personal items and valuables, as well as kayaking essentials, such as GPS units and flares
Built-in dry socks instead of ankle gaskets will keep your feet dry and warm but need to be paired with neoprene booties for added protection
Hoods that are either built-in or removable can be helpful if you often kayak in the rain and windy conditions
Reflective stripes on a vibrant-colored kayak drysuits are viewed as a safety feature that improves your visibility and can be crucial in emergency rescue missions
Reinforced patches in high-wear areas, such as the knees, elbows, and seat, add to the drysuit's overall durability
Gear loops, usually made of nylon, can be handy to kayak anglers; they can use them for keeping lighter gear, such as tackle, within arm's reach
Which ones you'll need is mostly a matter of personal preference.
So, while you're at it, take a moment to make a list of all your needs and wants before you move on to my round-up of best kayaking drysuits.
Best Kayak Drysuits – Reviews & Recommendations For 2022
Best Rear-Zip Drysuit For Kayaking
O'Neill Men's Boost 300g Drysuit
To show you that you can get a decent drysuit on a budget, I'll start this round-up with O'Neill Boost.
O'Neill's loose-fitting Boost drysuit is made of three-layer, 300-gram nylon, which feels rugged while also allowing a decent breathability level. The drysuit's gaskets are made of latex, except for the neck seal made of neoprene for improved comfort.
Also, I like that it features built-in suspenders; they help keep everything in place when you're wearing several insulating layers underneath.
It features a rear-entry zipper, though. You could ask someone to help you zip it up – but if you generally paddle alone, this could be a problem.
Oh, and while we're at it, it doesn't have relief zippers, either.
Technical Specs
Three-layer nylon fabric
Latex gaskets and neoprene neck seal
Rear entry suit
Pros
Relaxed fit allows for extra layering without affecting mobility
Neoprene neck seal makes it more comfortable
Integrated internal suspenders keep everything in place
Reasonably priced kayak drysuit
Cons
The rear entry zipper makes it harder to close by yourself
Doesn't feature a relief zipper
The neoprene neck seal will let some water in
If you're okay with the rear-zip entry and don't mind if some water finds its way into the drysuit, the reasonably-priced O'Neill Boost could be a good fit.
Best Budget-Friendly Drysuit For Kayaking
Stohlquist EZ Drysuit
Stohlquist's EZ is another budget-friendly drysuit for kayaking that deserves a spot in my round-up.
It's made from Stohlquist's proprietary 4-Layer Twin Sensor nylon fabric; the fourth layer is a welcome addition in terms of thermal protection.
It features a neoprene neck gasket, though, so it won't be entirely water-tight – but you're in for a comfortable experience. The wrist and ankle seals have adjustable cuff covers, which is a plus.
Speaking of comfort and convenience, it's a front-entry-style drysuit with relief zippers and built-in universal-fit dry socks. It also features articulated armored knees, adding to mobility.
It's not a drysuit that can be washed in a washing machine – meaning regular maintenance can get a bit frustrating.
Technical Specs
4-Layer Twin Sensor nylon fabric
Neoprene gaskets
Front entry zipper
Pros
Front-entry style drysuit with a relief zipper
Has integrated universal-fit dry socks
Articulated armored knees improve mobility
Adjustable cuff seals and a neoprene neck gasket
Reflective stripes for better visibility
Cons
It requires hand-washing with soap and water
Not as breathable as Gore-Tex fabric
The neoprene neck seal will likely let in some water
If you want a great all-around drysuit for kayaking that doesn't cost a fortune but still provides a decent amount of protection and comfort, the Stohlquist EZ is a safe bet.
Overall Best Kayaking Drysuit
Kokatat Hydrus 3L
Kokatat Hydrus 3.0 Meridian is one of the most impressive kayaking dry suits I had the pleasure of wearing recently – and here's why:
This front-zip drysuit is made of Kokatat's proprietary three-layer Hydrus 3.0 fabric, meaning it's waterproof – and more importantly, incredibly breathable. It's as close to Gore-Tex fabric as you can get at a budget-friendly price.
Kokatat's Meridian drysuit features latex wrist gaskets paired with neoprene cuffs and a range of bells and whistles:
You're getting a relief zipper, a zippered waterproof chest pocket with a key lanyard, and a dual adjustable overskirt for better compatibility with a spray skirt. Furthermore, it features built-in dry socks and reinforced patches in high-wear areas, along with a drawstring waist for a better fit.
If there's one downside to mention, it's that the neck gasket tends to feel a bit snug at first – but only while the drysuit's still brand new.
Technical Specs
Proprietary three-layer Hydrus 3.0 fabric
Latex gaskets
Front entry zipper
Pros
Built-in dry socks and dual adjustable overskirt
Reinforced knees and seat
It has a relief zipper
Convenient zippered chest pocket
A drawstring waist for adjusting the fit
Cons
The neck gasket can be a little snug at first, while the drysuit is still new
Your color choices are limited to blue and orange
A highly practical, comfortable, feature-rich, and reasonably-priced drysuit for kayaking – that's how I'd describe the Kokatat Hydrus 3L Meridian. It's hard not to recommend a model like this one!
Best Kayak Drysuit For Kids
Gill Junior Pro Front Zip Drysuit
If cold weather isn't enough to deter the youngest paddlers in your family from joining you on the water, consider getting the Gill Junior Pro drysuit:
This kayaking drysuit is designed specifically for younger kayakers. It's made from a three-layer nylon fabric that's both water- and wind-proof while retaining some breathability.
The gaskets are made of latex, with ankle covers for added protection. What's more, it features a front-entry zipper and a set of internal adjustable braces, coupled with an elasticized waist for a better fit.
Also, the reinforced panels on the knees and seat are a welcome feature durability-wise.
The addition of a relief zipper and built-in dry socks would've made Gill Junior Pro the perfect kids-sized drysuit for kayaking.
Technical Specs
Three-layer nylon fabric
Latex gaskets
Front entry zipper
Pros
Convenient front-zip entry
Internal adjustable braces and elasticized waist for a better fit
Ankle gaskets feature covers for added protection
Reinforced seat and knee panels
Cons
The lack of a relief zipper will make bathroom breaks a lot harder for kids
Built-in dry socks would've been great for head-to-toe protection
Gill Junior Pro might be a kids-sized drysuit for kayaking but offers the same level of protection that you'd find in any of the models made for grown-ups. That's what matters most.
Best Drysuit For Kayaking For Men
Stohlquist Amp Drysuit
At a glance, Stohlquist's Amp drysuit looks like your average drysuit for kayaking. But unlike the majority of non-Gore-Tex drysuits I've tested, it kicks things up a notch with the four-layer Twin Sensor fabric.
A completely waterproof yet breathable fabric sandwich, made of 4 distinct layers; a durable water repellent nylon-shell outer layer, microporous midlayer, a hydrophilic laminated membrane and a soft breathable lining made of nylon tricot.
Coupled with the slightly relaxed fit, there is plenty of space to layer clothing underneath – for excellent thermal protection – a must-have in an extreme kayaking environment.
The gaskets are made of DuraSeal latex coupled with adjustable cuff covers on the wrists and ankles.
Other features include a waterproof cross chest entry zipper for ease of access, built-in spray skirt tunnel, easy-to-reach zippered arm pocket, built-in fabric drysocks, Cordura-reinforced high-wear areas – and a relief zipper. Oh, and it also has reflective strips, which adds to the visibility – easy to see it was designed with whitewater kayaking in mind.
As rigged out as it is, it can't compete with Gore-Tex in terms of ruggedness and breathability, though.
Technical Specs
Four-layer Twin Sensor nylon fabric
DuraSeal latex gaskets
Front entry zipper
Pros
Built-in dry socks, spray skirt tunnel, and zippered pocket
Cordura seat and knee reinforcements with mesh drainers
A relief zipper
Reflective panels for visibility
Adjustable neoprene cuffs over ankle gaskets
Cons
The fabric doesn't offer as much breathability as a Gore-Tex drysuit
It has to be hand-washed
The women's model doesn't have a drop seat
If there's a drysuit that proves that you can have the bells and whistles – from a relief zipper and tunnel to pockets and dry socks – on a budget, it's the Stohlquist Amp.
Best Gore-Tex Drysuit For Kayaking
Kokatat Men's Gore-Tex Meridian Drysuit
Unlike the Hydrus 3L Meridian drysuit made of Kokatat's proprietary fabric, this model boasts an actual three-layer Gore-Tex construction.
So, you can expect two things from Kokatat's Meridian drysuit for kayaking:
It's going to be a lot more rugged and breathable – Gore-Tex is hard to beat in that sense – and a bit more expensive, too. But given all the additional features, I'd say the price tag is more than justified.
It has a user-friendly front-entry zipper, latex gaskets paired with neoprene cuffs, Cordura knee and seat reinforcement panels, and a pair of integrated Gore-Tex Pro dry socks.
What's more, it features a handy zippered chest pocket, an adjustable drawstring waist, and a dual adjustable overskirt. And yes, it also comes with a relief zipper.
Technical Specs
Three-layer Gore-Tex Pro fabric
Latex gaskets
Front entry zipper
Pros
Cordura reinforcement panels in the seat and knee areas
Features a relief zipper
Includes built-in dry socks and dual adjustable overskirt
Adjustable drawstring waist for a better fit
A zippered chest pocket
Cons
It costs almost twice as much as non-Gore-Tex drysuits for kayaking
The latex gaskets might feel a bit tight while they're still brand new
If you want to upgrade to a drysuit for kayaking made of Gore-Tex fabric and would appreciate the added level of breathability, consider going with Kokatat's Gore-Tex Meridian drysuit.
Best Drysuit For Kayaking For Women
Kokatat Women's Hydrus Swift Entry Drysuit
Here's another Kokatat drysuit worth considering – if you're a lady, that is.
Kokatat's Hydrus Swift Entry kayak drysuit is designed for the ladies, featuring women's specific patterning – and, to make things even better, a built-in drop seat.
Construction-wise, it's made of the same proprietary three-layer fabric – Hydrus 3.0 – known for being waterproof and offering a decent level of breathability. As for the gaskets, they're made of latex; wrist gaskets even feature hook-and-loop cuffs for an adjustable fit.
Much like my previous pick, this front-entry suit comes with a customizable drawstring waist, reinforced patches on the knees and seat, and built-in dry socks.
The main complaint is that it doesn't have a zippered pocket that I've found on Kokatat's men's dry suits.
Technical Specs
Proprietary three-layer Hydrus fabric
Latex gaskets
Front entry zipper
Pros
Adjustable hook-and-loop closure cuffs and a drawstring waist
Reinforced knee and seat patches for added durability
A built-in drop seat makes bathroom breaks a breeze
Features integrated dry socks
Cons
Your color choices with this model are limited to bright blue only
A waterproof pocket somewhere on the drysuit would've been a great addition
My wife swears by her Kokatat Hydrus Swift Entry kayak drysuit and considers it one of the best women's drysuits for paddlers on a budget. Ladies, be sure to check it out!
Best Kayak Drysuit For Comfort
Crewsaver Atacama Sport Drysuit
The last one up is the Crewsaver Atacama – big brother to the popular Crewsaver Cirrus Drysuit – a reasonably-priced semi-dry suit for kayaking that is worth considering if you're allergic or find latex gaskets uncomfortable.
This front-zipper entry drysuit is made of three-layer nylon fabric – that's to be expected from lower-priced models – and, instead of latex, features gaskets made of neoprene. While that's a plus in terms of comfort, it also means that the seals aren't entirely water-tight – but its only fair to point out that the suit is equipped with integrated latex socks.
Thanks to the elasticated waist and adjustable internal braces, the Atacama Sport drysuit allows you to create a custom fit. And to add to it, the drysuit's designed with articulated arms and legs, offering impressive freedom of movement.
However, the sizing is somewhat limited – paddlers over six-foot-three tall are out of luck – and it doesn't feature a relief zipper.
Technical Specs
Three-layer nylon fabric
Glideskin neoprene neck and wrist seals
Front entry zipper
Pros
Elasticated waist for an improved fit
Articulated arms and legs ensure better mobility
Integrated latex socks to keep your feet dry
Cordura reinforced seat and knees for extra protection
Handy leg pocket with a D-ring attachment
Cons
There are some sizing limitations for taller paddlers
It doesn't feature a relief zipper
Neoprene gaskets aren't water-tight, so it's only semi-dry
Lacks color options
Crewsaver's Atacama Sport semi-dry suit for kayaking is a solid option for paddlers on a budget – as long as you don't mind getting a little wet, that is.
Best Drysuits For Kayaking: Conclusion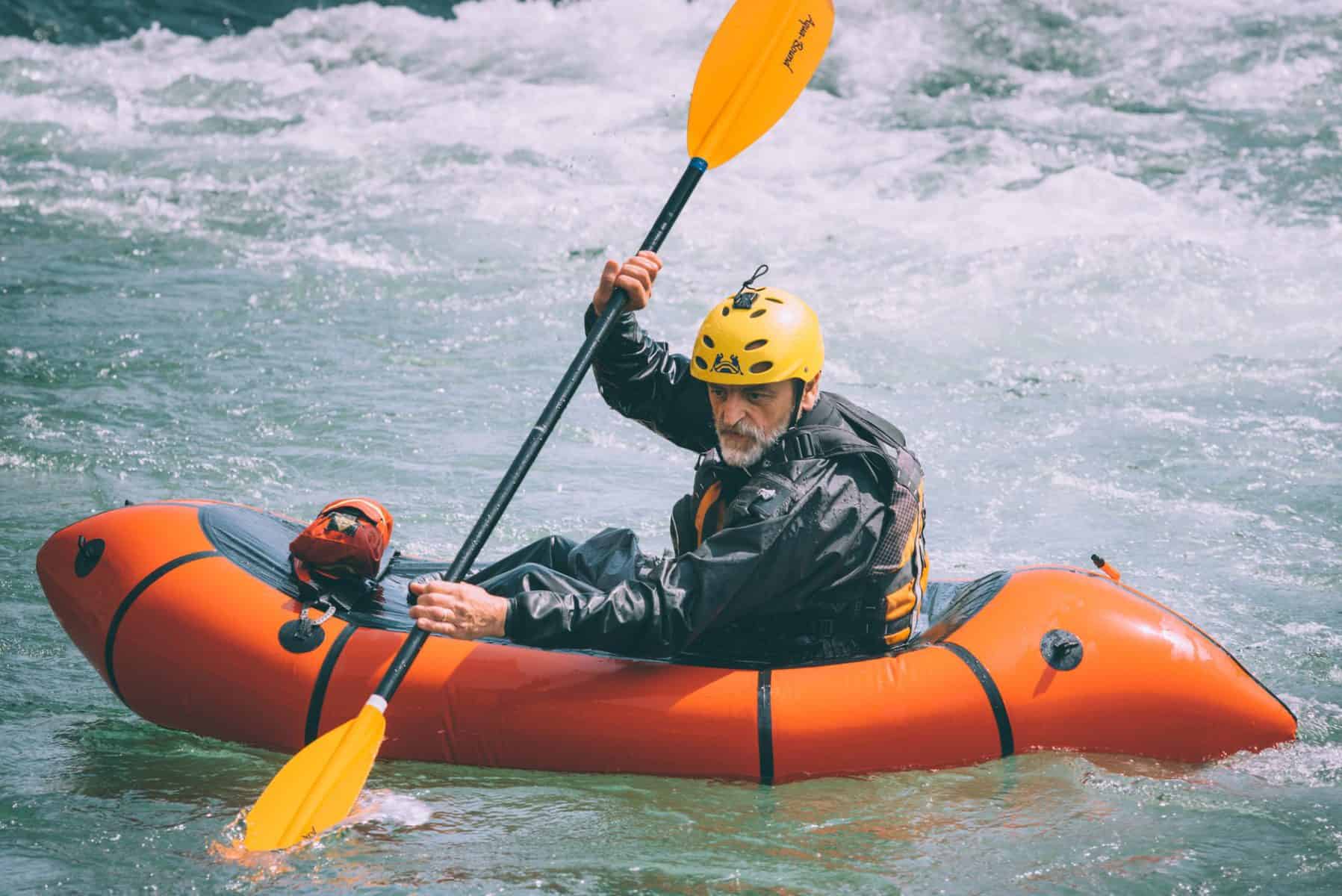 If you have the budget for it, by all means, get a drysuit for kayaking made from Gore-Tex. You won't regret it.
But if not, I want you to know that there are some excellent alternatives available on the market – Kokatat's proprietary Hydrus 3.0 fabric being one of them.
That's one of the reasons why I consider the Kokatat Hydrus 3L one of the best kayaking drysuits out there:
It offers the convenience of a front-zip entry and a relief zipper, features integrated dry socks, a dual adjustable overskirt, and an easy-to-reach pocket – and yet it doesn't cost a fortune.
If that's not a sweet value-for-money deal, I don't know what is!