A kayak is a kayak – or is it?
There are just as many different types of kayaks as there are ways to use them. It's safe to say your options are virtually endless.
But before you can decide which kayak is right for you, you need to understand your options in terms of design, construction, specific uses, propulsion, and the like.
That brings us to one fundamental question:
What are the different types of kayaks?
Consider this the ultimate all-in-one guide to the many kayak types, crucial differences between them, and recommended uses!
We may receive a commission if you click a link on this page and then go on to purchase something, but at no extra cost to you. Learn more here.
What Is The Best Kayak Type & Why Does It Matter, Anyway?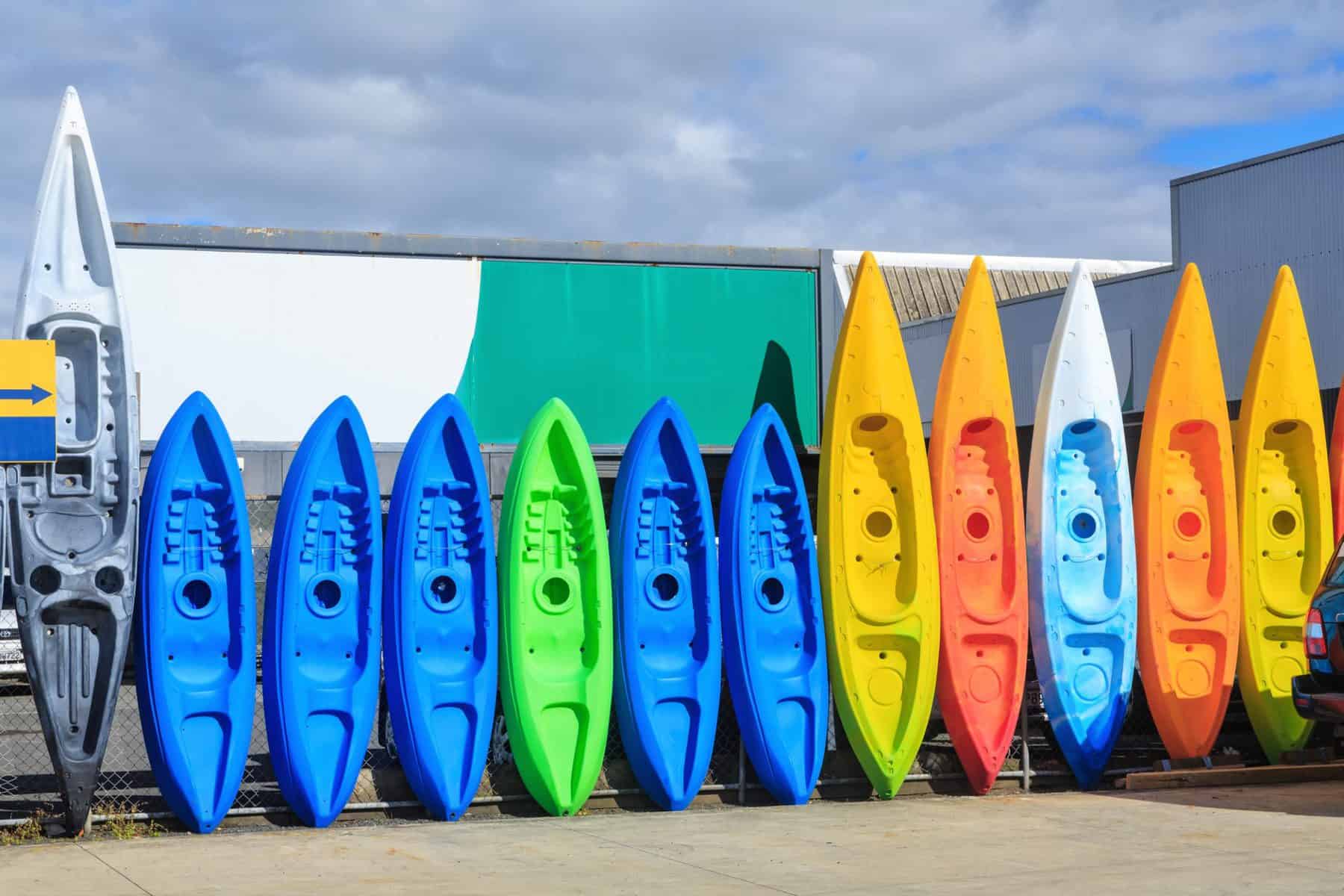 With so many different kayak types available, it can be tough to get a handle on which kayak is the right choice for you. Having a virtually limitless number of options can be a good thing, but it can also make the process a bit overwhelming.
You can't just buy the first kayak you see because it looks nice and fits your budget.
That's not how this whole kayaking thing works.
Kayaks differ based on their construction and materials, hull design, anatomy and parts, intended use and paddling environment, number of paddlers they can accommodate, and means of propulsion . And all the different kayak types, as varied as they are, exist for a reason.
They're designed to meet your kayaking goals, aspirations, and performance requirements in a specific environment.
What is the best kayak type, then?
It's impossible to give a single, straightforward answer to a question like that.
Some are designed for stability and maneuverability; others prioritize efficiency. Some 'yaks are all about portability and user-friendliness. And some focus on specific activities, such as fishing, kayak camping, and running rapids.
The determining factor here is how you plan to use your new kayak.
If you're just getting started, a recreational sit-on-top kayak would be fantastic – but a seasoned paddler looking to take extended trips on open water wouldn't find this type of kayak useful. An adrenaline junkie who likes tackling whitewater rapids wouldn't even bother trying a recreational kayak.
Someone who lives in a small apartment may have unique requirements and expectations, too. The same goes for those who like to travel and hope to bring their kayak along for the ride.
That's the thing with all these different types of kayaks:
They exist for a reason – because someone somewhere needs a specific type of kayak that can handle the particular type of environment and conditions.
What Are The Different Types Of Kayaks?
Let's take a closer look at all the different types of kayaks, the crucial differences between them, and their strengths and weaknesses!
Types Of Kayaks By Construction
You have several different types of kayaks to choose from based on the construction and the materials used for making them.
Hard-Shell Kayaks
Rigid or hard-shell kayaks are the largest category of kayaks available on the market. There are tons of designs and features to choose from – but what they all have in common is the rigid hull.
Hard-shells are made from a variety of materials, including:
Plastic – Kayaks made of rotomolded polyethylene are the most common and the most inexpensive types of hard-shell kayaks on the market. Moreover, this category includes thermoform kayaks made of impact-resistant ABS plastic that falls somewhere between rotomolded PE and composite kayaks.

Wood – Wooden kayaks are a thing of beauty; structurally-efficient, traditional-looking, and lightweight. They're a product of manual labor and craftsmanship, rather than mass-produced, with the two most common construction styles being stitch-and-glue and strip-built wooden kayaks.

Composite Materials – "Composite" is a broad term that covers fiberglass, carbon fiber, and Aramid fiber and refers to kayaks that feature a layered synthetic fabric construction bonded with resin. These 'yaks are known for their ultra-lightweight hulls and unmatched efficiency, responsiveness, and tracking performance.
Again, this is an insanely broad category – but the Perception Flash 9.5 seems like an excellent representative of the hard-shell bunch.
Inflatable Kayaks
Modern-day inflatables can hold their own against rigid kayaks and have become quite popular among recreational – and even whitewater – kayakers – they are also a great choice if you're a beginner.
Some of the most notable advantages of inflatable kayaks include:
Lightweight design that usually weighs less than 30 pounds
Increased stability thanks to the broader kayak beam
Inherent buoyancy due to air-filled chambers
Portable and storage-friendly, ultra-compact deflated size
Higher weight capacity than a comparable hard-shell
Budget-friendly prices
Inflatable kayaks are made from hard-wearing, puncture-resistant PVC and synthetic rubbers, such as Hypalon and Nitrylon.
You can't expect the same performance level as you would from a hard-shell, though. Inflatable 'yaks tend to feel somewhat sluggish and hard to handle; it'll take some getting used to if you've never paddled one before.
You can't go wrong with the budget-friendly Intex Explorer K2 – but check out my best inflatable kayak reviews if you'd like to know more!
Folding Kayaks
Foldable or collapsible kayaks bridge the gap between hard-shells and inflatable kayaks. They feature a rigid-but-foldable frame and flexible, waterproof "skin" stretched over it, although you'll find newer models that feature folding panels instead.
Either way, the concept remains the same:
These high-performance collapsible kayaks are stiffer than inflatable kayaks while retaining the same level of portability and convenience. And their handling and performance are comparable to that of touring hard-shells.
Remember that folding kayaks cost more than an inflatable – and don't expect them to be as durable as hard-shells.
Still, if you like to hike and travel a lot, folding kayaks – like this Oru Kayak – should be right at the top of your list.
However, if you'd like to know more about my favorite folding kayaks, have a look at this article!
Types Of Kayaks By Design
While there are many different types of kayaks, all of them – regardless of the specific features and intended uses – fall into one of the two categories.
They're either sit-on-top or sit-inside kayaks.
Sit-On-Top Kayaks
Sit-on-top – or SOT – kayaks are designed so that the paddler sits on top of the deck, on a kayak seat, or in a molded-in seating area.
Either way, there's no enclosed cockpit openings, meaning that the paddler is left "exposed."
SOTs are the preferred type of kayak in warmer climates. They're a great choice for recreational paddlers, beginners, kayak anglers – as well as those who get a bit claustrophobic in a sit-inside kayak.
Plus, they're easy to hop in and out of and are virtually unsinkable because they don't fill up with water.
You're bound to get wet, though.
That's probably the most significant downside of SOT kayaks.
If you don't mind a few splashes here and there, check out the Pelican's Sentinel 100X – it's one of my personal favorites.
Find more suggestions in my best sit-on-top kayak reviews!
Sit-Inside Kayaks
Sit-inside, also called sit-in kayaks – or SIK for short – follow a more traditional design, with the paddler sitting inside a closed cockpit.
Whitewater kayaks, touring and sea kayaks, racing kayaks, recreational 'yaks, and tandems; a lot is going on in the sit-inside category. A closed cockpit – usually paired with a spray skirt – is what they all have in common, though.
It protects the paddlers from the elements and splashing water, keeping the inside of the cockpit dry and warm.
Another thing that sets them apart from their SOT counterparts is that they're narrower, have a lower center of gravity, and offer better maneuverability and tracking performance. That makes SIKs the preferred choice for colder weather, rough waters, and long-distance paddling, where efficiency is a priority.
They're not the best choice for beginners, though, as they're harder to re-enter from the water and require a bit more advanced paddling skills.
If you're still interested in getting a sit-inside 'yak, Wilderness Systems' Pungo 125 is a fantastic recreational kayak to consider!
Types Of Kayaks By Method Of Propulsion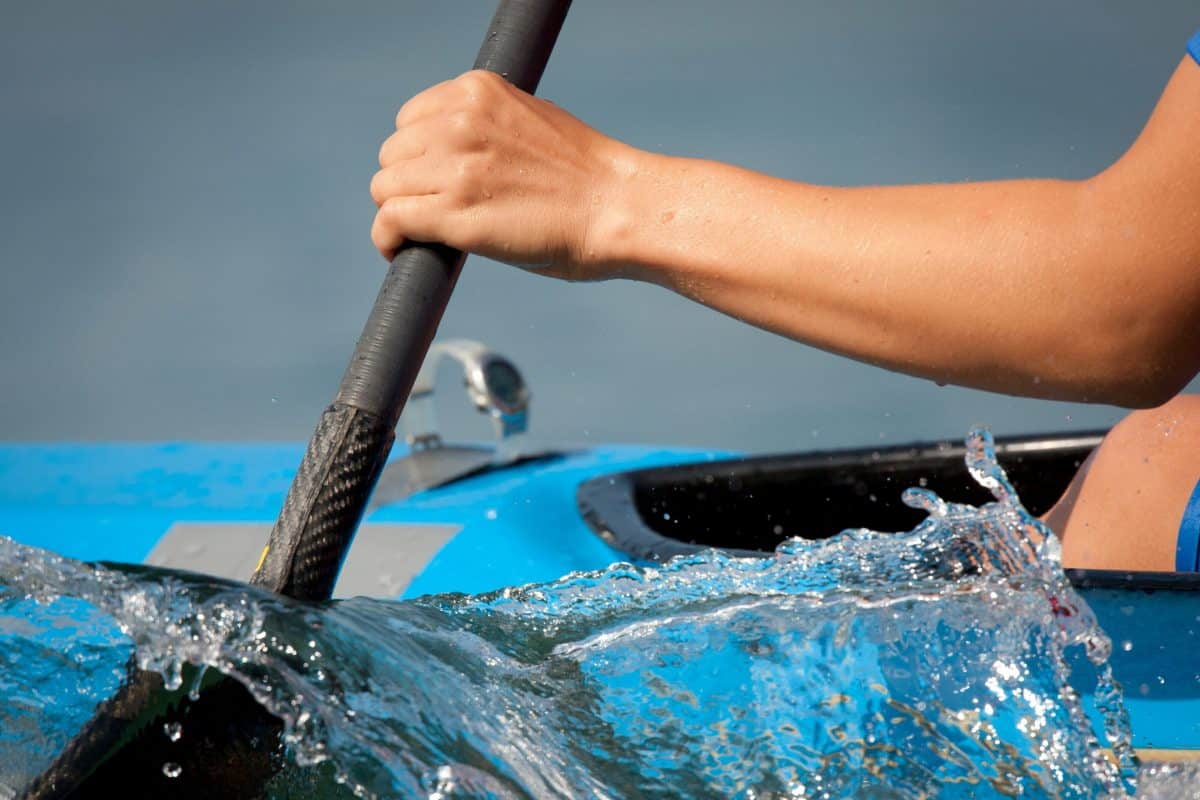 Paddle-Propelled Kayaks
Two-bladed kayak paddles are the kayaker's weapon of choice for getting from point A to point B.
The paddle is the primary method of propelling a kayak – you're not getting anywhere without one. As long as you choose the correct paddle size that works for your body, paddling style, and the kayak itself, you can propel just about any kayak out there.
If you decide to go with a paddle-propelled kayak, check out my round-up of best kayak paddles for a few highly recommended options!
And yes, you do need a kayak paddle even if your 'yak is fitted with the pedal-drive system or a trolling motor.
Pedal-Powered Kayaks
Kayaks with pedal propulsion systems are serious game-changers – especially for anglers and those who get tired of paddling way too quickly.
You get all the perks of kayaking – but in a hands-free edition!
These kayaks feature pedal-drive systems similar to the mechanism you'd find on a bicycle, with either push pedals or rotational pedals. The latter is more efficient and easier on the lower body, though.
Some of the essential advantages of pedal-powered kayaks include:
Hands-free and user-friendly propulsion
Less fatigue and better efficiency
Greater thrust and improved speed
Quiet operation and less splashing
Also, there's the fun factor; pedal kayaks are versatile choices for recreational kayaking and fun afternoons on the water.
They typically have a wider beam and can weigh up to 130 pounds, though. That's something to keep in mind transportation-wise.
If you're interested in hands-free kayaking, consider the Hobie Mirage Passport – and check out my best pedal kayak round-up for more recommendations!
Motorized Kayaks
The third and final type of kayak based on the propulsion method is the "motorized" kayak – as in, a kayak propelled by a trolling motor.
Fitting your kayak with a trolling motor takes the concept of hands-free kayaking to a whole new level.
The difference between these and the pedal-powered kayaks is that the trolling motor, powered by a marine battery, does the hard work for you:
You don't have to move a muscle, and your kayak is still propelled forward – swiftly, might I add.
Trolling motors add to the costs of kayaking, though. You can purchase a motorized kayak or install the trolling motor yourself. Either way, it's going to cost you more than a paddle-propelled 'yak.
As far as motorized kayaks go, the Old Town Sportsman 106, powered by a Minn Kota motor, is a fantastic choice for kayak anglers. That said, if you're hoping to upgrade your current 'yak, the Newport Vessels NV-Series electric trolling motor – paired with the best trolling motor mount – is a safe bet.
Make sure to check my article about the best trolling motors for kayaks. It includes detailed reviews and an in-depth buying guide to help you get started!
Types Of Kayaks By Use
Recreational Kayaks
Recreational kayaks are all about relaxation, ease of use, fun on the water, and designs that put a strong focus on comfort and stability.
They're made for flat waters, such as lakes, slow-moving rivers, ponds, and even calm coastal waters. You'll find these kayaks available in both SIK and SOT varieties and a range of lengths and sizes – but they are generally shorter and wider. Recreational kayaks usually measure 9 to 12 feet in length and a width of 28 to 34 inches.
They don't come with many bells and whistles or specialized features; stability, maneuverability, and user-friendliness are the top priority. But that's what makes recreational 'yaks a great – and affordable – choice for beginners.
If you need a recreational kayak that performs great on slow-moving and flat water, Wilderness Systems Aspire 105 is the one to consider. I have more recommendations waiting for you in my round-up of best kayaks for lakes, though!
Touring Kayaks
Long hull, narrow beam, and a sleek silhouette; touring kayaks are specialized sit-in kayaks for long-distance travel and large bodies of water.
They're generally between 12 to 20 feet long and narrower than recreational or general-purpose kayaks, measuring 18 to 28 inches in width. Touring kayaks also feature ample cargo space and integrated storage areas – including sealed hatches and bulkheads – and are often fitted with a skeg or a rudder system to aid tracking, which greatly improves your kayaking experience in open waters.
These kayaks are built for efficiency, speed, and tracking performance for day trips, long distances and multi-day excursions.
Make sure to check out my review of this years best touring kayaks.
Sea Kayaks
Many people will use the terms 'touring kayak' and 'sea kayak' interchangeably but they are different. Sea kayaks are a more specialized variation of touring kayaks that feature a more pronounced rocker and a sharp V-shaped hull, with built-in thigh braces to aid stability and control, they are better suited for rough, open waters. Think something along the lines of the Wilderness Systems Tempest 165.
You'll find more amazing sea-worthy kayaks in my best ocean kayaks round-up!
Sail Kayaks
Sail kayaks are still relatively uncommon, but they deserve mention when talking about touring and open-water kayaking.
These are not kayaks specifically designed for sailing, though.
Instead, these are touring or sea kayaks fitted with a kayak sail to reduce the physical strain and improve speed when covering longer distances. 
Surf Kayaks
Surf kayaks are, essentially, specialized kayaks designed for "playing" in ocean surf.
They're available as sit-on-top and sit-inside models, designed with a low-displacement planing hull, and can be fitted with surfboard-like fins.
Surf kayaks allow you to catch and ride large ocean waves much like a surfer would, combining the best of surfboarding and kayaking into one.
Whitewater Kayaks
Whitewater kayaks are specialized 'yaks designed for running whitewater rapids and performing insanely technical tricks that would leave any bystander in total awe.
White water kayaks are mainly designed as SIKs, feature short and stubby frames and a pronounced rocker profile, prioritizing maneuverability, responsiveness, and buoyancy in a fast-flowing, rocky environment.
There are four general types of whitewater kayaks, each designed to suit a style of whitewater paddling, including:
For more great recommendation. make sure to check out my round-up of the best whitewater kayaks
Racing Kayaks
Performance or racing kayaks are all about – well, performance. Given that they are most often used for flatwater sprints and marathons, racing kayaks prioritize speed and efficiency, and their design is a clear indicator of that:
They're as long and as narrow-beamed as they can get away with without going against official regulations. Competitive single-person (K1) models, for instance, can be up to 17 feet long but often have a width of no more than 20 inches.
Even more so, racing kayaks are remarkably lightweight and equipped with a rudder, too.
If you plan on racing others in your 'yak, either competitively or for fun's sake, this is the type of performance-oriented kayak you want to get.
Crossover Kayaks
If you're looking for the type of kayak that could bridge a gap between recreational and other styles of kayaks, the so-called crossover kayaks are the way to go.
This category is all about versatility. Think something along the lines of the recreational kayak's hull design – but with the addition of some more specific features. The idea is to tackle several different paddling environments without necessarily having to buy a separate kayak for each of them.
Crossover kayaks are, in essence, the jack-of-all-trades type of kayaks.
Crossover boats don't offer the same level of performance and features of a purpose-built kayak – but they are dependable in most conditions, nonetheless.
If you're covering long stretches of moving water and expect to encounter multiple conditions, like slow-moving sections and some moderate whitewater rapids, a crossover kayak – like the Wilderness Systems Aspire 105 – would be perfect.
Fishing Kayaks
Traditional fishing boats are out – and specialized kayaks designed with anglers in mind are all the rage these days.
These purpose-built kayaks act as stable fishing platforms and their designs and features reflect that perfectly:
Fishing kayaks are characterized by a broad and spacious deck – typically measuring 30 to 42 inches in width. They're equipped with rod holders, ample storage, gear tracks, mounting spots for a trolling motor or a pedal drive system, a fish finder, and an anchor system. And they may or may not allow you to fish standing up, too.
They're everything an avid fisherman needs – and then some.
Perception's Pescador Pro 12 is an outstanding example of what fishing kayaks have to offer. Check out my round-up of best fishing kayaks for more recommendations – and if you're on a budget, don't miss out on my best cheap fishing kayak reviews!
Duck Hunting Kayaks
This type of kayak is designed with one specific purpose in mind – hunting ducks. I mean, the name says it all.
It's a relatively new trend compared to, say, kayak fishing, but hunters have quickly caught on to the perks of waterfowling from the comfort of a specialized kayak.
Keep in mind that many duck hunting' yaks available on the market are dual-purpose kayaks – as in, they include features that are suitable for both fishing and hunting.
Check out the BKC PK13 Angler while you're at it; it's a dual-purpose kayak designed for fishing and waterfowling. Or you can check out my round-up of best duck hunting kayaks for more info instead!
SUP Kayak Hybrid
Somewhere between a regular 'yak and a SUP board sits a weird type of "kayak," known as the stand-up paddleboard kayak hybrid.
Stand-up paddleboarding is the distant relative of surfing. Instead of riding waves, you stand up on the board and use a paddle to propel yourself forward – hence the name.
Sprinkle some "kayak elements" onto the SUP foundation, and what do you get?
You get a SUP kayak hybrid that still has all the distinct features of a stand-up-paddleboard but with the addition of a kayak seat and a double-bladed kayak paddle.
While I get that the addition of a seat makes longer trips and rougher waters more comfortable, I can't help but wonder why you wouldn't get an actual kayak?
Types Of Kayaks By Number Of Paddlers
Solo Kayaks
Solo kayaks are essentially one-person kayaks – designed for a solo paddling experience – and are, in fact, the most common type of kayak you'll come across.
Do you enjoy solitude and prefer to dictate your own pace and course? Would you say that your perfect kayaking includes being on your own, with nothing but the sound of the paddle to disturb the silence?
Then yes, solo kayaks are the suitable type of kayak for you.
Tandem Kayaks
Two-person kayaks, two-seaters, or simply tandems; whatever you choose to call these kayaks, the basic concept stays the same:
Two people are paddling a single kayak.
Sometimes getting a tandem kayak makes more sense, especially from a financial standpoint. A tandem will generally cost less than two single-person kayaks. But you have to be a team player if you're going to share a kayak with another paddler.
If you're up for it, Perception Rambler 13.5 is a great recreational two-person kayak to consider. Oh, and while you're at it, be sure to check out my best tandem kayak round-up!
Family Kayaks
Going beyond the regular tandems, you also have kayaks that can accommodate more than two people at a time – often with a two-adults-plus-child type of seating configuration. Or they can accommodate three adult paddlers, like the Sevylor Big Basin – a three-person inflatable kayak.
Kayaks in this category have a higher weight capacity and are bigger than an average kayak – even a tandem.
Kids Kayaks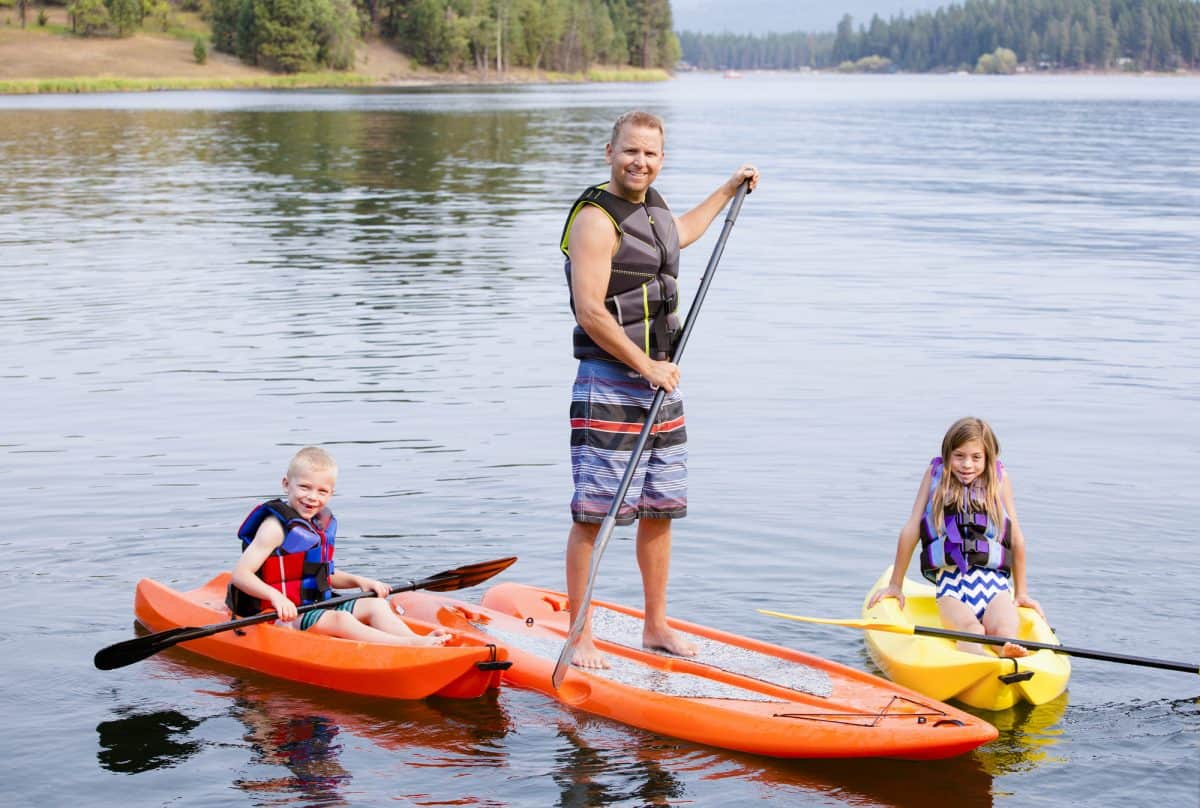 Kids' kayaks, also known as youth kayaks, probably deserve to be a category on their own. But since we're already discussing kayaking as a family-friendly activity, I figured I'd sneak them into the mix.
There aren't as many options as you'd find when choosing a kayak for yourself. However, youth kayaks still come in a range of designs and styles and are, for the most part, smaller versions of similar adult-sized kayaks.
Take the Perception Prodigy XS, for example. It has the look and feel of your typical sit-in kayak – but in a kids-sized version that will allow your kids to experience kayaking on their own.
You'll find more recommendations in my round-up of best kayaks for kids!
What Are The Different Types Of Kayaks: Quick Summary
It's a seemingly straightforward question – what are the different types of kayaks – but it calls for a complex and lengthy answer. There are just as many different types of kayaks as there are ways to use them:
Construction-wise, you have hard-shell or rigid hulls, inflatables, and folding (collapsible) kayaks
Design-wise, you have sit-on-top (SOT) and sit-inside (SIK) kayaks
Based on intended uses, you have recreational, touring, and sea kayaks, whitewater kayaks, surf kayaks, racing kayaks, fishing and duck hunting kayaks, crossover kayaks, and SUP kayak hybrids
Based on means of propulsion, you have paddle-propelled, pedal-powered, and motor-powered kayaks
Based on the number of paddlers, you have single or solo-person kayaks, tandems, family kayaks, and kids' kayaks