If you're generally an outdoorsy person, I'm sure every inch of your home – from your garage to the hallway closet – is already stuffed with sporting equipment and outdoor gear. Finding a spot for a not-so-compact hard-shell kayak might turn out to be a nightmare.
Apartment dwellers will understand this struggle better than anyone.
So, I can't help but ask:
Where do you plan on storing your kayak?
Haven't figured that part out yet? No worries – it just so happens that I've put together a round-up of game-changing kayak storage ideas you'll want to try!
We may receive a commission if you click a link on this page and then go on to purchase something, but at no extra cost to you. Learn more here.
Importance Of Proper Kayak Storage: Where, Why & How
Kayaks are, by no means, a small investment, so consider how you're going to protect it and make sure it lasts. Unless you happen to have huge piles of cash lying around the house and don't mind buying a new kayak every year or two, that is.
It's simple, really:
The better you store and maintain your kayak, the longer it will last.
If you're hoping for a more detailed answer as to why kayak storage is so important, here it is:
Preventing Damage – Many people don't realize this, but inadequate kayak storage – even more so when it's long-term – does more damage than good. For instance, storing a kayak flat on the ground or in a way that doesn't distribute its weight evenly will, almost certainly, result in hull deformation, distortions, and unsightly bends. In short, your kayak will crumble under its weight.

Weather Protection – Leave a kayak exposed to the elements, like UV rays, rain, snow, and frost, and you'll be not-so-pleasantly surprised by how fast it gets ruined. I'm talking dents, hull deformation, fading, and, in some cases, mold and mildew. Seriously, leave it up to Mother Nature, and she will wreak havoc on your kayak before you know it.

Theft Protection – Yes, kayak theft is a thing. You're not the only one who understands the value of a new kayak; thieves do, too. That's another reason to store your kayak the right way, preferably inside. At the very least, keep the 'yak out of sight, and secure it to a permanent fixture with a chain and padlock or a security cable.
Plus, there's that whole thing where proper storage prevents the kayak from falling and injuring an unsuspecting family member or neighbor. Given that hard-shells aren't exactly the definition of "lightweight," I'd say that one's pretty important, too.
Indoors Vs. Outdoors: Where Should You Store Your Kayak?
If you have an inflatable kayak or a folding kayak, congratulations – you saved yourself a lot of trouble. But what about those of you who opted for a traditional hard-shell? 
You can't fold it down and shove it into the nearest closet – obviously – and the added heft of a hard-shell kayak won't make this any easier.
That said, when it come to how to store a kayak, you have two options:
Indoor Kayak Storage – I generally advocate for indoor kayak storage. It ensures that your vessel isn't exposed to the elements, direct sunlight, pests, extreme temperature changes, and theft. In short, it eliminates – or, at the very least, minimizes – the risk of exposing your kayak to anything that might be out to get it.

Outdoor Kayak Storage – While indoor storage is the preferred solution, not everyone has the space for it. So, the less ideal – but doable – option is to store it outside. You'll have to be creative to make sure that it's sheltered from the elements, but if it's your only option, I guess it will have to do.
Depending on the kayak's size and the available space, both could work fine – provided that you pick a location that limits exposure to extreme temperature changes, moisture, and direct sunlight.
Kayak Storage Ideas & Solutions Every Kayak Owner Should Consider
#1 Kayak Storage Rack Ideas
Racks are a personal favorite storage solution of mine.
For one, they're convenient; toss the kayaks onto the rack, and you're done. What's more, racks can be set up pretty much anywhere, indoors or out, and allow for horizontal or vertical storage, depending on what works best for your space. Check out the following kayak storage rack ideas, and you'll see what I mean.
Kayak Wall-Mounted Rack
A wall-mounted kayak rack is a fantastic option for storing your kayak inside and off the ground. It allows you to keep a couple of kayaks stacked horizontally and at a slight angle, giving the storage area a well-organized vibe.
Sure, it's going to take up a lot of wall space – but I love the look of a dedicated "kayak wall."
RAD Sportz Wall Hanger Pro, for instance, is an excellent single-kayak hanger with a 125-pound load capacity, padded arms, and nylon safety straps and clips for added security.
Freestanding Kayak Racks
If you're setting up a freestanding kayak rack system, be it inside or outside, the first thing you should do is ensure that you have the floor space for it. These things are anything but compact, especially when they're designed to hold multiple kayaks at a time.
On the plus side, since it doesn't require installation, it can be relatively portable. You can move a floor-standing kayak rack from one place to another whenever you need to without dealing with all the mounting hardware.
Most recreational kayakers don't need a full-sized, freestanding kayak rack that has a six-kayak capacity – but some of you might. So, check out this Malone FS Rack System with a 500-pound weight capacity.
The Malone 6 also doubles up as a great SUP or canoe storage rack – handy if you're like me and have multiple watercraft
You can get creative and turn this rack into a dedicated storage space for all your paddling gear, not just the 'yaks. You can hang your paddles, life vests (PFDs), waterproof bags – and any other outdoor accessories.
For more great recommendations, make sure to check out my article of the top 8 best kayaks storage racks.
Vertical Kayak Storage Ideas
Yes, vertical kayak storage is also an option – and a good one, so long as you make sure that the kayak's stern is adequately supported and lifted off the ground.
Vertical storage racks fall under the space-saving kayak storage solutions, as they don't take up as much wall space. Check if your ceiling has enough clearance to allow for vertical storage, though, especially if you have a longer kayak.
If you're interested in vertical storage racks – SPAREHAND's Glacik is a fantastic choice, by the way – keep the following storage tips in mind:
The cockpit should face outwards
It should have raised stern support
It should lean slightly toward the wall
The pegs should prevent it from falling sideways
Always secure with safety straps or ratchet straps
Bonus Suggestion: Kayak DIY Storage Rack
Even if you're not much of a DIY enthusiast, this could be a fun, easy-to-make project. All you need are PVC pipes, T-shaped and elbow pipe fitting joints, caps, and PVC cement for "fusing" the PVC pipes.
It'll cost you next to nothing, you can do it in a single afternoon, and you get to paint it any color you want!
Check out this video for more information and instructions:
#2 Outdoor Kayak Storage Ideas
Again, long-term outdoor storage isn't ideal – but not everyone has the indoor space needed to fit a full-sized kayak.
I'll go over some outdoor kayak storage ideas in a second, but first, I'd like to talk about some ground rules of storing your kayak outside.
There's not a lot of difference in how you'll store it, but you'll have to be a lot more diligent when it comes to protecting your kayak not only from the elements but theft, too. No matter what type of outdoor kayak storage system you choose, there are three rules you have to follow:
Cover the kayak with a heavy-duty tarp to protect it from rough weather
Make sure it's off the ground and as close to the house as possible
Keep the kayak out of sight – and out of mind – and lock it to a permanent structure
Kayak Storage Cover
It doesn't matter which one of these outdoor kayak storage systems you pick – you will need a kayak storage cover, either way. It will protect your kayak from direct UV exposure, critters that might want to move in, and moisture.
You can't go wrong with a kayak storage cover – and given that they're generally cheap, there's no excuse not to get one.
Classic Accessories' StormPro – a heavy-duty cover made from 600D polyester and coated for all-weather protection – is an excellent option. It accommodates kayaks up to 12 feet long, and thanks to the full-cut design, it leaves enough room for stashing your PFDs, paddles, and other paddling accessories, too.
Kayak Storage Shed
If you have several kayaks and you're hoping to keep them all together somewhere in your yard, then a kayak storage shed might be your best bet. It's the nearest thing to proper indoor storage as you can get; you're essentially getting the best of both worlds:
It frees up your garage space while also providing a substantial amount of protection against the elements.
Don't have a shed that could serve as outdoor kayak storage?
No problem – I went ahead and picked out two fantastic options for you:
Kayak Stands
As far as outdoor kayak storage goes, a stand is a pretty basic solution – but it's still better than keeping your 'yak on the ground. Make sure it's covered – a heavy-duty tarp or kayak cover will come in handy here – and you're all set.
If you want something simple, the BEST Folding Kayak Stands – a pair of portable stands with a 100-pound weight capacity – is a great start.
Bonus Suggestion: DIY Kayak Shelter
As far as DIY kayak storage ideas go, building a shed-like shelter will require a bit more skill and experience than making a simple rack.
It's one of the best outdoor kayak storage solutions, though – so get some lumber, choose your roofing materials, and watch this video to see how it's done:
#3 Kayak Garage Storage Ideas
The garage is one of the most popular storage locations for hard-shell kayaks. So, you shouldn't be too surprised to find so many different garage kayak storage ideas worth considering – from basic wall-mounted straps to hoist systems.
Kayak Ceiling Storage
Hanging your kayak from the ceiling might sound like a death trap, but it's a great way to get the 'yak up and out of the way. You'll reap the benefits of indoor kayak storage without it necessarily taking up floor space.
If you decide to go with a hanging kayak storage system, make sure you keep the 'yak with the hull side facing up toward the ceiling.
Oh, and avoid hanging it by the carrying handles. Use a set of wider straps that wrap around the kayak's hull and distribute the weight evenly, or you might end up with a deformed kayak.
Kayak Hoist & Pulley Systems
The kayak storage hoist system – like this StoreYourBoard Kayak Ceiling Storage Hoist – allows you to make the most of the available ceiling space in your garage:
You'll keep the kayak off the ground while still having access to it; kayak pulley storage systems take all the hassle out of lowering the kayak when needed.
One downside of hanging kayak storage systems is that they're hard to install. Double-check if you've secured everything before hoisting it up and parking your car under it.
Lastly make sure you position the kayak correctly to ensure proper weight distribution – no one wants to find that their 'yak has bowed and now shaped like a banana.
You'll find more fantastic hoist options – and an in-depth buying guide – in my round-up of best kayak hoist reviews!
Ceiling Rack
Another off-the-ground garage storage system worth considering is a kayak storage rack – only this time, it mounts to the ceiling.
One advantage of kayak ceiling storage racks is that they fit more snugly against the ceiling, meaning you can utilize the space more efficiently without affecting the garage's headroom.
On that note, be sure to check out StoreYourBoard's ceiling rack. A compact and robust ceiling rack that has a two-kayak, 150-pound weight capacity, and padded, height-adjustable frame.
Kayak Wall Storage: Kayak Storage Straps & Hooks
Depending on the amount of garage space you're working with, kayak storage straps could be a better solution, as they're usually less bulky than hooks.
Make sure that the straps are wide, adjustable, and made from durable nylon so that they can handle your kayak's weight without creating pressure points. Padded ones are certainly a better choice for long-term storage.
If you're looking for recommendations, COR's Kayak Sling meets all the criteria of a great kayak storage strap system. And on the flip side, if you'd prefer a wall-mounted kayak storage hook, my advice is to go with the BEST Kayak Storage Racks.
Bonus Suggestion: DIY Kayak Storage Hoist
Lightweight, reasonably inexpensive, and easy to make with supplies that are readily available at your local hardware store – how's that for a DIY kayak hoist?
This one uses a simple nylon rope and pulley system to lift your kayak up and out of the way, making it a convenient solution for indoor kayak storage.
Here's how to make one:
Check that you have a high enough ceiling and sturdy beams that can handle the weight of the kayak, though.
#4 Alternative Storage Options: Renting A Storage Unit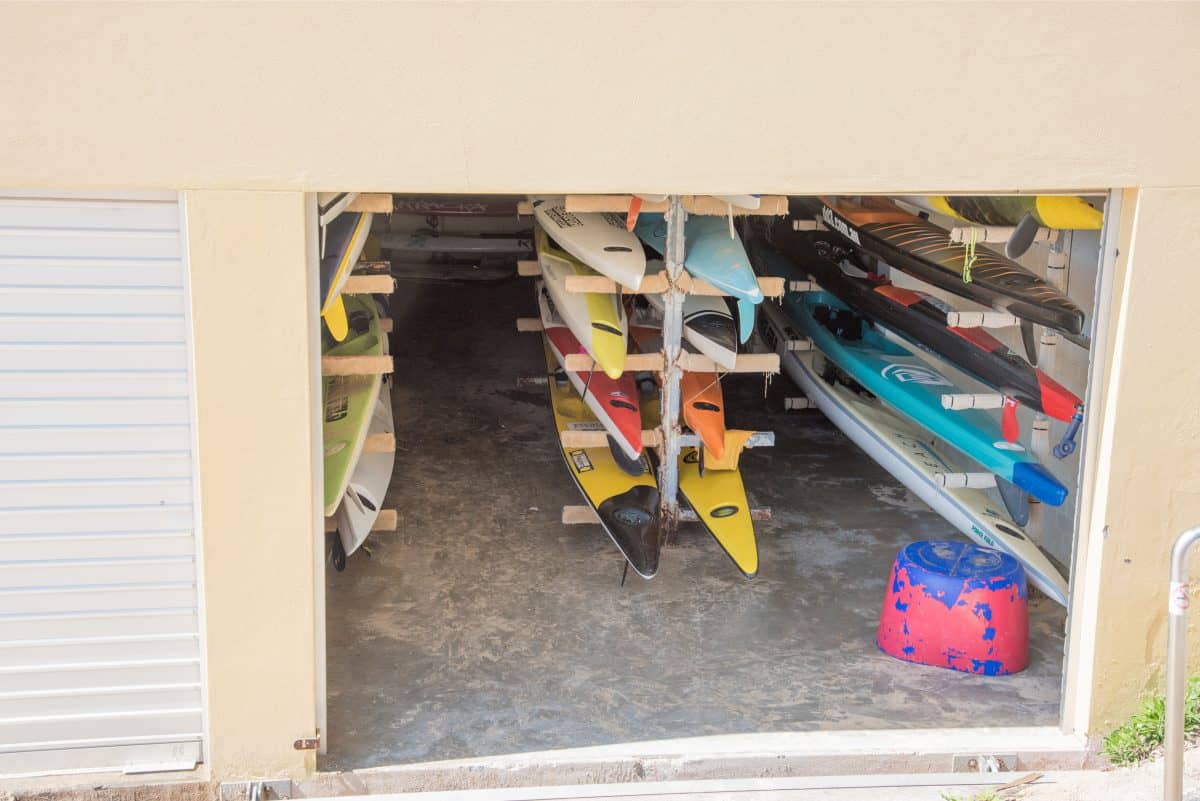 All these kayak storage ideas sound great in theory – but what if you can't find a single inch of available space in or around your home?
Apartment dwellers, I'm looking at you.
Nearby storage facilities that rent spaces for a relatively small fee could be the only solution that works for you. And aside from the fact that you'll have to pay "rent" for your kayak, that's not so bad:
You get to keep your boat in a safe and secure storage unit at a professionally managed facility!
Local Marinas & Paddling Clubs
Some paddling clubs offer boat storage for a small fee; that's something you'll undoubtedly want to consider if you're short on space at home.
One significant benefit of renting space from a marina or paddling club is that they're adequately equipped for kayak storage. Plus, transporting the kayak will no longer be an issue – it's already near the water!
Self-Storage Units
If there aren't any paddling clubs in your area that can offer boat storage services, you're not entirely out of options:
Have you considered renting a self-storage unit nearby?
Some self-storage facilities – like CubeSmart – provide specialized storage options designed to accommodate boats, including kayaks and canoes, both long-term and temporary.
A Quick Summary Of Best Kayak Storage Ideas
When deciding which one of these kayak storage ideas would be the best fit for you, be sure to consider the kayak's dimensions, available storage space, and ease of access.
Let's go over your storage options:
Kayak storage racks, either wall-mounted or freestanding that can be used both inside and outside
Kayak garage storage, including hanging kayak storage, ceiling racks and wall-mount hooks or straps
Outdoor storage methods, like a kayak storage shed or a basic stand
DIY kayak storage solutions, which are great if you're on a tight budget
Renting a storage unit at a local paddling club, especially if space is at a premium