When you think about kayaking, your mind probably jumps to someone sitting inside a long and narrow watercraft and paddling across the water (I'll admit, that's an accurate enough description).
However, as kayak fishing started gaining recognition, a wider variety of vessels that would fit different fishing techniques began popping up, too.
The best stand-up fishing kayak is a perfect example of that.
If you need help picking the most stable stand-up fishing platform – or merely wondering why you'd ever want one – stick around.
We may receive a commission if you click a link on this page and then go on to purchase something, but at no extra cost to you. Learn more here.
At A Glance – Here Are Our Picks For Top Stand Up Fishing Kayaks
In A Rush? The Winner After 45 Hours Of Research:
Old Town Sportsman Big Water Pedal Kayak
Why is it better?
The hull design and 36-inch beam ensure amazing stability without affecting performance
The kayak is fitted with a PDL Drive system for hands-free propulsion
Features multiple, well-designed storage options, including a bow hatch and stern well
The EVA deck pads improve traction and make it more comfortable to stand on
The 500-pound load limit is impressive – especially for a one-person kayak
Comes with an adjustable and supportive seat, with mesh sections for breathability
Equipped with fishing-specific features, including flush-mounted rod holders and a transducer mounting system
Stand Up Fishing Kayak Benefits: Can You Stand Up In A Kayak & Why Would You?
Why would anyone want to stand in a kayak, anyway?
As many kayak anglers can confirm, stand-up kayak fishing has a few distinct benefits:
Better View – Looking down instead of across the water makes it possible to see further and deeper in the water. An elevated view is ideal for sight fishing as it becomes much easier to find fish and spot potential obstacles. Plus, you won't be as blinded by the sun reflecting off the surface.
Improved Positioning And Maneuverability – Casting is so much easier when you're standing as opposed to sitting. You'll likely cast further, improve your accuracy, and have more success with pitching and flipping techniques when you get up on your feet.
Easier Access To Fishing Gear – Standing on a kayak makes it easier to reach the kayak's storage compartments and access your gear due to the more flexible positioning.
Easier On The Back – It's not uncommon for paddlers to experience backache or numbness in the legs, especially after sitting for a while. Standing up can take care of it and give your back a break.
While there are many benefits to stand-up fishing, know that it takes some getting used to – especially if you're a novice.
Balance, core strength, and flexibility can help. Most importantly, you have to keep practicing your stand-up fishing skills, preferably in calm, shallow waters – and with a PFD on, of course. I can't stress this enough, if you plan to stand up in a kayak please make sure you wear a life jacket – your chances of going overboard dramatically increase if standing.
What Makes A Good Stand-Up Kayak? Characteristics To Look For
It's All About Stability
A stand up kayak needs to be stable enough for you to get up and maintain your balance correctly with minimal capsizing risk.
Your kayak basically has two "levels" of stability – primary and secondary stability:
Primary stability (or initial stability) is used to describe how stable your kayak is on calm water, i.e. without any movement . It's essentially how "tippy" your kayak feels when you first get in.
Secondary stability refers to a kayak's ability to resist capsizing when it's leaned far over to its side; whether that is by choppy water, wind, or your own movement inside the kayak.
A good stand up kayak needs to have ample secondary stability, so you can confidently stand, move around on deck and cast without fear of capsizing.
But what makes a kayak stable?
Well, the most important factors are the kayak's width and hull shape. As a general rule, the wider the kayak and flatter the hull, the more stable it will be.
However, there is a downside to stability. The wider and flatter your kayak is, the slower and less maneuverable it will be.
So, you need to find a balance between stability and speed/maneuverability to get the best stand up kayak for your needs.
Kayak Width – How Wide Should A Kayak Be To Stand Up On?
Wider kayaks are generally more stable than narrow ones. That's one reason why stand-up fishing kayaks tend to be noticeably broader than "regular" ones.
You should focus your attention on the kayak's beam – another name for the kayak's width – of at least 30 inches. Ideally, the width of a stand-up kayak should fall somewhere in the 32 to 35-inch range.
You won't be winning races in the broader model. But you're here to find the best stand up fishing kayaks; stability takes priority over speed.
Hard-Shell Vs. Inflatable – Which Is More Stable?
Whenever you start talking about kayaks, the whole hard-shell vs. inflatable discussion is bound to come up. Now, while there are pros and cons on each side, when it comes to stability, there is one clear winner – inflatable kayaks.
Sure, a flat, rigid hull with a wide enough beam will probably provide excellent stability. With that said, inflatable kayaks are simply built differently and will have features that you wouldn't find on their hard-shell counterparts.
For one, these 'yaks are filled with air. The added buoyancy means they sit higher on the water – with multiple air chambers to keep them afloat. And two, they tend to be wider, which, in itself, is enough to make them more stable and harder to capsize. Combine that with a rigid drop-stitch floor, like seen on a paddle board, and you've got yourself the most stable fishing kayak money can buy.
No they are not as fast – and maneuverability is better on a hard-shell kayak. But if you want to feel more stable and secure on the water, an inflatable is the way to go.
Hull Shape – What Is The Best Hull Shape For A Stable Fishing Kayak
When it comes to a fishing kayak's hull shape, the general rule is – the flatter the hull, the better. So, it is no surprise that flat and pontoon (tunnel) hulls are the two most commonly seen options on stand-up fishing kayaks:
Flat Hull
The hull is pretty much the "skeleton" on which the rest of the kayak sits.
Most regular kayaks will have either a semi-rounded or a V-shaped hull, which is more streamlined for speed.
But as I said, with stand up kayaks, your goal is stability rather than velocity.
As far as stand up fishing kayaks go, the most stable hull shape that you can go with if you want to turn a kayak into a firm and steady stand-up fishing platform is the flat hull.
Pair a flat hull with a wide beam, and you'll get a safe, stable, and spacious watercraft.
Pontoon Hull
The pontoon hull – also known as the tunnel hull – combines the characteristics of flat and v-shaped hulls to provide excellent stability without completely sacrificing speed and agility.
As a result, this hull type is popular among anglers because it provides a stable platform for fishing, while still allowing the kayak to move quickly when necessary.
The only downside, if you can call it that, is it's only available for hard kayaks, since flat hulls are a mainstay of all inflatables due their construction and design limitations.
Picking A Stand Up Fishing Kayak: Additional Features To Consider
Stability is going to be a significant factor – but it's not the only one.
Here's what else to consider when picking a stand up kayak for fishing!
Comfort & Convenience
Fishing isn't exactly a fast-paced water sport. More often than not, a fishing trip will involve spending several hours on the water, often in a seated position.
The goal is to stay as comfortable as possible during that time – whether you're standing up or sitting back and relaxing.
But you can't expect to do that in a kayak that isn't designed with comfort and convenience in mind.
It's worth double-checking if the kayak has a large cockpit that is well organized so that gear and storage are accessible readily while seated or standing. Be sure to check that your fish finder or GPS unit has a suitable mounting spot, or can be installed without too much fuss, and is easily read from both a seated or standing position.
While some of the best fishing kayaks come with features such as built-in coolers, cup holders and paddle holders, which can make a fishing trip all the more enjoyable, these often carry a premium – so you will need to factor these into your budget.
Then you have things like a comfy seat, ample legroom and footrests that can be adjusted on the fly – these little touches can make a big difference when you're spending hours on the water, so don't over look their importance.
Finally, it's worth considering how easy the kayak is to transport and store – some standup fishing kayaks can weight in excess 100 lbs and be 14 feet long, which makes loading onto a roof rack or hauling in the back of your truck a little challenging
Adjustable Seat
Even if you spend most of that time on your feet, you'll need a break sooner or later. That's where a well-cushioned, adjustable seat – preferably an elevated one – could come in handy.
The good news is that most kayak seats – even the most generic ones – to some degree do provide some level of adjustment . It doesn't hurt to check, though, especially if you plan on spending more than a few hours on the water.
At the very least, your chair should have are adjustable seat height and backrest tilt angle. However, for extra comfort, you should also look for good lumbar support and ergonomically-shaped padding – it makes the world of difference.
Preferably opt for a seat with a number of pre-set height settings; a low for paddling , a high for fishing, and something in between for relaxing. But if that's not possible, make sure the seat can be easily adjusted on the fly so you can find that perfect sweet spot.
Weight Capacity
If you're on the heavier side or tend to bring lots of gear – maybe even an extra passenger – along for the ride, the weight capacity will be a vital factor.
This rating determines how much weight a kayak can handle before it turns into a safety hazard – and you want one that's safe for you and everyone else on board.
So, ask yourself:
What's the maximum weight that you plan to load your kayak with on your fishing trips?
I don't expect you to have exact numbers in mind, but get a rough idea of the type of load your kayak will be packing on average. That includes you, the gear, the fish you might catch – and a bit of wiggle room for any unpredictable scenarios.
Wide, Spacious, And Comfortable Deck
You need a comfortable deck as much as you need a comfortable seat. This aspect often gets overlooked, but trust me:
It's no easy task standing in a kayak, especially for an extended period, and a good deck can make all the difference.
After all, you're not really just standing; you're constantly balancing yourself – using your leg and core muscles to keep yourself upright.
A wide and spacious deck will give you plenty of room to move around, which is important when you're trying to stay balanced and comfortable in a standing position. Ideally look for a kayak without a center console to avoid it getting in the way, and make sure your seat can be flipped up and folded away to help increase the max deck space.
Lastly, the deck should have a non-slip surface or deck mat to provide good traction, even when wet. This is important for both safety and comfort – and means you don't have to worry about taking a tumble into the water when landing your catch.
Paddles, Pedals, Or Power?
There's actually more than one way to propel a kayak.
It might seem a bit redundant to mention paddles considering that they're your primary means of propelling a kayak – but it's crucial to cover the basics before getting to the "fancy" stuff. And just so we're clear, I recommend keeping a paddle on board even if you opt for something a bit more advanced.
The second option would be a pedal drive system. If you want a more "relaxed" approach where your hands remain free, and your legs do all the work, pedal propulsion is the way to go. Allowing you to cover more ground with less effort, these systems are perfect for longer fishing trips.
The most popular type is the pedal-and-crank system, where you use your legs to power two large pedals that are connected to a crankshaft. This, in turn, moves the propeller and propels the kayak forward.
Keep in mind that pedal drives are usually more expensive than traditional paddle propulsion, so it's something to consider if you're on a budget – plus they also add to the overall weight of the kayak
The final – and most powerful – option is a trolling motor. If you really want to take things to the next level
A kayak motor will get you places with zero hassle, which is a definite plus when you're trying to reach remote fishing spots or moving up river when fly fishing. They do require the most maintenance, though – plus the addition of batteries you'll have to keep onboard.
And like pedal drives, trolling motors also add to the kayak's weight. So make sure the kayak can handle the extra weight without affecting its performance.
Onboard Storage & Optional Accessories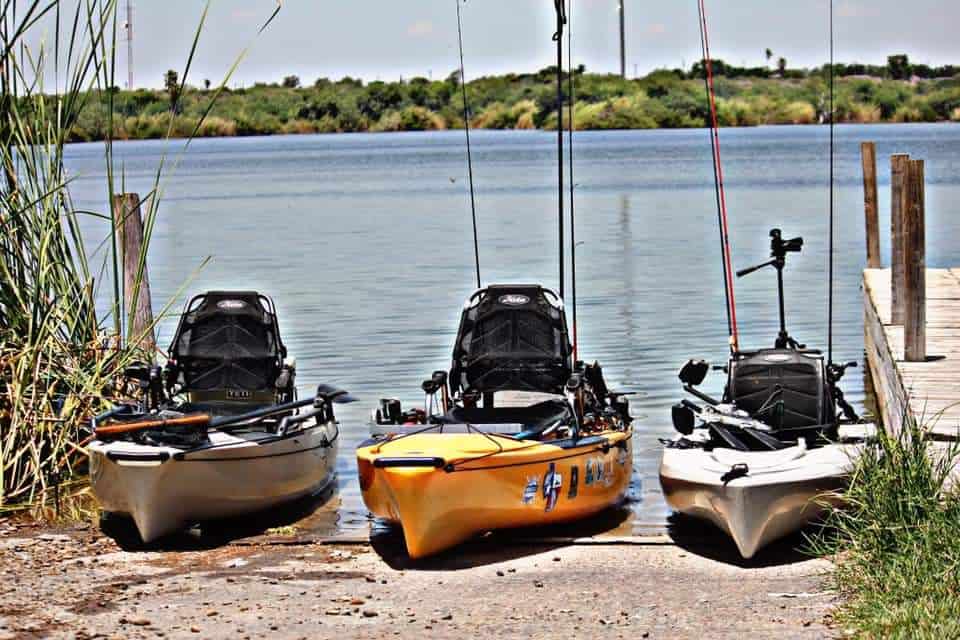 The more time you spend on the water, the more fishing gear you need on-hand.
The good news is that stand-up fishing kayaks tend to be a lot more spacious than conventional kayaks – but you're not out of the woods yet.
That extra space won't be of much use if you don't have adequate storage space for your fishing gear and accessories and essential kayaking equipment.
However, basic storage options and storage capacity found on other types of kayaks won't cut it here:
Stand up fishing kayaks should have the easy-to-access bow and stern storage compartments, bungee rigging, at least one hatch, and the ability to accommodate a wide variety of accessories.
You'll have to buy most fishing accessories separately as add-on kayak mod, but be sure to check for:
Built-in rod holders
Mounting systems for your fish finder and GPS units
Accessory racks
Anchor, motor, and pedal drive system mounts
Kayak cooler – to keep your beer cool or catch safe when fishing near alligators, bears or other predatory wildlife
Cup holder – often overlooked, but highly valued
Stand assist strap, which will make standing up on your kayak a lot easier – and safer, as well
Frequently Asked Questions on Stand Up Fishing
Can you stand up in a fishing kayak
The deciding factor here is the hull design. The wider and flatter the hull, the more stable the kayak will be. Most fishing kayaks with a flat deck can be used standing up – some are even designed specifically for that. Generally speaking, as long as you have a flat, 36-inch hull under you, you'll be good to go.
How can I make my fishing kayak more stable?
Your kayak's stability depends on a range of factors, including the hull design, beam (hull width), length, and center of gravity. The type of kayak – sit-inside (SIK) or sit-on-top (SOT) – will have a role in this, too. There's not much you can do to change these things, meaning there's not much you can do to make your kayak more stable. However, getting a suitable kayak, distributing your load properly, and, if needed, equipping the kayak with outriggers can make it less tippy.
How do you stand up on a kayak?
Standing up on a kayak while you're on the water is no easy task, no matter how wide your deck is or how well the hull is designed. Trying to maintain balance on the water is a core workout like no other. Here are a few tips:
Slow, controlled, and steady is the way to go.

You can't just jump up as if you're on land. Try to keep your core tight and stable and minimize any unnecessary movements. 

Think about your foot placement and alignment. The three main points on your body that need to be aligned here are your feet, core, and shoulders. 

Use the stand assist strap. It will give you something to pull on and hold onto as you get up, making the transition from sitting to standing easier.
Best Stand Up Fishing Kayak Reviews & Recommendations (2023)
How We Tested & Rated Our Top Picks
Each kayak has been rated based on a set of factors that dictate its performance, construction quality, durability, stability, paddler comfort, and angling features:
Build Quality – The score is based on construction, the materials used, performance in a range of environments, and expected longevity.
Stability – The score is based on the kayak's primary and secondary stability in varying water conditions.
Weight Capacity – The score is based on the manufacturer-specified maximum weight limit and whether or not it's enough for the average paddler.
Features – The score is based on how well the kayak is rigged for fishing. Additions like multiple storage options, built-in rod holders, pedal drive system and motor compatibility, and similar features are considered here.
Value for money – The score is based on the RRP (Recommended Retail Price) and the assessment of how it aligns with the overall value and features of the kayak.
The rating system used is simple:
The lowest rating of 1 means that the model performed badly and was below the standard level of quality required for the kayak to be usable. A rating of 10 means that the kayak met – or even exceeded – expectations within these categories.
Best Inflatable Tandem Kayak
Aquaglide Blackfoot Angler 130 Inflatable Kayak
I'll start things with an inflatable tandem kayak to show you that, yes, you can stand up in one of these air-filled 'yaks and live to tell the tale.
The Blackfoot Angler 130 features a wide, 38-inch hull – which is already a great indicator of its stability. Plus, the high-pressure drop-stitch floor makes it rigid enough for virtually any conditions – even mild whitewater rapids, if you're up for it.
What makes the Blackfoot Angler 130 stand out, though, is its weight capacity:
With the load limit of 650 pounds, the Blackfoot Angler 130 is more than capable of carrying any and all gear you may need on the water – and then some. In fact, it has the highest weight rating of all kayaks on this list.
The onboard storage space is every bit as impressive:
You have plenty of options, with front and rear bungee rigging, MOLLE plates on the side, mesh pockets, six universal mounting plates, 20 webbing loops distributed across the floor, and more.
As for comfort, the frame seat offers a great deal of adjustability, including two seating positions. The same goes for the adjustable foot braces, which feature full-length hook-and-loop strips.
I was a bit disappointed to see that it doesn't come with a pump – but considering that you get a 173-liter River Crossing XL backpack and a soft cooler, I'm not sure it's fair to complain.
Technical Specs
Type: Sit-on-top kayak
Dimensions: 13 x 3.17 feet
Hull Weight: 41 pounds
Weight Capacity: 650 pounds
Pros
Relatively lightweight and easy to transport in the included backpack
The 650-pound weight capacity is impressive by any standards
Adjustable seat with two seating positions (high and low)
The extra-wide, 38-inch beam ensures exceptional stability
EVA traction pad offers great grip and keeps you comfortable
A wide range of attachment points for gear
Cons
The addition of a paddle and pump would've been nice at this price point
Not the most affordable inflatable kayak you'll come across
It's safe to conclude that the Blackfoot offers much more than the competition at this price point – and that makes it one of the best deals on the market.
Best Tri-Powered Stand Up Fishing Kayak
Wilderness Systems Radar 115
Wilderness Systems took things in the pedal-powered market a step further by making one of the first tri-powered kayaks, the Radar 115:
You can choose among three – paddle, pedal drive system, and motor – propulsion methods. Which make a world of difference to your fishing experience.
To be honest, I thought it was a bit of an overkill at first – but after spending some time with the Radar 115, I'm sold on the idea of having all three options available to you.
If you go a bit further down this list, you'll come across Old Town's Sportsman 106 – which, in my opinion, is one of the best motor-powered 'yaks on the market. However, it costs nearly twice as much as the Wilderness Systems' Radar 115.
My point is:
Is having three propulsion methods on a single 'yak a necessity? No – but for this asking price, it would be a shame not to give it a try.
The Radar 115 is one hefty kayak, clocking in at a not-so-light 85 pounds, but the 34.5-inch beam and flat deck provide a stable fishing platform to compensate. Onboard storage space (with all of its 450-pound weight capacity) includes a rear tank well with bungee rigging, two storage hatches, and molded-in tackle pockets.
Also, it's highly customizable with multiple SlideTrax accessory systems, the FlexPod console system, a rear mounting plate, and an adjustable AirPro MAX seat.
It doesn't feature rod holders, though, which was a bit of a letdown, and frankly strange, for a boat in the running for best fishing kayak – but it's other features more than make up for that minor indiscretion.
Technical Specs
Type: Sit-on-top kayak
Dimensions: 11.7 x 2.9 feet
Hull Weight: 85 pounds
Weight Capacity: 450 pounds
Pros
Tri-powered kayak with three methods of propulsion
Excellent stability and clutter-free deck
Accommodates a variety of accessories
Substantial load capacity and storage areas for fishing gear
Cons
The weight of the Radar 115 might be a problem for some
The additional costs add up pretty fast
Doesn't include any rod holders
If you can't decide whether you want a paddle, pedal, or motor-driven kayak, do yourself a favor and go with the tri-powered Wilderness Systems Radar 115.
Best Inflatable Fishing Kayak
Advanced Elements StraitEdge Angler PRO Inflatable Kayak
The StraitEdge Angler Pro has a pretty straightforward spec sheet:
It's an inflatable kayak with a weight capacity of 400-pounds. It features drop-stitch flooring (with an added fish ruler), front and rear bungee deck rigging, and two accessory frame systems for a range of aftermarket additions.
It's well made, too. The PVC tarpaulin material seems like it could handle some tough conditions – and you should get years of use out of it.
But when I took the StraitEdge out for a test, these weren't the factors I was interested in. I was actually more focused on the built-in aluminum rib system that promises to "define" the bow and stern while improving tracking performance.
And I'm glad to report that it tracks better than your average inflatable kayak.
Sure, it's not comparable to hard-shell kayaks – but I didn't expect it to be. What I was interested in was seeing how it compares to its little cousin, the StraitEdge Angler.
The Pro and the "standard" version both feature aluminum ribs, accessory frames, and all that – but the Pro gets you a drop-stitch floor, AirFrame PRO seat, and a fin box for just a few hundred dollars more.
Technical Specs
Type: Sit-on-top kayak
Dimensions: 10.6 x 3.21 feet
Hull Weight: 45 pounds
Weight Capacity: 400 pounds
Pros
The built-in aluminum ribs significantly improve tracking and general performance
Drop-stitch floor, five air chambers, and a wide beam ensure safety and stability
The accessory frame system is easy to set up
The fin box on the bottom can be used to attach a small motor
Cons
Doesn't feel very spacious once you add gear and supplies
The seat is comfortable but feels like it's the first thing that will break
The StraitEdge Angler Pro is far from perfect – but the "good" mostly outweighs the "bad." The stability and the tracking are unmatched – especially for the price. So, would I recommend this as a good investment? Absolutely.
Best Motorized Stand-Up Fishing Kayak
Old Town Sportsman 106 Motorized Kayak
This 10.6-foot 'yak comes in three distinct flavors:
The "simplest" one is the pedal version, which offers everything the motor-powered model does but at a slightly lower price and – obviously – no motor.
As you can guess, my favorite is the Minn Kota 12V motor-powered option. It had me going at a speed of four miles per hour on calm waters!
Plus, the handling is simple and intuitive. It relies on the foot pedals and a lever-activated rudder for steering, which I found pretty convenient.
If that happens to be too much for you, though, there is a third option – The Sportsman Autopilot 136. It features the same motor but is controlled via a Bluetooth-connected I-Pilot remote. It also utilizes Minn Kotta's spot-lock technology and GPS navigation.
Now, back to the motor-powered Sportsman 106:
It's equipped with rod holders and cup holders in all the right places. The dry storage is located directly in front of you and is enough to store small items and valuables. Any additional storage or goodies you might need can be attached to the two rails mounted on the sides.
Also, it has a similar maximum weight capacity as the Wilderness Systems Radar 115, clocking in at 440 pounds.
And without question it is one of the most stable fishing kayaks in this review – this thing is more sure footed than a mountain goat, you can stand on the bow or stern and this yak just won't flip!
That said, the Sportsman 106 is expensive as heck. Unless you are serious about kayak fishing, spending three grand on a 'yak – even if it's a motor-powered one – is hard to justify.
Technical Specs
Type: Sit-on-top kayak
Dimensions: 10.6 x 2.88 feet
Hull Weight: 75 pounds
Weight Capacity: 440 pounds
Pros
The Minn Kota motor can develop a speed of four miles per hour
Side-mounted rails add to the already impressive gear attachment options
The foot-pedal handling system is straightforward and works great
The dry storage compartment is spacious and well placed
The motor can be lifted from the kayak, allowing for easy maintenance
Cons
Your speed and handling will suffer when you start packing on the weight
It's one of the most expensive 'yaks on this list
It's an impressive kayak; there's no question about it. The built quality is top-notch, and plen
Best Pedal-Drive Fishing Kayak
Old Town Topwater 120 PDL Kayak
Yup, that's another Old Town kayak that earned its spot on my list. After all, Old Town's patented PDL drive system changed the game when it came out – and for a good reason, too.
It feels a bit stiff at first (nothing too uncomfortable) but developing speed was never an issue for me. The real reason that the PDL system is praised by everyone, though, is that it's pretty much maintenance-free and virtually indestructible.
However, the pedal system takes up space you may need on the deck and adds to the kayak's weight. So, if you don't need pedal propulsion, the Topwater 120 might be a better fit. It's pretty much the same model – but without the pedals.
Even with less room on the deck, the onboard storage is great – and I'm not just talking about the 500-pound load limit but the clever storage solutions, too.
You get a large dry storage hatch and oversized rear tank well with bungee rigging, rod holders, accessory rails, and a transducer mounting system, among other things.
Technical Specs
Type: Sit-on-top kayak
Dimensions: 12 x 2.80 feet
Hull Weight: 85 pounds
Weight Capacity: 500 pounds
Pros
The patented Old Town PDL drive system is simple and maintenance-free
Multiple cleverly designed, well-placed storage solutions
The DoubleU hull design ensures plenty of stability
The seat position is highly adjustable
It has an EVA deck pad, making standing up more comfortable
Cons
There are only two scupper holes in the front, meaning it may take a while to drain
The 85-pound weight makes it hard to transport
Old Town's Topwater 120 is a durable, well-thought-out kayak with an award-winning pedal drive system. It's pretty much all you need from a fishing kayak – if not more!
Best Budget-Friendly Stand-Up Fishing Kayak
Ascend H10 Sit-In Hybrid Kayak
Right away, I'd like to say that the H10 is the go-to low-budget kayak – and now, let me explain why.
The H10 costs a few hundred dollars more than some generic, chain-store-bought kayaks but boasts an incredible built quality and design. Sure, you could find cheaper options – a Lifetime sit-on-top kayak, for example – but quality-wise, the H10 is on a completely different level.
What makes it unique is that it's a sit-in kayak with a tunnel-hull design that offers exceptional secondary stability and makes it suitable for stand-up fishing.
And what about comfort?
The seat has multiple adjustment options. I swear to you; I could've just laid back and floated on the water for hours without a single ache in my back.
Plus, Ascend didn't cut any corners storage-wise, either. You have front and rear storage wells – with mesh cargo covers, mind you – and three accessory rails are present (two on the sides and one in the front). Oh, and you'll find two conveniently placed mesh bags on the sides, too.
I could go on about all the little things you won't find on other kayaks in this price range – but I'll sum it up like this:
It's the best budget-friendly deal on the market. That's all you need to know!
Technical Specs
Type: Sit-in kayak
Dimensions: 10 x 2.58 feet
Hull Weight: 55 pounds
Weight Capacity: 400 pounds
Pros
Incredible value for the price
Designed to bridge the gap between a sit-in and sit-on-top kayak
Large cockpit opening for easier entry
The seat is highly adjustable and very comfortable
The tunnel-hull design offers plenty of secondary stability
Plenty of storage options for a kayak of its size
Cons
Doesn't have any actual dry storage hatches
It can feel a bit tippy when you stand up
The Ascend H10 is arguably the best budget kayak you can buy today. If you're just starting out or need a cheap 'yak to add to the collection, the H10 is a must-buy.
Best High-End Fishing Kayak
Jackson Kayak Blue Sky Boatworks 360 Pro
I have a love-hate relationship with the 360 Pro. I love this particular model, too, but there are a few things that bug me about it that you need to know about:
The catamaran design offers great stability; you can sit in the chair or stand and walk about and feel equally safe and secure in both scenarios. The evaluated seat provides an excellent view point for sight fishing, it can be adjusted up, down, forward and back – making it easy to dial in your seated position – and swivels 360 degrees.
The onboard storage is awesome – and with the 500-pound capacity, you'll be able to put it to good use. There are four hatches (two on each side), and they're large enough to fit whatever you need.
The kayak has a built-in wiring system – but don't expect it to be ready for the water right out of the box. The motor and battery, as you can guess, are sold separately.
Also, it's absolutely massive, clocking in at 140 pounds. While the addition of wheels in the back and the front handles help load it up on the truck and get it to the water, transporting the 360 Pro is NOT an easy task.
Do these things affect my overall experience with this kayak?
Absolutely not.
Even if you look at the Coosa FD that Jackson Kayak sells for just a few hundred more, the Blue Sky is on a whole other level design-wise – and the fact that it is motorized gives it an edge over its pedal-driven sibling – which frankly just gets in the way
It takes some getting used to, and transportation isn't a breeze, but I still love this thing, and I would recommend it wholeheartedly.
Technical Specs
Type: Sit-on-top kayak
Dimensions: 13.4 x 4 feet
Hull Weight: 140 pounds
Weight Capacity: 500-pound capacity
Pros
The catamaran-hull design ensures excellent stability
Comes with a highly adjustable swivel seat
Several well-placed storage units
A spacious deck with lots of room for stand-up fishing
Has an integrated electronic wiring system
Features built-in wheels to help with transportation
Cons
The built-in wiring could be of higher quality considering the price point
The seat isn't as comfortable on longer trips
The 140-weight makes it insanely hard to transport
It's an interesting buy – and one that requires a serious investment. But the Blue Sky 360 Pro Angler kayak is for the serious fishermen who understand what they're getting for the money.
Best Full Fishing Package
Wilderness Systems ATAK 120
The original 14-foot advanced tactical angling kayak – or ATAK for short – was one pretty impressive vessel. The ATAK 120 offers the same benefits but in a more compact, 12.3 feet long, 35 inches wide hull.
The 120 is still a massive 86-pound kayak, but it's rigged for fishing and has a 400-pound capacity. Sure, it's a tad bit lower than the Radar 115's 450-pound load limit – but it's enough for a one-person kayak. It fits everything I could possibly need on a fishing trip, with room to spare.
There are multiple SlideTrax accessory systems, bow, and stern compartments, a hatch, a removable console system, transducer scupper, AirPro MAX seat, stand-up assist strap; you name it, and ATAK has it.
It's hilarious that they forgot to include a single fishing rod holder, though – but at this point, I'm not surprised. Wilderness Systems' Radar 115 doesn't feature any rod holders, either.
Still, even with that slip up on their end, I still felt like I had everything I needed. It's stable, the seat was very comfortable, and I had an absolute blast testing this thing out in the water.
The compatibility with the Helix MD motor is excellent, considering that stand-up kayaks aren't known for speed. Of course, you'll have to purchase one separately – but at this price point, I'm not sure there's room for complaints.
Technical Specs
Type: Sit-on-top kayak
Dimensions: 12.3 x 2.9 feet
Hull Weight: 86 pounds
Weight Capacity: 400 pounds
Pros
Well designed, built, with exceptional stability and customizable open-space deck
Has a stand-up assist strap for safety
Fully rigged for fishing and long periods on the water
AirPro MAX system makes for a very comfortable seat
Compatible with a Helix MD motor
Cons
Among most cumbersome stand-up fishing kayaks on the list
Doesn't have built-in fishing rod holders
It's nowhere near budget-friendly
The rudder system is sold separately
If you want a stable fishing platform that can quickly navigate the water, the ATAK 120 may be the fishing kayak for you.
Overall Best Stand-Up Fishing Kayak
Old Town Sportsman Big Water Pedal Kayak
Considering that this model uses the same formula as other PDL Old Town models, in theory, I am an instant fan. It's a 13-foot monster, there's no doubt about that, but navigating the waters with the PDL system was pretty easy on my legs.
The seat is adjustable height-wise, and due to the sheer length of the kayak, you still have more than enough room to stand up comfortably. On that note, it also features cushioned deck pads.
The storage options are ridiculously good:
There's a dry storage hatch in the front and a large tank well in the back, complete with bungee rigging – and you also get several rod holders, accessory tracks, and a custom tackle box.
The ability to carry 500 pounds is every bit as impressive – especially for a one-person kayak.
To top it off, the 132 feels incredibly stable and secure on the water. That stability is the result of Old Town's performance tri-hull design, which promises better paddling efficiency than what you would find on the Sportsman 120 PDL model.
The pedal drive makes it possible to cut through the water with ease, and it can be removed for transportation – which is good news, considering that the 'yak weighs 96 pounds with it.
But as much as I like it, the pedal drive system takes up space on the deck. If that's an issue for you, I recommend the Sportsman BigWater 132. It boasts the same design – but with even more room on board (and, arguably, even less maintenance).
Technical Specs
Type: Sit-on-top kayak
Dimensions: 13.2 x 3 feet
Hull Weight: 96 pounds
Weight Capacity: 500 pounds
Pros
Multiple convenient storage solutions and an impressive load capacity
The performance tri-hull design improves stability without compromising efficiency
The pedal drive system can be removed for transportation
The seat is adjustable and has mesh sections for improved breathability
Has a transducer mounting system
Cons
Transportation can be a hassle, given that it weighs nearly 100 pounds
The PDL drive system takes up some precious deck space
It's among the most expensive kayaks featured on this list
The Big Water PDL 132 is a fishing beast – but I would be lying if I didn't say that the "standard" Big Water 132 isn't just asn impressive at almost half the price. I guess that's a matter of preference, more than anything else.
Best Tandem Stand-Up Fishing Kayak
2022 Hobie Mirage Compass Duo Tandem Sit-On-Top Kayak
The Mirage Compass Duo is a 13.5-foot tandem SOT kayak packed with features. It's fitted with two adjustable seats, four rod holders, two cup holders, two dry storage compartments – and an open storage area in the back, secured with bungee cords.
And while the 475-pound capacity is decent, it can't quite compare to what the other kayaks on this list had to offer – especially compared to single-person kayaks, like the Old Town Big Water 132.
But unless you and your paddling buddy both weigh more than 200 pounds, I'm sure you could make it work.
Anyway, back to the features:
Hobie's Mirage Compass Duo comes with two pedal drive systems – the MirageDrive 180, which is a forward/reverse system, and a forward-only MirageDrive with Glide Technology.
That adds to the kayak's weight, though; it clocks in at 92 pounds. But at least you won't have to do all the pedaling yourself, right?
Oh, and it comes with a paddle – which is a nice addition.
I'm a fan of the Mirage Compass Duo – although the price tag is pretty steep. Then again, that's to be expected from Hobie's kayaks. If you have the budget, go for it – but if not, Old Town's Big Water PDL 132 would be a much better fit. I'm sure your wallet would agree.
Technical Specs
Type: Sit-on-top tandem kayak
Dimensions: 13.5 x 2.92 feet
Hull Weight: 92 pounds
Weight Capacity: 475-pounds
Pros
Features two large dry storage hatches and has a rear tank well
Two separate Mirage Drive systems, one for each person onboard
Has a total of four rod holders (two in the front, two in the back)
Equipped with four accessory rails on the sides
Comes with a paddle
Cons
The capacity could be a bit higher for a tandem kayak
The seats offer little lumbar support, making them a poor choice for long trips
The Mirage Compass Duo is an interesting tandem – mainly because it has two separate paddle drive systems. I'm still not sure if that justifies the price, though.
A Quick Side-By-Side Comparison
I know that having so many options thrown your way may be a bit overwhelming. Plus, there are so many variations – with all the different designs, price points, propulsion systems, and features to consider.
If you're confused, I get it.
So, how about you take a look at them side by side? It might just help you sort out your thoughts and make an informed decision.
Here's the recap:
Best Inflatable Tandem
Best Tri-Powered
Most Stable Inflatable
Best Motorized
Best Pedal-Drive
Budget-Friendly
High-End Pick
Full Fishing Package
Overall Winner
Top Rated Tandem
Model
Model
AQUAGLIDE Blackfoot Angler 130
Wilderness Systems Radar 115
Advanced Elements Straitedge Angler Pro
Old Town Sportsman PDL 120
Ascend H10 Sit-In Hybrid Kayak
Blue Sky Boatworks 360 Pro
Wilderness Systems Atak 120
Old Town Sportsman BigWater
Our Rating
Our Rating
9.3/10
9.1/10
9.1/10
9/10
9.5/10
8.9/10
9.1/10
9.3/10
9.5/10
8.8/10
Build Quality
Build Quality
⭐⭐⭐⭐⭐
⭐⭐⭐⭐
⭐⭐⭐⭐
⭐⭐⭐⭐⭐
⭐⭐⭐⭐⭐
⭐⭐⭐⭐
⭐⭐⭐⭐⭐
⭐⭐⭐⭐⭐
⭐⭐⭐⭐⭐
⭐⭐⭐⭐⭐
Stability
Stability
⭐⭐⭐⭐⭐
⭐⭐⭐⭐
⭐⭐⭐⭐⭐
⭐⭐⭐⭐
⭐⭐⭐⭐⭐
⭐⭐⭐⭐
⭐⭐⭐⭐⭐
⭐⭐⭐⭐⭐
⭐⭐⭐⭐⭐
⭐⭐⭐⭐
Weight Capacity
Weight Capacity
⭐⭐⭐⭐⭐
⭐⭐⭐⭐
⭐⭐⭐⭐
⭐⭐⭐⭐
⭐⭐⭐⭐⭐
⭐⭐⭐⭐
⭐⭐⭐⭐
⭐⭐⭐⭐
⭐⭐⭐⭐⭐
⭐⭐⭐⭐
Features
Features
⭐⭐⭐⭐
⭐⭐⭐⭐⭐
⭐⭐⭐⭐
⭐⭐⭐⭐⭐
⭐⭐⭐⭐
⭐⭐⭐⭐
⭐⭐⭐⭐⭐
⭐⭐⭐⭐⭐
⭐⭐⭐⭐
⭐⭐⭐⭐
Value For Money
Value For Money
⭐⭐⭐⭐
⭐⭐⭐⭐⭐
⭐⭐⭐⭐⭐
⭐⭐⭐⭐
⭐⭐⭐⭐⭐
⭐⭐⭐⭐⭐
⭐⭐⭐⭐
⭐⭐⭐⭐
⭐⭐⭐⭐⭐
⭐⭐⭐⭐
Type
Type
Sit-on-top
Sit-on-top
Sit-on-top
Sit-on-top
Sit-on-top
Sit-inside
Sit-on-top
Sit-on-top
Sit-on-top
Sit-on-top
Dimensions
Dimensions
13 x 3.17 feet
11.7 x 2.9 feet
10.6 x 3.21 feet
10.6 x 2.88 feet 
12 x 2.80 feet 
10 x 2.58 feet 
13.4 x 4 feet
12.3 x 2.9 feet
13.2 x 3 feet 
13.5 x 2.92 feet 
Hull Weight
Hull Weight
41 pounds
85 pounds
45 pounds
75 pounds 
85 pounds 
55 pounds
140 pounds
86 pounds
96 pounds 
92 pounds 
Max Capacity
Max Capacity
650 pounds 
450 pounds
400 pounds 
440 pounds
500 pounds
400 pounds
500-pound capacity
400 pounds
500 pounds
475-pounds
Best Kayak For Stand Up Fishing Of 2023: Conclusion
The market for fishing kayaks has really developed over the past few years, this has led to a number of specialized 'yaks coming onto the scene – stand up fishing kayaks being a prime example of this.
The best stand up fishing kayak should be sturdy and stable, comfortable when needed – and, if possible, within your budget.
In that sense, any of the kayaks you saw today would serve your needs well and help you reap the benefits of getting up on your feet while fishing.
However, the Old Town Sportsman Big Water Pedal Kayak still found a way to stand out in terms of design, advanced PDL drive system, ample storage space, and usability – and, might I add, good looks.
One last thing, most of the kayaks reviewed today would also make great hunting kayaks, and an excellent platform from which to shoot duck or waterfowl.