Kayaking is all about moving forward and exploring new waters. Sometimes, however, you find yourself right where you want to be – and want to stay there for a while.
Whether you're taking in nature's beauty, snapping photos, taking a break from paddling, or kayak fishing, you need to prevent your kayak from drifting away – even if the wind picks up or the current grabs you.
Anchors are a part of kayaking gear that sometimes gets overlooked. Not today, though.
Read on and pick the best kayak anchor before you find yourself slowly floating down the stream!
We may receive a commission if you click a link on this page and then go on to purchase something, but at no extra cost to you. Learn more here.
At a Glace – Our Picks For Top Anchor Systems for Kayaks
In A Rush? The Winner After 36 Hours Of Research:
Complete Grapnel Anchor System
Why is it better?
Complete kayak anchor kit with the anchor, 25-foot rope, in-line buoy, and storage bag included
Folding four-fluke anchor offers a solid grip in most conditions
The anchor's 3.3-pound weight makes it suitable for most applications, from calm to choppy waters, regardless of kayak's size
The anchor's powder-coated to ensure corrosion resistance
The bright red color helps improve visibility
The nylon storage bag is padded to prevent damage to the kayak or the anchor during storage
How To Choose The Best Kayak Fishing Anchor: Key Features To Consider
You'll often hear people say that anything substantial enough can act as an anchor.
And sure, if you were to tie a 30-pound cinder block to a rope and throw it in the water, it could potentially stop your kayak dead in its tracks.
But is a 30-pound DIY anchor something you plan to carry around in a kayak, which has a limited load capacity?
Yeah, I didn't think so.
I'm getting slightly off track, but my point is that it's never – ever – a good idea to overlook the importance of using the best kayak anchor, especially if you are planning on kayak fishing!
When I say "best," I mean a kayak-friendly, appropriately-sized anchor designed to grab – and hold onto – branches, sand, mud, and other debris found at the bottom.
On that note, grapnel anchors are, by far, the best and most commonly used type of anchor for kayaks.
Anything other than a proper anchoring system could result in your alternative solution sliding across the bottom. You could end up in a potentially dangerous situation – or, at the very least, find that your kayak drifted away while you weren't looking.
But does that mean a grapnel anchor is always the right choice?
No. Especially if you're a kayak angler who is fishing the drift.
When drift fishing, you don't want to park your 'yak but instead control the speed it travels in the current. This can be achieved by the use of a drift anchor, also known as a drift sock.
What is drift sock?
A drift sock is an underwater parachute that when deployed provides drag and as a result slows down the kayak. By varying the distance that the drift sock is extended from the kayak, the speed of drift can be adjusted – closer to the kayak, the faster the drift. – the further away from the kayak, the faster the drift.
A drift sock also can help prevent weathercocking, technically acting a rudder, keeping the fishing kayak facing the drift rather than turning in the wind.
Types of Kayak Anchor
With so many different types of kayak anchors to choose from, it can be tough to know where to start. Don't worry, we've got you covered!
In this handy table, we'll break down all the various types of anchor and give you the lowdown on when to use them, how they work, and why they're the best choice for your next kayaking adventure.
Editor's Note
Note: Always make sure to choose the right anchor for your kayaking environment, and be familiar with how to use it properly for the best results.
– Sam O'Brien
Weight Vs. Size: Is Heavier Always Better?
As shocking as this sounds, the anchor's weight doesn't matter as much as you might think it does. You don't need a lot to weigh you down:
A 1.5-pound anchor should be more than enough in calm waters. Granted, you might want to upgrade to a 3 to 3.5-pound anchor if you're paddling in rough, choppy waters.
Even then, going beyond the 3.5-pound mark isn't recommended for kayakers due to the somewhat limited load capacity.
I mean, go ahead and try putting a large, concrete-filled can into water. You'll see that it won't do much in terms of keeping your kayak in place. No matter how hefty it may be, it can't bite into the bottom. Instead, your DIY anchor will drag along as your kayak drifts away slowly.
The actual size – and design – of the anchor matter a lot more than weight when keeping your kayak rooted.
A well-designed anchor with large "wings" – even if it's a lighter one – will dig into the mud and grab onto branches, rocks, and debris found at the bottom. That's what keeps the kayak right where you want it "parked."
The Importance Of Anchor Rode And Scope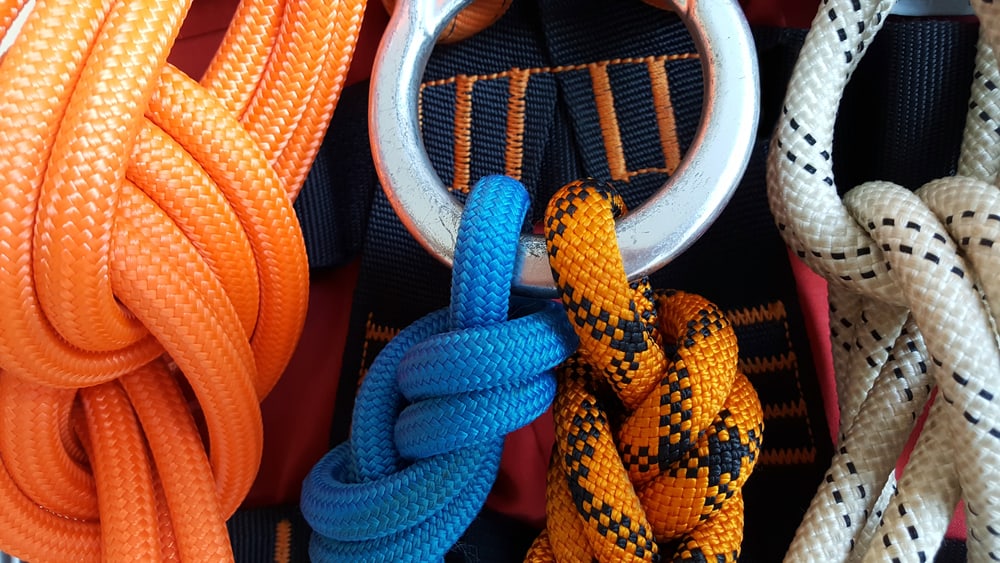 Again, using an anchor isn't so much about attaching something substantial to your kayak. It's about having something that can tip over to the side and dig into the bottom effectively.
Whether you choose to call it anchor rode, anchor line, or simply, rope, the cable's length is essential here:
You could have the best type of anchor picked out, and a short anchor rode – the actual cable that connects the anchor to the kayak – would still render it useless. Without proper rope length, your anchor will merely drag along the bottom.
The tricky thing is that "proper length" has a somewhat relative meaning here; there are no universal fits or one-size-fits-all solutions. Instead, the recommended anchor rode length depends on the depth of water and is determined by the anchor's scope.
The scope is defined as the ratio of the anchor rode length – measured from kayak to anchor – to the actual depth of water.
Most will agree that the 7-to-1 ratio is ideal here, meaning that you need seven feet of rope for every foot of water depth.
For example, if you're paddling in water that's 10 feet deep, you'll need around 70 feet of rope – which, I know, sounds like overkill for kayaking purposes. But, again, having enough line to allow the anchor to trail behind the kayak is essential for optimal stopping power.
Mounting Your Anchor: Bow, Stern, Or Side?
Picking the right anchor type and scope is only half the battle. You still have to figure out what's the best place to attach the anchor to your kayak.
And no, it's not as simple as tying it off wherever and just tossing it over the side. That's the last thing you should do.
Kayaks are long but rather narrow vessels designed to face water and waves head-on.
When you attach the anchor on the side, it makes it so that the wind and waves approach your kayak from a less-than-stellar angle. In turn, that could create more drag, mess with the kayak's balance, and – if waves get bad enough – cause you to capsize.
Ideally, you should mount the anchor on either the bow or the stern of your kayak. Picking one location or the other is a matter of preference; as long as your kayak isn't facing the current and waves sideways, you're good to go.
Oh, and one more thing:
Some kayaks will have dedicated, universal-fitting, anchor mounting plates, which make this a whole lot easier. Unfortunately, recreational and inflatable kayaks rarely do, meaning that you'll have to install them yourself.
Since this often involves drilling holes in the kayak's hull, it may be a good idea to find a professional to do it.
Do You Need An Kayak Anchor Trolley?
Well, I wouldn't necessarily say that anchor trolleys are absolutely essential. Then again, this clever piece of extra equipment does come in handy whenever you need to switch your anchor's position from bow to stern – without getting out of the kayak.
Kayak anglers or those crabbing from a kayak, for example, can certainly benefit from investing in an anchor trolley.
No, scratch that:
Anyone who needs to adapt to the waves and winds quickly – sea kayakers will know what I mean – will get the importance of this simple-but-effective addition to their anchoring rig.
The anchor trolley features a line that runs along the kayak side and a ring that you can move from one end to the other.
An anchor trolley is a surprisingly simple system, yet it allows you to change the anchor's placement when needed.
Top 6 Best Kayak Anchors In 2023 – Reviews & Recommendations
Seattle Sports Kayak Anchor Kit
The Seattle Sports' 1.5-pound four-fluke folding anchor is best suited for calm waters and smaller kayaks.
It comes with 50 feet of braided polypropylene rope, which is rather impressive; not many kayak anchors come with a line as long as that. What's more, it's brightly colored for better visibility.
You'll also get two carabiners, a drawstring storage bag – albeit not a padded one – and a ring fitting that lets you switch between bow and stern mounting depending on your needs.
The latter contributes to the anchor's versatility. However, running the anchor line along the kayak takes away from the 50-foot rope length.
Technical Specs
Galvanized steel folding four-fluke anchor
Weighs 1.5 pounds
50 feet of anchor line
Pros
Lightweight with folding flukes
For small kayaks, calm waters and inland kayak fishing
Comes with 50 feet of high-quality, braided polypropylene rope
Two carabiners, ring, and bag included
Cons
The included storage bag isn't padded for protection
You don't get to use the full 50-foot length depending on how you run the line
Reasonably priced and versatile in terms of mounting options, this Seattle Sports anchor could work for short, lightweight, and inflatable kayaks – especially in calm waters.
Overall Best Kayak Anchor
Complete Grapnel Anchor System
If a 1.5-pound anchor doesn't cut it, the more substantial, 3.3-pound grapnel anchor by Airhead may be worth considering.
The four-fluke folding anchor is galvanized and powder-coated to ensure corrosion resistance, while the bright red color helps with visibility. Throughout the kit, the theme goes on with the in-line marker buoy ball and rope, both featuring the same striking red color.
The nylon storage bag is another bonus, as it's padded to protect the kayak and the anchor from potential damage.
Although I have no complaints regarding the marine-graderope's quality, I was hoping for more than 25 feet. If you use the included line, stick to shallow waters with light current drift only.
Technical Specs
Folding four-fluke grapnel anchor
Stainless steel snap hook
Weighs 3.3 pounds
25 feet of anchor rope
Pros
Galvanized, powder-coated, rust-resistant 3.3-pound anchor
Excellent hold performance in sand, gravel, mud or rock
Everything's brightly colored for visibility
An in-line buoy helps retrieve the anchor
Includes a padded nylon bag and marine-grade nylon rope
Cons
Hard to meet the scope recommendations with a 25-foot line
Rope may begin fraying with regular use, primarily if not handled with care
Airhead's Complete Grapnel Anchor System still leads the way as one of the best anchoring kits for kayaks and is a staple choice for fishing kayaks – even though you should probably replace the rope.
Best Budget Kayak Anchor Lock System
Brocraft Kayak Anchor Lock System
My next pick doesn't include an anchor – or rope, for that matter. So, you still have to buy these separately.
Still, the Brocraft Kayak Anchor Lock System gets a spot on my round-up – and here's why:
If you want to make dropping and pulling in your anchor a lot easier, this is an excellent solution.
The lock system is compatible with a wide variety of accessory tracks commonly found on kayaks. It boasts a quick-release mount, allowing you to reposition or remove the lock system when needed.
And, to further add to the convenience, it has a 360-degree swiveling head.
Technical Specs
Anchor lock system
Anchor not included
Rope not included
Pros
Easy-to-use anchor locking system
Compatible with most gear tracks
The quick-release mechanism makes mounting and removal easy
A 360-degree swiveling head for maximum versatility
Cons
The kit doesn't include an anchor or rope, which have to be purchased separately
The fiberglass-injected nylon construction doesn't feel like it will last
The nifty Brocraft Anchor Lock System could make deploying and retrieving an anchor easier. Granted, you'll have to buy the actual anchor and line separately.
Best All-Purpose Kayak Anchor
Advanced Elements Canoe and Kayak Anchor System
This Advanced Elements kayak anchor kit features a four-fluke, 3-pound, folding grapnel anchor.
The anchor's sliding collar locks the flukes in an open position when deployed and keeps them against the shank when stowed.
It's not as "attractive" or brightly colored, but it works for most bottoms, from sand to rock – and that's what matters.
The anchor comes with a 60-foot rope, complete with an in-line float. It's overkill for shallow water but is the perfect fit if you kayak in deeper waters.
A mesh bag isn't the best choice for storing and transporting an anchor. But it's better than nothing.
Technical Specs
Galvanized steel
Folding four-fluke grapple grip anchor
Weighs 3 pounds
60 feet of anchor rope
Pros
The 3-pound weight is efficient but kayak-friendly
Folding anchor design with a sliding collar to keep flukes in placw
Includes a 60-foot line with in-line float
Cons
A mesh bag probably isn't the best storage solution for kayak anchors
The sliding collar feels a bit flimsy
The rope is prone to tangles
The 3-pound weight, 60-foot line, and foldable four-fluke design – along with a reasonable price – make the Advanced Elements anchor excellent for all-purpose use.
Best Kayak Anchor Trolley Kit
YakGear Deluxe Anchor Trolley Kit
Kayak anglers understand the importance of maintaining a favorable position regardless of winds and currents.
That's what the Deluxe Anchor Trolley Kit by YakGear offers and why it gets a spot on my list – even though it isn't a complete anchoring kit.
Mounting this trolley on your kayak's gunwale allows you to deploy any anchor, even a stake-out pole or drift chute. The nylon pulley system maintains a desirable position – from bow to stern – using the included zig-zag cleat.
You still have to buy a kayak anchor separately. But, you're getting a 30-foot rope, stainless steel hardware, including an anchor cleat, along with detailed instructions.
Technical Specs
Anchor trolley
Anchor not included
30 feet of anchor rope
Pros
Pulley system maintains ideal positioning despite wind and current
Easy to install with stainless steel hardware
The raised design doesn't rub or scratch the kayak
Cons
You still have to buy a kayak anchor separately, as it's not included
The trolley cord tends to stretch and become loose with use
A firm favorite on fishing kayaks up and down the country. Anglers prefer the YakGear Deluxe Anchor Trolley Kit for a reason. You can't beat the convenience of adjusting your kayak's position based on wind and current.
Gradient Fitness Marine Anchor
The Gradient Fitness Marine Anchor is worth considering for two reasons:
First, the folding design makes carrying and storing easier. And second, the slightly heftier design works well in strong currents and choppy waters.
The grapnel anchor weighs 3.5 pounds and is the heaviest on my list, but the four-fluke folding design still ensures kayak-friendly compactness. Plus, you get a padded drawstring bag for storage.
The bright green anchor is rust-resistant, although I wouldn't test this in saltwater.
It comes with 25 feet of marine-grade rope, an in-line buoy, and a stainless steel snap hook. My advice is to replace the line, though.
Technical Specs
Folding four-fluke grapnel anchor
Weighs 3.5 pounds
25 feet of anchor rope
Pros
Galvanized with a powdered green coating ensures rust resistance and improves visibility
Grips across various surfaces
Suitable for rough waters
A sturdy, padded drawstring storage bag included
Cons
The included rope is short and should be replaced right away
The anchor's coated for rust resistance, but it's not recommended for saltwater use
Packing slightly more weight – without compromising kayak-friendly design – this folding 3.5-pound grapnel anchor is best-suited for kayakers that paddle in rougher waters.
Best Kayak Anchor: Final Verdict
Even if you don't intend on "parking" your kayak out on the water, the best kayak anchor should still be on your essential kayaking equipment list.
"You never know," as they say.
Today's anchors are relatively similar design-wise; details like accessories, rope length, and weight set them apart.
The Complete Grapnel Anchor System stood out as the best:
The kit includes a rust-resistant and brightly colored 3.3-pound folding grapnel anchor, a padded storage bag, marker buoy, and a 25-foot rope with an in-line buoy. It's all there.
Consider getting a trolley system while you're at it!