If you're the type to drive around, see waters worth exploring, pull up, and launch your kayak, you must have one that you can carry single-handedly. Plus, weight can affect how much energy and force you have to put into your paddling strokes.
You're more likely to use a kayak that's easy to manage in and out of water. It's as simple as that.
But is weight the only thing that matters? And more importantly, how do you pick the best lightweight kayak?
Here's everything you need to know on lightweight kayaks!
We may receive a commission if you click a link on this page and then go on to purchase something, but at no extra cost to you. Learn more here.
At a Glace: Our Top Picks For Best Lightweight Kayak
In A Rush? The Winner After 41 Hours Of Research:
Pelican Maxim 100X
Why is it better?
It's suitable for most beginner and intermediate recreational paddlers
The RAM-X polyethylene construction keeps the hull impact-resistant and rugged, but lightweight at only 36 pounds
The shallow V chine hull design ensures stability, maneuverability, and on-water performance
Features an ERGOFORM backrest and seat cushion and molded footrests for comfort
Onboard storage options include which includes a front storage hatch with bungee rigging and a rear tank well with a mesh cover
What Makes A Kayak Light?
How do you determine if a particular kayak is lightweight or not? Where's the weight limit that separates the heavy from the light?
While there's no exact definition of a lightweight kayak, I'd say that the focus should be on models that weigh 50 pounds or less.
I am often asked questions like; what sit on top kayak weighs the least or what kayak weighs the least?
Sadly there isn't a one size fits all response and is dependant on a number of factors.
On that note, here's what makes a kayak lightweight.
Inflatable Vs. Hard-Shell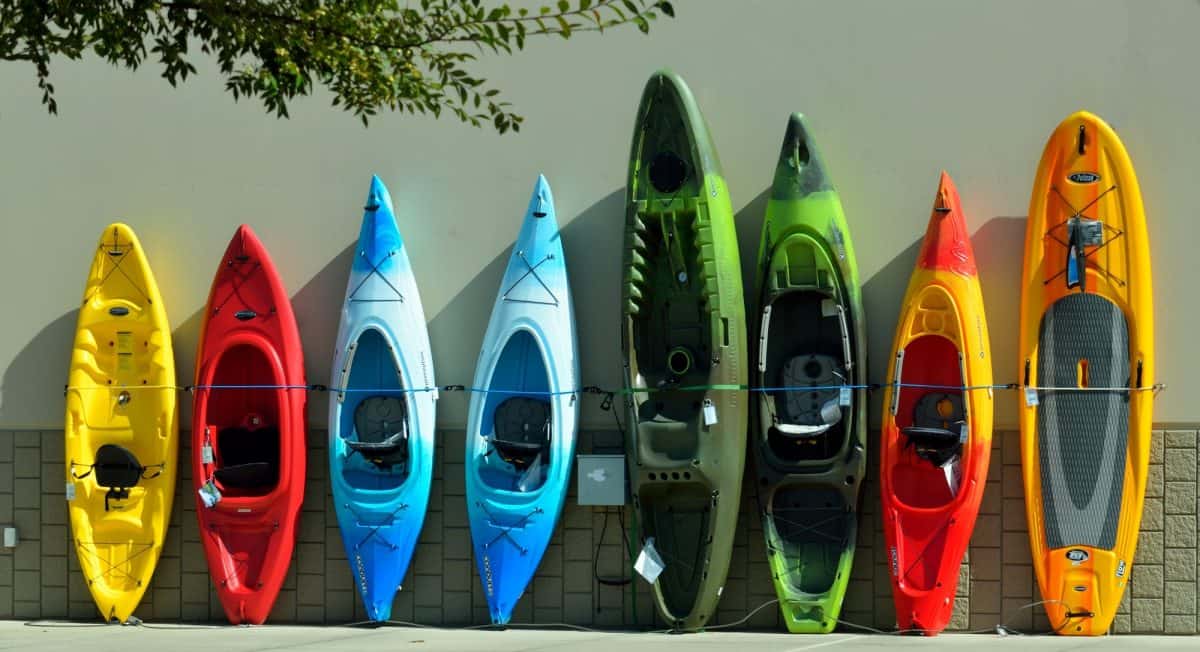 If you'd like to stick to a traditional kayak while keeping things light, a carefully picked hard-shell kayak can make it happen. Some outstanding hard-shell kayaks fall within the lightweight range – keep on reading, and you'll see what I mean.
But that doesn't mean that inflatables aren't worth considering:
When it comes to portability, ease of storage, and compactness, inflatable kayaks are pretty hard to beat. If you're hoping to travel with your kayak and explore nature both on and off the water, you should look into inflatable options.
Construction Materials
You must decide on the type of kayak – hard-shell or inflatable – before you even start thinking about materials.
Generally speaking, though, most lightweight kayaks are constructed using some type of plastic:
Hard-shell kayaks are usually constructed out of high density polyethylene, a type of hard, durable, and often UV-resistant plastic. Composite materials are also an option, although a far more expensive one.
Inflatable kayaks – which are more lightweight by design – are most commonly made of PVC.
Dimensions (Length & Width)
The bigger the kayak, the more it's going to weight, regardless of the materials used in its construction.
It's as simple as that.
When looking for lightweight kayaks, you might be tempted to go as compact as possible, but before you do, keep in mind that dimensions – primarily length and width – play into the kayak's on-water performance:
Long and narrow models are better suited for long-distance paddling, shorter ones are built for whitewater maneuverability, and wider ones typically offer the most stability.
Plus, you have to check if the kayak's size works for your body type – even if it means getting something a bit heavier.
A word of warning, a small kayak doesn't always mean a lighter kayak – I've seen plenty of 12 inflatables that weight less than a 8 foot hard-shell. But as a general rule of thumb, if made from a similar material then the smaller will also be lighter!
Best Lightweight Kayaks Buying Guide: How To Choose A Lightweight Kayak
I wouldn't blame you if you came here with the idea of merely picking the kayak that weighs the least and calling it a day.
Sure, you're going to want to stick to a specific weight limit. For instance, I'd say that 50 pounds or less should be comfortable enough for most paddlers.
However, there's more to it than a simple:
How heavy is it?"
I mean, sure, you do expect the best lightweight kayaks to be… well, lightweight. But weight – and everything that determines it – aside, you also want it to be a comfortable, fully functional kayak.
And what good is a lightweight kayak shell if it's going to sacrifice on-water performance?
That's where the following factors come in as crucial for choosing a lightweight kayak.
Let's Talk Comfort: Always Look For Adjustability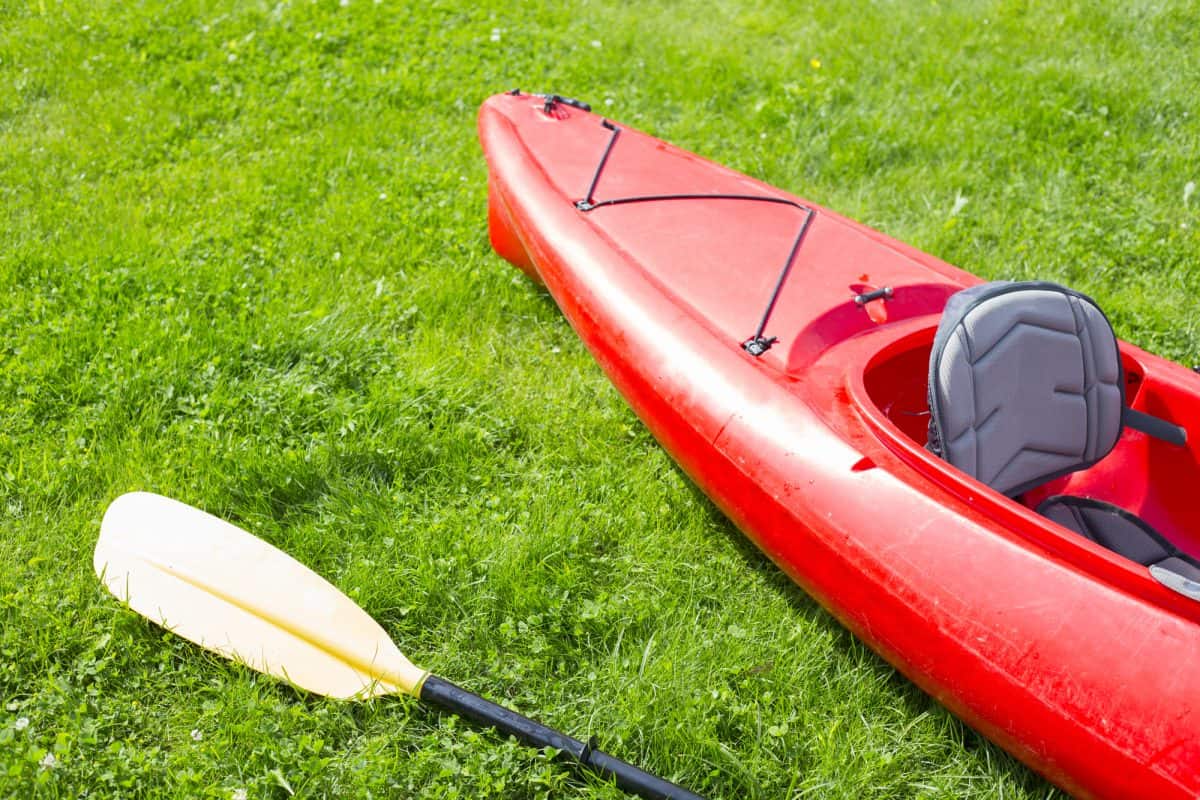 The main point is to shed as many pounds off your kayak's weight – but not at the expense of comfort-oriented features.
If you're going to spend time in it, you want it to be comfortable.
It's even more essential if you plan on taking longer trips, where comfort turns into a matter of improved body support and better control over the kayak.
The critical thing to look for here is adjustability:
Adjustable seats, footrests, thigh braces – anything that allows you to get a more customized fit is more than welcome.
If you're on the bigger side like I am, you're going to want to check how spacious the cockpit is. It's beyond frustrating to get a kayak that you can't – and I mean that quite literally – fit into comfortably because you're too tall.
Don't Underestimate The Need For Onboard Storage
To some extent, the amount of onboard storage is a matter of personal preference – as long as you don't forget to factor in your kayaking habits.
Sure, you want to keep things as light as possible. That doesn't mean that you get to ignore the need for essential equipment and head out on the water with nothing but a life jacket/PFD and a paddle, though.
Basics, such as food, water, a first aid kit, spare clothes, sunscreen, and the like, should always have a place on board your kayak.
And where do you plan on keeping those if the kayak doesn't offer any storage options?
You probably won't find multiple hatches or large tank wells on a lightweight kayak.
At the very least, it should have a dry-storage compartment, some tie-down points, bungee rigging, and maybe some additional space behind or underneath the seat, though.
Do Lightweight Kayaks Have Low Weight Capacity?
Weight capacity is always worth looking into, whether you're going with a 100-pound hard-shell or a 20-pound inflatable kayak. It's a determining factor in how well the kayak will handle not only your weight but also the gear you bring on board.
While this can vary drastically from one model to the next, going with a lightweight kayak doesn't necessarily mean that its weight capacity will be compromised.
Well, at least not as extreme as you might assume based on the lighter construction.
Look at inflatable kayaks, for example:
They typically weigh around 25 to 30 pounds, and can still go neck-to-neck with the much heavier hard-shells in terms of how much weight they can carry.
Portability & Storage As Common Concerns
Surprisingly or not, the size and weight of an average kayak are common concerns would-be kayakers face when thinking about getting their first kayak.
You have to think about the logistics of transporting it to and from the water, which often includes roof racks and kayak trailers.
Plus also remember there may be times where you may need to lift, carry and portage the kayak around hazards such as low-head dams.
Lastly, you have to have enough storage space at home; a full-sized kayak isn't something that you put in the closet and forget that it's there.
That's where a lightweight kayak shines – and, of course, inflatables blow hard-shells out of the water.
Either way, make sure that it comes fitted with carrying handles, grab lines, T-handles, and, in the case of inflatable kayaks, a storage bag.
Best Lightweight Kayaks Reviews & Recommendations In 2022
Overall Best Lightweight Kayak
Pelican Maxim 100X
I'd like to start my round-up with one of Pelican's best all-around options to show that yes, even hard-shell kayaks have strong contenders in the best lightweight kayaks market.
This sit-inside boasts impact-resistant RAM-X construction, and despite its 10-foot length, it still weighs a comfortable 36 pounds. Plus, it has a decent 275-pound capacity.
Another thing that the Maxim 100X has going for it is onboard storage, which includes a tank well and a hatch – albeit not a large or water-tight one.
The padded seat, foot braces, and molded footrests contribute to the paddler's comfort, although I've found them somewhat tricky to adjust on water.
Technical Specs
RAM-X polyethylene hard-shell construction
Measures 10 x 2.3 feet
Weighs 36 pounds
275-pound capacity
Pros
RAM-X polyethylene hard-shell construction
Measures 10 x 2.3 feet
Weighs 36 pounds
275-pound capacity
Cons
Relatively lightweight but durable construction
Agile, easy to maneuver, and stable
Suitable for beginner and intermediate paddlers
Good onboard storage options
A padded ERGOFORM seat
If there's a better lightweight, entry-level sit-inside hard-shell, I've yet to discover it. For recreational purposes, the Pelican Maxim 100X is the way to go.
Best Lightweight Kayak For Fishing
Pelican Sentinel 100X
Here's another Pelican kayak worth considering, only this time around, it's a 9.5-foot sit-on-top hard-shell specifically designed with kayak anglers in mind.
The Sentinel 100X is constructed out of Pelican's signature RAM-X polyethylene, a specially formulated type of high density polyethylene, but weighs slightly more than the Maxim 100X, clocking in at 44 pounds.
The slight difference in weight stems from the Sentinel 100X's fully rigged design:
Designed as a fishing kayak; the cockpit is fitted with mesh bow storage, multiple rod holders, accessory eyelets, and the ExoPak removable storage compartment that fits in the tank well.
It retains the same 275-pound capacity, which, in my opinion, could've been higher considering how much gear fishers need.
It a define strong contender to the answer to the question, what sit on top kayak weighs the least?
It's possibly the lightest fishing kayak on the market – but saying that, don't hold me to that quote. But you get my point, for a fishing kayak it's remarkably lightweight.
Technical Specs
RAM-X polyethylene hard-shell construction (high density polyethylene)
Measures 9.5 x 2.5 feet
Weighs 44 pounds
275-pound capacity
Pros
It's maneuverable and stable enough for casting
Well equipped cockpit with lots of onboard storage space options, including a removable compartment
Features multiple rod holders and two eyelets for accessories
Cons
The seat doesn't have that much cushioning
You'll have to get a paddle separately
The weight capacity could be slightly higher for fishing
If you're looking to take your kayak fishing experience to the next level, the Pelican Sentinel 100X is a rigged but lightweight sit-on-top option worth considering.
Best Lightweight Kayak For Kids
Lifetime Youth Wave Kayak
Lifetime's Youth Wave is as lightweight as hard-shell kayaks go, weighing a mere 18 pounds. It won't fit 95% of adults reading this, especially not considering the 130-pound capacity, but that's the point:
This sit-on-top is designed for youngsters!
The cockpit is molded ergonomically with a swim-up deck for smooth re-entry and multiple footrest positions, but it's rather basic-looking and stripped of any extras. It doesn't even have a padded seat.
Then again, I don't think that many kids would miss it anyway. They get to have fun in this highly stable, brightly-colored kayak – that'll probably be enough for kids to enjoy a day on the water.
Technical Specs
High Density Polyethylene hard-shell construction
Measures 6 x 2 feet
Weighs 18 pounds
130-pound capacity
Pros
Suitable for kids ages 5 and older
It small size makes it super easy to transport
The molded cockpit with swim-up deck makes re-entry easier
Bright color improves on-water visibility
Excellent stability
Youth-sized paddle included
Cons
The kayak doesn't come with a seat or a backrest
The weight capacity is limited to 130 pounds
Although stable its features are better suited for calmer conditions
Tracking could be a bit better
If you want the lightest kayak for your kids to have some fun – and develop kayaking skills – Lifetime's Youth Wave is a highly recommended option.
Best Lightweight Kayak For Flat Waters
ADVANCED ELEMENTS Lagoon 1 Kayak
Inflatable kayaks are known for lightweight construction and portability; the Advanced Elements Lagoon 1 is no different.
This 8.3-foot sit-inside kayak weighs a mere 23 pounds. So, it can be affected by winds and choppy waters. However, it feels rugged and well-made – and the six-chamber design further adds to its safety.
It has a 250-pound capacity, so I wasn't too surprised about the storage space options being limited to bungee rigging and a mesh pocket. It should be enough for recreational use, though.
Overall, although I think it's worth it, a casual paddler may not be comfortable with paying this much for an inflatable kayak.
Technical Specs
PVC-coated nylon inflatable construction
Measures 8.3 x 2.8 feet
Weighs 23 pounds
250-pound capacity
Pros
Inflatable seat and foam floor provide comfort
The fin and rigid bow and stern panels help with tracking
Six-chamber construction
A duffel bag is included for easy transport
Cons
Tracking wise it's only suitable for flat waters
Stability heavily affected by the wind
Small cockpit with minimal onboard storage options
It's somewhat pricey
Doesn't come with a paddle
The Lagoon 1 is step-up from an average air-filled kayak – and easy to recommend if you want to have some afternoon fun on the water.
Best Lightweight Hybrid Kayak
ADVANCED ELEMENTS AirFusion Elite Kayak
It's neither a hard-shell nor an inflatable – instead, the Advanced Elements AirFusion is a little bit of both:
The 13-foot shell combines an aluminum frame and polyurethane "skin" stretched across it with high-pressure air chambers. The design is instrumental in to the way this yak tracks and handles so well out on the water, it really is like paddling a hardshell – the performance difference is
The initial setup may take longer, but you're getting the best of both worlds in a kayak that weighs as little as 32 pounds. If this was a hardshell then it would be the lightest kayak around.
As for storage, you get bungee deck lacing, a rear roll-top hatch, and D-ring tie-downs. However, it has a 235-pound capacity, so be sure not to overload it.
I'm not too thrilled about the price tag, though; the AirFusion Elite is my most expensive pick. But when compared to other foldable kayaks it's relatively cheap.
Technical Specs
Polyurethane and aluminum hybrid construction
Measures 13 x 2 feet
Weighs 32 pounds
235-pound capacity
Pros
Hybrid construction with aluminum frame and five air chambers
Sleek and lightweight but strong and durable
Tracks and handles as a regular hard-shell
Being foldable it's easy to carry and transport
Multiple onboard storage options
Cons
It's the most expensive kayak on the list
The setup might take longer than a regular inflatable kayak
Price tag aside, the AirFusion is pretty much the definition of what to look for in a lightweight kayak, offering; easy setup, lightweight design, portability, and excellent on-water performance.
Best Travel-Friendly Lightweight Kayak
Sevylor Quikpak K1 1-Person Kayak
Can you imagine showing up at the lakeside with a backpack and – boom – five minutes later, the bag turns into a full-blown kayak?
Let me introduce you to the Sevylor Quikpak K1:
The whole thing – the 8.6-foot sit-on-top inflatable kayak, a collapsible paddle, and pump – transforms from an 18-pound backpack into a functional watercraft. What's more, the bag itself turns into a seat.
Also, I'm a big fan of the multi-chamber design and the impressive, 400-pound capacity.
Its speed and tracking abilities are nothing to call home about – but it's still a decent enough choice for a relaxing kayaking experience.
Technical Specs
21-gauge PVC inflatable construction
Measures 8.6 x 3 feet
Weighs 18 pounds
400-pound capacity
Pros
Portable backpack system
Multi-chamber design and no-leak guarantee
Padded seat and multi-level footrests
Takes only 5 minutes to set up
A collapsible paddle and pump included
Cons
Lots of side-to-side movements and less-than-stellar tracking
You'll likely have to upgrade to a more durable paddle
Doesn't handle waves or winds that well
If you're searching for the lightest sit-on-top recreational kayak that you could bring anywhere, then the Sevylor Quikpak K1 is the way to go!
Best Inflatable Lightweight Kayak
Sevylor Quikpak K5 1-Person Kayak
The Sevylor Quikpak K5 is another backpack kayaking system that ensures ultimate portability for paddlers that are always on the move.
The 10-foot sit-inside inflatable kayak, a somewhat flimsy, three-piece paddle, and pump are all part of a 25.5-pound backpack, which unfolds into the seat and spray covers.
The K5 is a sit-inside model, though. If you liked the efficiency and convenience of the K1, but prefer sit-inside over sit-on-top kayaks, the Quikpak K5 is the way to go.
The 24-gauge PVC construction and cargo space are definite improvements, but it cuts the capacity to 250 pounds compared to the K1. I wouldn't necessarily recommend it to larger paddlers.
Technical Specs
24-gauge PVC inflatable construction
Measures 10 x 2.8 feet
Weighs 25.5 pounds
250-pound capacity
Pros
Rugged, multi-chamber construction
Packs up into a lightweight and portable backpack for easy transport
Setting it up takes around 5 minutes
Comes with a paddle and pump
Cons
The three-piece paddle feels somewhat flimsy
Rides high and doesn't cut through water well
Doesn't drain easily
Not the best choice for larger paddlers
I'd recommend the Sevylor Quikpak K5 to anyone who wants to bring a kayak on a back-country hiking adventure – especially if they prefer a sit-inside.
Best Budget Lightweight Kayak
Intex Challenger K1 Kayak
I have to say; for a cheap inflatable kayak, the Challenger K1 looks pretty cool. What's more, the sporty-looking graphics lend it a bolder look and improve its visibility.
The 9-foot sit-on-top kayak weighs a comfortable 27.2 pounds, but its weight capacity is limited to 220 pounds. So, it's not the best choice for bigger paddlers. And even though it does have a cargo net, I don't think you'll be taking lots of gear onboard due to these limitations.
I like that the Challenger K1 comes as part of a complete kit, though, with a pump, carry bag, paddle, and a repair patch included.
Technical Specs
Vinyl inflatable construction
Measures 9 x 2.5 feet
Weighs 27.2 pounds
220-pound capacity
Pros
Excellent for beginners as it cheap and stable
Puncture-resistant, two-chamber vinyl hull
A front cargo net
Sporty graphics for improved visibility
Come with a carrying bag for hassle-free transport
Paddle, repair patch, and paddle included
Cons
Not suitable for larger paddlers due to limited capacity
The cockpit tends to warm up
The included carrying bag and paddle feel rather flimsy
The sporty-looking Challenger K1 by Intex is among the more budget-friendly lightweight kayaks on my list. Intex offers quite a bang for your buck here!
Best Lightweight Kayak – Final Verdict
You likely narrowed your choice down to lightweight kayaks for reasons such as lack of available space, transportation-related issues, or the inability to manage a regular, full-sized kayak single-handedly.
Either way, I hope that my best lightweight kayak showed you that you still have plenty of options, both hard-shell and inflatable ones.
This time, my vote goes to the Pelican Maxim 100X:
It's sturdy and durable but lightweight – especially for a hard-shell – and offers excellent on-water performance. What's more, it's comfortable enough for prolonged paddling sessions, too.
If you'd prefer an inflatable kayak due to storage issues, feel free to pick any of the models featured on my list. I'm sure that you'll be more than happy with your choice!