If you're the type to drive around with their kayak strapped to the roof of their car, searching for new paddling spots, you know how unwieldy large kayaks can be. It's hard to be spontaneous when there's a 14-foot, 70-pound monster of a kayak to deal with everywhere you go, huh?
My guess is that's one of the reasons why you're considering getting the best small kayak.
You're not alone:
More and more paddlers are starting to appreciate the convenience and portability that a small lightweight kayak brings to the table.
Keep reading and learn all about it!
We may receive a commission if you click a link on this page and then go on to purchase something, but at no extra cost to you. Learn more here.
In A Rush? The Winner After 40 Hours Of Research:
Why is it better?
Designed for all-around performance that meets the needs of beginner and intermediate-level recreational paddlers
This sit-in kayak measures 10 feet in length, which is an excellent size for a small recreational kayak
It's an ultra-lightweight hard-shell kayak that weighs as little as 36 pounds, meaning it's easy to carry, load and unload single-handedly
The shallow V chine hull provides a perfect blend of responsiveness, maneuverability, and stability
The kayak's onboard storage includes a rear cargo platform with a mesh cover, a cockpit "table," and a smaller front hatch, backed by a 275-pound capacity
Fitted with an adjustable ERGOFORM seating system for comfort and has molded footrests that also improve bracing and control
Small Kayak 101: What Are The Benefits Of A Short & Lightweight Kayak?
Opting for a small kayak has some apparent advantages – and most of them have to do with the logistics of storage and transportation.
I'm sure you've given this some thought already.
Otherwise, we probably wouldn't be having this conversation.
But in case you're still struggling to decide, from the many different types of kayaks, whether a shorter kayak would be the right fit for you, let's go over the most notable benefits of small kayaks:
A shorter hull is usually a lightweight one – and that makes the kayak more manageable, more comfortable to carry and load single-handedly
Transporting small kayaks is generally straightforward, even without a kayak trailer; you don't need much more than a roof rack, or if you own a truck, you can transport your kayak in the truck bed
The compact size means you shouldn't have much trouble finding a suitable storage space, which is a plus for apartment dwellers
A higher degree of maneuverability, made possible by the shorter turning radius and lower hull speed, is the single most crucial performance-related benefit of smaller kayaks
When paired with a broader beam, shorter kayaks can provide excellent primary stability
Depending on the choice of kayak material, small kayaks are often easier on the wallet
Light and compact design makes smaller-sized kayaks suitable for people with back injuries, as well as women, youth, and senior kayakers
They are more portable, which makes them a perfect choice for an ad-hoc paddling adventure or those who love to travel and explore new waterways along the way
But as convenient as small kayaks are – in more ways than one – keep in mind that they have some downsides, too:
Shorter hulls aren't designed for speed and efficiency
They're unsuitable for long-distance trips, as paddling requires a lot more effort
Smaller kayaks tend to have less-than-stellar tracking performance
Things To Consider When Choosing A Smaller-Sized Kayak
The search for the best small kayak comes down to finding the shortest, most lightweight one and calling it a day, right?
Wrong.
The equation isn't that simple.
I'm not saying that the kayak's length and weight shouldn't be high on your list of requirements; far from it.
But there's a pretty big difference between considering these numbers – and focusing on them to the point of overlooking everything else.
So, with that said, here's how to choose the best small kayak by looking beyond mere size and taking all relevant factors into account!
Kayak Length
If you're after a small kayak, length-wise, you'll want to stay somewhere between 8 to 10 feet – keep reading, and you'll see why.
Is An 8-Foot Kayak Too Small?
One thing that these tiny, little kayaks have going for them is exceptional maneuverability, even in tight spaces and narrow waterways full of obstacles.
Maneuverability-wise, 8-foot kayaks are in a class all by themselves.
That's one of the reasons why whitewater kayaks typically stick to this length.
What's more, 8-footers can be an excellent choice for kids, women – and smaller paddlers, in general. And with the right length-to-width ratio, they can be surprisingly stable, too.
However, 8-foot kayaks do have some limitations, as I'm sure taller kayakers already know:
They're not incredibly roomy and can be flat out uncomfortable for someone who's over 6 feet tall.
So, while the shorter hull might seem convenient from the standpoint of portability, don't forget to think about your body size – and whether an 8-foot kayak will fit you.
Is A 10-Foot Kayak Big Enough?
A few inches don't make much of a difference in the kayak's performance – but two feet most certainly do.
In that sense, you can expect 10-foot kayaks to feel a bit roomier and, more often than not, offer a slightly higher storage capacity than their 8-foot counterparts.
In fact, 10-footers are the most common kayak size – especially for recreational uses – and a great starting point for beginner paddlers. You'll find that small fishing kayaks tend to be around 10 feet long, too.
Here's why 10-foot kayaks are so popular:
They're long enough to nail that balance between stability and maneuverability in tight spaces and feel a bit roomier overall. Yet, they're still compact enough to allow for easy transportation; many will fit in the truck bed or on the roof of your car.
Whatever your reason for buying a small kayak is, 10 feet is an excellent kayak length for most paddlers – and a reasonably-priced one, too.
Beam Width
When you think "small kayaks," shorter, more lightweight hulls are probably the first thing to come to mind, right?
But have you thought about the kayak's width?
The so-called beam – the kayak's width measured at its widest point – determines how the kayak will "behave" on the water:
A wider beam, measuring 30 inches or more, will increase the kayak's overall stability, which is one of the reasons why beginners and anglers usually go with wider kayaks. However, it will often make the kayak less responsive, slower, and harder to maneuver.
The best small kayak should be between 26 to 30 inches wide.
That way, you'll get that much-needed stability without experiencing too much drag – have your cake and eat it, too.
Kayak Weight
It's fair to say small kayaks make the best lightweight kayaks. After all, lightweight construction is one reason why paddlers might opt for a small kayak. Unless you live right by the water – in which case, lucky you – the kayak's weight makes a big difference in how you'll transport it to the water's edge.
The good news is that, for the most part, small kayaks clock in at less than 50 pounds – light enough for most people to carry single-handedly.
Inflatable kayaks are known for combining a light construction with hard-to-beat compactness – but they're not your only choice. You'll see that a carefully picked hard-shell, made with a good quality hull material such as ABS plastic, can be every bit as lightweight, convenient, and portable as all folding kayaks.
However, keep in mind that a shorter hull doesn't always mean a lighter one.
Kayaks fitted with a pedal drive system and those that are extra-wide – take fishing kayaks, for example – could weigh a bit more. If you end up with a small but heavy kayak, you might want to invest in a two-wheel kayak cart.
Onboard Storage
When you start browsing my small kayak reviews, you'll notice that most kayaks I covered have one thing in common:
They don't offer a ton of onboard storage options.
That's not to say that you won't have any room for your gear; these small kayaks will, at the very least, feature open cargo areas with bungee rigging. Some might even come with dry storage hatches with waterproof lids.
My point is:
Shorter kayaks aren't generally meant for long-distance trips – and the onboard storage options they offer typically reflect that. You can't expect them to be rigged the same full-sized touring kayaks at half the size.

Weight Capacity
The higher the weight capacity, the better; this is a rule to go by whenever you're choosing a kayak.
I wouldn't say that a shorter, more lightweight hull necessarily means a subpar weight limit. But when you're shopping for the best small kayak, keep in mind that it likely won't offer the same storage options and weight capacity as its bigger cousins.
And you might not need it, anyway:
Safety gear, boating essentials, maybe a fishing rod or two, some food and water; that's all you need to get started in a small, lightweight kayak.
While I'm not saying that you should settle for less than your actual requirements, you have to keep your expectations in check, as you would with onboard storage.
So, what can you expect from small kayaks in terms of weight limits?
Well, shorter kayaks tend to be somewhere in the neighborhood of 250 to 300 pounds when it comes to how much weight they can carry. Unless you're a larger person or plan on fishing in it, that should be more than enough.
Best Small Kayaks Of 2021 Reviewed & Rated
1. Pelican Sentinel 100X
Best Lightweight Kayak For Fishing
Rating: ★★★★
Price: ★★★★★
Experienced anglers are probably used to specialized 'yaks that are among the heaviest on the market. Well, what if I told you could get a fully rigged fishing kayak that weighs as little as 44 pounds?
Pelican changed the kayak angling game with the Sentinel 100X:
It's only 9.5 foot long, has a 30-inch beam, and a multi-chine flat-bottom hull that adds to the stability – and it's as light as a feather compared to an average fishing 'yak.
Storage-wise, this sit-on-top kayak features mesh bow storage, a tank well with a removable ExoPak storage compartment, accessory eyelets, and two flush-mount rod holders.
The 275-pound limit is decent enough for a small fishing kayak – although it could've been a bit higher.
Technical Specs
RAM-X polyethylene construction
9.5 x 2.5 feet
44 pounds
275-pound capacity
Pros:
One of the lightest fishing kayaks
Multi-chine flat-bottom hull improves stability
Storage includes a removable ExoPak compartment, mesh bow storage, and accessory eyelets
Two flush-mount rod holders
Cons:
The seat is a bit hard on the lower back
The load capacity could be a bit higher, given that it's a fishing kayak
Not designed for stand-up fishing
Pelican's Sentinel 100X is anything but large and heavy, proving that yes, even fishing kayaks can meet your needs for a small, lightweight kayak.
2. Lifetime Triton Angler 100
Best Entry-Level Small Kayak For Fishing
Rating: ★★★★
Price: ★★★★
Lifetime's Triton Angler 100 takes a simplified, no-nonsense approach to kayak fishing. This boat is a bit more stripped down than my previous pick, but it's still a reliable choice if you're exploring kayak angling as a hobby.
This 10-foot sit-on-top kayak features a flat bottom, coupled with the 30.5-inch beam, which is a pretty good indicator of its stability. It clocks in at 48 pounds, so it's on the lighter side for fishing kayaks.
It comes equipped with one adjustable and two flush-mount rod holders and a rear tank well with bungee rigging to fit your gear. Although the 275-pound isn't a deal-breaker, you'll have to think twice about what you pack.
Tracking performance could be better, too – even with the integrated skeg.
The simplicity of Lifetime Kayaks, as well as their ease of upgrade, make them one of the most innovative designs on the market; you can check out best lifetime upgrades and accessories here.
Technical Specs
Polyethylene plastic construction
10 x 2.5 feet
48 pounds
275-pound capacity
Pros:
Flat bottom improves the kayak's stability
Weighs just under 50 pounds
Equipped with one adjustable and two flush-mount rod holders
Has an adjustable seatback
Cons:
Easily affected by wind and tracking could be better
The clips that hold the seat are flimsy and fall off easily
Load capacity is relatively limited
If you're interested in kayak angling as a hobby and need a simplified, entry-level kayak to get started, Lifetime's 10-foot Triton Angler 100 is worth considering.
3. Perception Zip 9.5
Best Budget-Friendly Small Kayak
Rating: ★★★★
Price: ★★★★★
Perception's Zip 9.5 is one of the more basic-looking kayaks you'll find on my list. There are no bells and whistles – at all – and it feels a bit stripped-down compared to some other options.
However, it measures only 9.5 feet in length and weighs as little as 45 pounds. If you'd like an entry-level small kayak that values simplicity over everything else, then this one's worth considering.
Now, Zip 9.5 can carry up to 250 pounds, which isn't ideal for larger paddlers. But it does have a large rear tank well with bungee rigging and a front cargo area.
And comfort?
Well, the molded-in seating area isn't what I'd have in mind for longer excursions, but you have the option to upgrade to a clip-in kayak seat.
Technical Specs
Polyethylene construction
9.5 x 2.7 feet
45 pounds
250-pound capacity
Pros:
Simplified and easy-to-use construction
Relatively lightweight for a hard-shell
Molded-in handles at the bow and stern add to the kayak's portability
Open cargo area and a rear tank well with bungee riggings
Cons:
You'll have to buy a clip-in kayak seat separately
Limited weight capacity with no dry storage options
It doesn't come with a paddle
Perception's Zip 9.5 feels a bit stripped-down and "bare," but it's an excellent entry-level kayak made for smaller individuals. If you don't want bells and whistles, this is the kayak for you.
4. Pelican Maxim 100X
Overall Best Small Kayak
Rating: ★★★★★
Price: ★★★★★
When it comes to small and lightweight kayaks, Pelican's Maxim 100X is a long-time favorite of mine – and I think it's easy to see why:
This sit-inside kayak measures 10 feet in length and – this is the most impressive part – this model weighs an ultra-light 36 pounds. If that's not the definition of what a small lightweight kayak should be, I don't know what is.
What's more, Pelican's Maxim 100X has good onboard storage options, too. It features a mesh-covered rear storage platform, a cockpit dashboard with bottle holder, and a hatch – although not a waterproof one.
One thing I'd change about this kayak is the 275-pound capacity, but then again, I'm a pretty big guy. For the average paddler, though, this is arguably the best small kayak out there.
Technical Specs
RAM-X polyethylene construction
10 x 2.3 feet
36 pounds
275-pound capacity
Pros:
Ultra-lightweight design for one-hand loading and carrying
Shallow V chine hull offers a blend of agility and stability
Onboard storage includes a hatch and a mesh-covered storage platform
An all-around performer for recreational paddling
Cons:
The front storage hatch isn't entirely waterproof
An included paddle would've been nice
The kayak's weight capacity may be a bit limited for bigger paddlers
If there's a small, sit-in lightweight kayak that offers a better blend of performance and convenience than Pelican's Maxim 100X, let me know. But as of now, this one's hard to beat!
5. Perception Flash 9.5
Best Sit-In Small Kayak For Bigger Paddlers
Rating: ★★★★
Price: ★★★★★
Another tiny, value-packed Perception kayak that deserves a spot in my round-up of best small kayaks is the Flash 9.5.
This 9.5-foot long sit-in kayak is made for recreational paddling, combining a stable and easy-to-paddle hull with a touch of fun. The dual tracking channels make it easier to stay on track – and its maneuverability stems from the short length.
It's incredibly lightweight, weighing as little as 41 pounds, but punches above its weight regarding how much it can carry, offering a 325-pound capacity.
Plus, it features a 10-inch storage hatch and an easy-access dashboard for small-item storage, and molded-in rod holders for those who might go on an occasional fishing trip.
However, the fact that the hatch opens to the hull renders the storage useless – unless you plan on "fishing" for whatever you drop inside it, that is.
Technical Specs
Polyethylene construction
9.5 x 2.4 feet
41 pounds
325-pound capacity
Pros:
Remarkably lightweight design
Above-average weight capacity for its size
Wide cockpit opening for easier entry
Equipped with molded-in rod holders
The hatch features a waterproof lid
Cons:
Not the most comfortable seat for extended trips
It's nearly impossible to adjust the footpegs on the go
The storage hatch opens up to the hull
It's among the lightest on my list, but Perception's Flash 9.5 still has the highest weight capacity out of the bunch. It's a small kayak made for big paddlers!
6. Intex Challenger K1
Best Inflatable Small Kayak
Rating: ★★★★
Price: ★★★★★
I had to include at least one inflatable kayak in this round-up because, for one, it doesn't get more lightweight than that, and two, inflatables are the definition of portable.
Oh, and they're usually pretty cheap, too.
Enter Intex' Challenger K1 – a 9-foot sit-in inflatable that's both the smallest and the lightest on my list, and kayaks on the market Seriously, it weighs a mere 27.2 pounds!
Don't expect much in terms of storage, though. The Challenger has a limited 220-pound capacity and front storage net; that's about it. Also, the cockpit tends to get a bit warm and stuffy in hot weather.
Still, given the small-and-lightweight package – and the fact that it includes a paddle, repair kit, removable skeg, and a hand pump – this is a pretty sweet deal.
Technical Specs
Vinyl construction
9 x 2.5 feet
27.2 pounds
220-pound capacity
Pros:
Ultra-lightweight, compact, and highly portable design
The removable skeg improves tracking performance
You get a paddle, hand pump, and repair kit
Affordable and beginner-friendly
Cons:
Relatively limited load capacity unsuitable for larger paddlers
Onboard storage is limited to a front on-deck net
Tends to get uncomfortably warm and stuffy
Inflatables lead the way in terms of compactness and portability. If that's why you're getting a small kayak, the Challenger K1 might be the 'yak for you.
7. Pelican Argo 100XR
Best Sit-In Small Kayak For Beginners
Rating: ★★★★
Price: ★★★★
Pelican's Argo line of recreational sit-in kayaks is known for providing beginner paddlers with a relaxing kayaking experience on calm waters. The Argo 100XR, a popular member of the Argo family, is a well-balanced, beginner-friendly kayak that further proves my point:
This 10-foot kayak weighs a mere 42 pounds, which, as I'm sure you know, is exceptionally light for a hard-shell – even a small one.
It's on the narrower side, too, boasting a 29-inch beam. However, due to the twin-arched multi-chine hull design, there's very little compromise stability-wise in calm and slow-moving waters.
It's equipped with the ERGOCOAST removable seating system and has a large, easy-to-get-in cockpit opening, coupled with a 300-pound capacity. That's enough for recreational purposes.
Keep in mind that the rear storage hatch isn't waterproof, though.
Technical Specs
RAM-X polyethylene construction
10 x 2.4 feet
42 pounds
300-pound capacity
Pros:
Twin-arched multi-chine hull design ensures stability in flat water
Exceptionally lightweight for a hard-shell
The ERGOCOAST padded seat system is comfy and easy on the back
Wide cockpit opening for easier entry
Cons:
The rear storage hatch isn't entirely waterproof
It doesn't come with a paddle
You can tell that it's not built for efficiency and speed
A hull designed for stability, lightweight construction that makes it easier to transport, and a comfortable cockpit layout – Pelican's Argo 100XR is a great starter kayak, a beginner paddler's dream-come-true.
8. Perception Crank 10
Best Small Kayak With Pedal Drive
Rating: ★★★★★
Price: ★★★★
Pedal drive systems aren't something you'll commonly see in small kayaks; Perception's Crank 10 is more of an exception than the rule.
The 10-foot hull hits the perfect length for smaller kayaks – and given the sit-on-top design and 35-inch beam, it avoids feeling cramped or unstable, too. That extra width offers rock-solid stability, enough to allow you to stand up without worrying about ending up in the water.
You're getting a 350-pound capacity and impressive storage options, too. Crank 10 comes with a large tank well, bow storage with bungee rigging, smaller side storage trays, and two molded-in Solo Mount recesses.
The pedal drive system adds to the kayak's weight, though, which clocks in at a not-so-light 87 pounds. If you're going for something lightweight, this isn't it.
Technical Specs
High-density Polyethylene construction
10 x 2.9 feet
87 pounds
350-pound capacity
Pros:
Pedal-drive system and one-handed rudder control
Adjustable and removable lawn-chair-style seat
Impressive capacity and storage for a shorter kayak
Wide beam and rock-solid stability
Cons:
It's far from lightweight at 87 pounds
The offset rear handle makes carrying and loading the kayak even harder
It doesn't include a paddle
Yes, it weighs twice as much as other small kayaks on my list – but if you'd like to retire your paddle and switch to pedal power, Perception's Crank 10 is your best bet.
Final Thoughts On Best Small Kayaks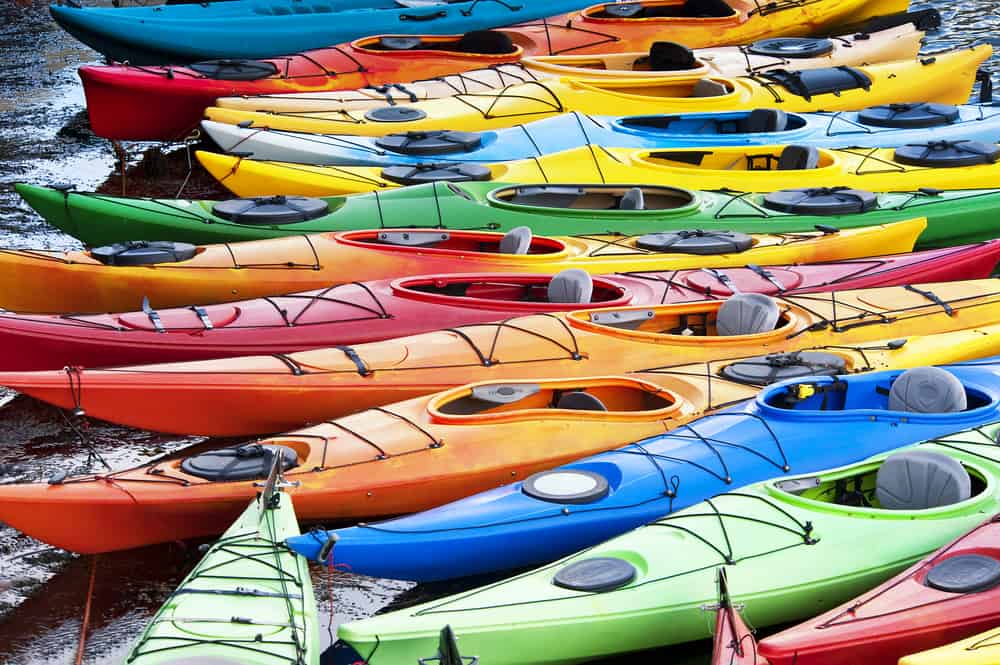 I hope this guide showed you that you still have many outstanding kayaks to choose from, both hard-shell and inflatable ones.
Whether it's because you're struggling with storage space, don't have a way to transport it, or can't deal with a full-sized kayak on your own, the best small kayak could be the answer.
And yes, this is a choice you should make on your own – but if you ask me, the Pelican Maxim 100X is pretty hard to beat:
This sit-in 10-footer weighs an ultra-lightweight 36 pounds – that's mind-blowing for a hard-shell – and meets the needs of someone who's after a smaller-sized 'yak. Plus, the shallow V chine hull blends responsiveness, maneuverability, and stability in one compact package.