Some kayak anglers enjoy the calmness of heading out on the water alone. For them, casting into a tranquil lake on a sunny day, with nothing but birds and frogs disrupting the silence, has to be one of life's greatest joys.
Others, however, may find fishing alone to be boring, and for them, having someone there can make a world of difference. Plus, it can turn out to be quite a bonding experience.
But if you're going to do it, you'll need the best tandem fishing kayak first.
But how do you pick one? What makes a good tandem fishing kayak? What should you be on the lookout for, and what should you avoid?
Well, these are the questions we're going to answer in this article.
We may receive a commission if you click a link on this page and then go on to purchase something, but at no extra cost to you. Learn more here.
At a Glace: Our Top Picks For Best Tandem Fishing Kayak
In A Rush? The Winner After 42 Hours Of Research:
Lifetime Sport Fisher – Tandem Fishing Kayak
Why is it better?
Offers a substantial 500-pound capacity for two paddlers and their gear
Compact and lightweight design for portability and storage
The 3-foot broad hull feels exceptionally stable and allows you to stand up while casting
Features a motor mount and comes with two double-sided paddles
Fitted with three fishing rod holders
Onboard storage includes a front bungee deck rigging and a 6-inch hatch
Comes with two padded and one molded-in seat It's reasonably priced for everything it offers
Best Tandem Kayak For Fishing Buying Guide: What Features Should You Consider?
Before we head into the tandem fishing kayak reviews and recommendations, let's take a quick look at some of the things you should consider when choosing one.
One thing that became apparent early on during my research – and was further confirmed by several kayak anglers I talked to – was:
When it comes to the best tandem kayak for fishing, you have to evaluate your personal wants and needs – including those of your fishing buddy, of course – before you can make the final choice.
The kayak fishing market is filled with outstanding models and endless amounts of accessories. While most differences seem subtle at a glance, they can – and will – make a significant impact on how you use your new kayak.
I encourage you to talk with whoever will accompany you on your fishing trips and discuss where and how you'll be using the kayak.
Once that's settled, you can pick the best tandem fishing kayak for you both of your needs, using the criteria listed below!
Hull Design & Dimensions
When it comes to choosing the best two person fishing kayak, one of the first – and arguably, most important – factors to consider would be the design of the hull and the kayak's overall dimensions, weight included.
First, let's talk about how you'll be using your tandem fishing kayak:
Adjusting your fishing rods and casting, leaning over, reeling in your catch, and retrieving gear – there's a lot of movement going on onboard a fishing kayak.
Now, make that a double.
You can't expect your fishing buddy to sit perfectly still as you catch the fish!
So, yes, stability is crucial for a two-person fishing kayak. It's the one thing that should never be compromised.
A broader hull, preferably with a flat bottom, is a proven way to ensure stability in a kayak. However, things aren't always that simple:
You have to look at how the design affects other factors such as speed, tracking, and maneuverability.
Broader hulls feel more stable on the water, sure – but it's the longer and narrower ones that travel faster.
Second, tandem kayaks aren't the most lightweight or compact options around.
When you add the fishing gear, accessories, and mounting hardware, don't be shocked to see the weight of a fully-rigged fishing kayak go well above the 100-pound mark.
Sure, you'll likely have a second pair of hands to help you transport it – but that doesn't mean that weight shouldn't be a concern, both in and out of water.
Is It Rigged For Fishing?
The reason why you're getting a specialized fishing kayak comes down to the included accessories and hardware that work with your fishing gear.
Otherwise, there wouldn't be much – if any – difference between fishing and "ordinary" recreational kayaks, now, would it?
So, if you want to get the best tandem fishing kayak, it must be rigged like one:
Things like multiple holders for you and your partner's fishing rods, dedicated mounting spots for a fish finder, GPS, and a trolling motor, tie-downs, storage, an anchor system, a built-in tackle box are a must in an angling kayak, tandem or not.
In short, it should be equipped with all the little extras and accessories that ensure the best possible kayak fishing experience for everyone involved.
You'd probably be able to transform any non-fishing kayak into a rigged-out fish-catching machine with aftermarket kits, but such DIY projects can be time-consuming and budget-draining. If you want to do yourself a favor, go with a specialized angling kayak.
Top tip; It might seem like a no-brainer but make sure you know where the best fishing spots are – for a helping hand check our our free interface map of fishing spots near you.
While we're on the subject of great advise, be sure to read our best kayak fishing tips.
Maximum Load Capacity: The Higher, The Better
Who, what, and how much you can bring on board the kayak – without compromising its ability to stay afloat – depends mostly on the kayak's maximum load capacity.
Now, I get that, with the tandem kayaks being as massive as they are, it's easy to forget that tandems still have certain limitations in terms of how much weight they can carry safely – but they do.
Different models will have different maximum weight capacities, but you can generally expect the best 2 person fishing kayaks to fall in the range of 400 to 600 pounds.
Be sure to take your and your partner's weight into account, everything you'll pack for the day – food, water, fishing gear, and the like – and even your potential catch; the numbers add up faster than you think.
I'd recommend that you stay at about 75 percent of the kayak's maximum capacity. You can load it to the max – theoretically speaking, that is – but not without performance-related consequences.
You'll Need Plenty Of Storage Space
Storage is always something to consider when choosing a kayak. With two grown adults, their fishing gear, food, water, spare clothes – and any other essential items you might bring on board – it becomes a make-or-break factor.
And the longer your fishing trip is, the more storage space you need.
Now, here's the good news:
Fishing kayaks in general – and especially the two-person models – typically go above and beyond in terms of onboard storage space.
However, different models offer different storage solutions.
Be sure to check whether the kayak has front or rear bungee deck rigging (preferably both), tie-downs for accessories, and mesh pockets. A dedicated space to store your catch in order to keep it fresh or away from 'gators, a well for a kayak cooler, and at least one waterproof storage compartment for your valuables would be nice.
Paddles, Pedals – Or Maybe A Motor?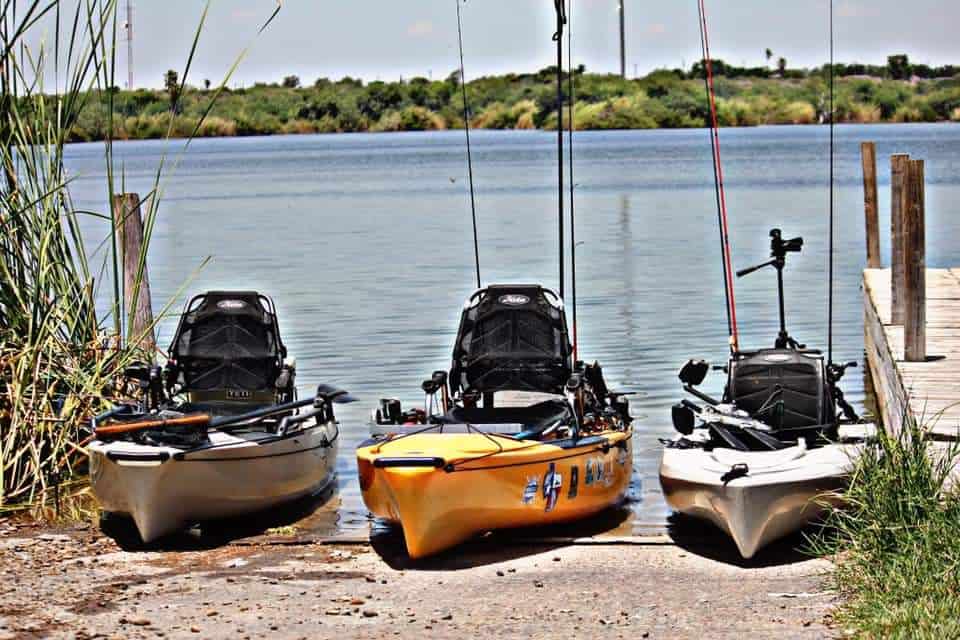 Paddles are the golden standard, but that doesn't mean that you shouldn't look into other propulsion methods when choosing the best 2 person kayak for fishing.
Pedal-driven kayaks, for example, can be an outstanding alternative. A pedal kayak free up your hands, allowing you to focus on the real reason you're there – catching fish – and they're typically less taxing on the body than paddling.
But if you want to kick the "oomph" factor to the max, look into tandem fishing kayaks with rear motor mounting systems. You can't argue with the convenience and efficiency of a motor-powered kayak – especially if you're planning a particularly long fishing trip.
You should still have a pair of well-made, reliable paddles onboard your two-person fishing kayak. Motors run out of fuel, and pedaling systems fail; a simple paddle can be a real life-saver in such a scenario.
Best 2 Person Fishing Kayak – Reviews & Recommendations
Best Budget Tandem Fishing Kayak
Sevylor Coleman Colorado 2 Person Fishing Kayak
Our first stop is the Sevylor Coleman Colorado – a two-person inflatable fishing kayak constructed out of 18-gauge PVC, complete with an 840-denier nylon cover and a 1000-denier tarpaulin bottom.
Yes, it's as puncture-resistant as it sounds. Even if a tear does occur, the multi-chamber design will still keep you afloat.
Despite being inflatable, the Coleman Colorado offers an impressive 470-pound weight limit and sufficient storage. That includes mesh pockets and D-ring tie-downs, paddle holders (although paddles aren't included), and adjustable Berkley Quick-Set rod holders.
Most importantly, the Sevylor trolling motor mounting spot transforms it into the ultimate motorized inflatable tandem kayak!
Technical Specs
Measures 10.75 x 3.25 feet
Weighs 32.9 pounds
470-pound weight capacity
Pros
Puncture-resistant, multi-chamber design
Includes pockets and D-rings for organizing equipment
Has adjustable Berkley Quick-Set rod holders
Cons
Catches wind easily
Rod mounts get in the way of paddling
The floor isn't rigid enough to stand up
If you want an affordable, easy-to-transport fishing kayak for two – with the option to go motor-powered when needed – the Sevylor Coleman Colorado might be the answer.
Best Tandem Fishing Kayak For Beginners
Intex Excursion Pro Tandem Fishing Kayak
Another inflatable 2 person fishing kayak worth considering is the Excursion Pro – one of the best by Intex.
This 12.6-foot yak has a sturdy, abrasion-resistant construction – three-ply laminate material with a polyester core – but remains relatively lightweight at 39 pounds.
It can hold 400 pounds of load, which isn't exactly remarkable, but should work for shorter fishing trips where you don't need that much gear.
Given the somewhat restricted capacity, the Excursion Pro offers reliable onboard storage options, including bow and stern storage, stainless steel D-rings, an adjustable mounting bracket for accessories, and two integrated rod holders.
Technical Specs
Measures 12.6 x 3.1 feet
Weighs 39 pounds
400-pound weight capacity
Pros
Two skegs for shallow and deep water
Bow and stern storage and D-rings
Removable mounting bracket for accessories
Very stable and rigid for an inflatable
Cons
The built-in fishing rod holders face inward
The paddles are too short and relatively flimsy
Fast winds may "push" you around a bit
The Excursion Pro is a budget-friendly, portable kayak for two – nothing more, nothing less. If you spend time outdoors – fishing or not – you'll be happy with it.
Best Inflatable Tandem Fishing Kayak
Elkton Outdoors Steelhead 150 Tandem Inflatable Fishing Kayak
How We Rated It?
Handling & Performance
8.4
Elkton Outdoors Steelhead 150 might as well be the best tandem kayak in its category.
Besides exceptional construction quality – 1000-denier, layered reinforced PVC and plastic cone tips – this vessel is oriented explicitly toward anglers.
For one, it has a super-rigid, drop-stitch floor that allows for stand-up casting – something not a lot of inflatables offer. Moreover, it features multiple hard mounting points for your fishing gear, rod holders, fish finders, and the like.
You'll find that it has ample storage, too, with a bungee cargo area and bow and stern storage compartments – and a 600-pound weight limit to back it up.
Technical Specs
Measures 12.5 x 3.3 feet
Weighs 44 pounds
600-pound capacity
Pros
The bungee cargo area, bow, and stern storage compartments
Multiple hard-mounting points for gear
Drop-stitch floor for stand-up casting
Stable, maneuverable, and tracks well
Cons
It's a rather expensive option for an inflatable kayak
Inexperienced kayakers may be confused by the initial setup
The included paddles could be better
Elkton Outdoor Steelhead 150 might be the best inflatable tandem fishing kayak out there. If you want a kayak designed for the experienced angler, this is it!
Top Tandem Fishing Kayak For Larger Paddlers
Vanhunks Voyager 2 Person Fishing Kayak
Vanhunks Voyager's rotomolded polyethylene hull, which measures 12 feet in length and weighs 77 pounds, is spacious enough to accommodate two adults and a child or two larger paddlers that need the extra room.
Either way, with the yak's 550-pound capacity and exceptional stability, this shouldn't be a problem.
It comes with two paddles, a substantial amount of onboard space – two hatch compartments, rear and front bungee deck rigging, and eight D-rings total.
And, it's fully rigged for fishing, too. I'd say four molded-in and two swivel fishing rod holders are more than enough for any angler.
Technical Specs
Measures 12 x 2.7 feet
Weighs 77 pounds
550-pound weight capacity
Pros
Family-friendly two-plus-one configuration
Two waterproof storage hatches, bungee deck storage, and tie-downs
Six rod holders, two of which are swiveling
Comfortable, breathable and multi-adjustable seat
Paddles and adjustable seats included
Cons
The kayak's weight may be a problem portability-wise
Deluxe seats block access to the cup holders
Picks up a scratches easily
Vanhunks Voyager's setup might be the answer for a kayak-loving family of three or a pair of larger anglers that would benefit from the extra space.
Runner-Up Tandem Fishing Kayak
Elkton Outdoors Tandem Fishing Kayak
How We Rated It?
Handling & Performance
8.2
If it weren't for the price, this 12-foot hard-shell kayak by Elkton Outdoors would stand head and shoulders above the crowd.
It's not about some never-before-seen features – it's about the highly specialized design:
The 650-pound capacity is enough of an indicator of how much fishing gear – and any other additional equipment – this sit on top yak can carry. You'll find two spacious storage areas in the front and rear end of the kayak, two air-tight compartments for dry storage, and a designated cooler or ice chest platform.
Plus, it comes with four built-in rod holders – two for each paddler – as well as swivel ones, two adjustable seats, and double-sided paddles.
Technical Specs
Measures 12.2 x 3 feet
Weighs 72 pounds
650 pounds weight capacity
Pros
Has built-in and swivel rod holders
Ample storage, including air-tight storage hatches
Dedicated ice box or cooler platform
Super comfortable EVA Padded High-Back Seats
Has a capacity for two adults and a child
Cons
The initial seat setup is somewhat confusing
The kayak becomes pretty hefty when it's all rigged out
The seats aren't as comfortable as expected
Every inch of this Elkton Outdoor kayak contributes to your fishing experience – can't deny that. It's the price that made it a close second, though.
Best Pedal-Powered Tandem Kayak For Fishing
Hobie Mirage Compass Duo Sit On Top Tandem Kayak
Hobie makes some top-of-the-range kayaks – I'm sure other paddlers can agree. But, Hobie's not the most affordable brand; keep that in mind as you continue reading.
The Mirage Compass Duo features a dual pedal propulsion system, kick-up fins, and a sail mount, which already set it apart as a kayak built for speed and responsiveness.
You get a decent 475-pound capacity, which complements the mesh-covered bow storage area, rear bungee tie-down area, and two 8-inch hatches. Fishing accessories are included, too – four accessory-mounting tracks, four molded-in rod holders, and a dedicated transducer mount.
However, fully rigged, this 13.5-foot sit on top beast weighs a staggering 127 pounds!
Technical Specs
Measures 13.5 x 2.9 feet
Weighs 92 pounds
475-pound weight capacity
Pros
Dual pedal systems, kick-up fins, and a sail mount
Comfortable lawn chair style seat
Four accessory tracks, molded-in rod holders, and a transducer mount
Ample storage, including two 8-inch hatches
Cons
It's the most expensive kayak on the list
The fully rigged kayak weighs 127 pounds
Weirdly enough, the kayak comes with only one paddle
The Compass Duo is designed to keep you going, whether it's by paddling, pedaling, or sailing. Look at it as a once-in-a-lifetime investment. A great all round kayak which is populate with hunters, especially those who would like to use to a kayak from which to hunt duck or waterfowl.
Best Fully-Rigged Tandem Fishing Kayak
Vibe Kayaks Yellowfin 130T – Sit On Top Tandem Fishing Kayak
The Vibe Kayaks Yellowfin 130T – a 13-foot, 80-pound sit on top kayak – is another one of my favorites.
The broad, open deck provides lots of room for two adults and a child – or two fishing buddies and their gear – and offers improved stability.
Storage-wise, it comes with two 8-inch hatches with waterproof bags, front and rear bungee tie-downs, and four tackle tray holders.
Moreover, it's fitted with four top-loading gear tracks, two flush-mount rod holders, and two universal mounts for accessories such as fish finders.
With a 500-pound capacity, there's room on the Yellowfin 130T for everything – and everyone.
Technical Specs
Measures 13 x 2.9 feet
Weighs 80 pounds
500-pound weight capacity
Pros
Two dry-storage hatches, bungee tie-downs, and more
Top-loading gear tracks, flush-mount rod holders and universal mounts
The framed 'hero' seats are extra comfortable
Additional center-seat position
Slip-resistant deck and excellent stability
Cons
The kayak isn't very fast or agile when you're paddling solo
You'll have to invest in additional fishing accessories
Cup holders are awkwardly positioned
Versatility and stability of the feature-rich Yellowfin 130T make one of the best tandem fishing kayaks we've seen – whether you're fishing with your friend, family, or solo.
Overall Best Tandem Fishing Kayak
Lifetime Sport Fish – Tandem Fishing Kayak
Lifetime's 10-foot kayak offers one of the best weight-to-build ratios I've seen in a tandem kayak.
Sure, it's short, but what it lacks length-wise, it makes up for in width. That, in turn, ensures superb stability and allows you to fish standing up without the risk of tipping.
Plus, the Lifetime kayak weighs a mere 60, but still has a 500-pound capacity and comes with enough storage space and quite a few accessories:
You'll find a rear 6-inch storage hatch, three fishing rod holders, two padded and one molded seat, cup holders, and front bungee deck rigging. Better yet, you have the option to mount a motor in the back.
Technical Specs
Measures 10 x 3 feet
Weighs 60 pounds
500-pound weight capacity
Pros
Wide and stable for stand-up fishing
Lightweight, portable hard-shell kayak
Two padded and one molded-in seat
Has rod holders and a motor mount
Cons
Compromises speed and agility for the sake of stability
No bottom cushioning on the seats
Not as good in choppy waters and strong currents
It's packed with features, super-stable, tough as nails, yet incredibly affordable – it's hard to find a reason not to recommend this Lifetime fishing tandem kayak!
Best 2 Plus Person Tandem Fishing Kayak
Ocean Kayak Malibu 2XL Angler Tandem Kayak
I'd like to end my best 2 person fishing kayak roundup with the Ocean Kayak Malibu 2XL – a wide-stance 13-foot kayak that comes with a promise of both comfort and stability.
The 500-pound weight limit lends the Malibu 2XL the capacity needed for two adults – with or without a child – and fishing gear. You can head out on the water solo, too, which is always a plus in tandems.
It also packs two Scotty rod holders, four-deck mounts, bungee rigging in front and rear, and a center storage hatch.
You can reposition the seats to face one another, which is a nice touch, especially if you bring a child onboard.
Technical Specs
Measures 13.4 x 2.8 feet
Weighs 68 pounds
500-pound weight capacity
Pros
Broad, stable, easy-to-maneuver kayak
A center hatch and bungee tie-downs
Two Scotty rod holders and four deck mounts
Can be paddled as a solo or tandem kayak
Cons
Some may consider it an expensive option
You'll have to buy the paddles separately
Tends to move and gain speed slowly when paddling solo
If you got your little one into fishing and you want an easy-to-maneuver, family-friendly kayak – the Ocean Kayak Malibu 2XL might be the answer.
Final Verdict – Best Tandem Fishing Kayaks
Some two person fishing kayaks are nothing more than a standard sit-on-top recreational kayak with a couple of flush-mount rod holders added to it – enough to pass as a fishing kayak, but not quite enough to meet a real angler's needs.
Other fully rigged options tend to cost an arm and a leg.
Then, there's the Lifetime 10 Foot Tandem Fishing Kayak – a two-person kayak that offers an outstanding bang for your buck.
And although this was, by no means, a clear-cut choice, I consider it the best tandem fishing kayak.
It's relatively lightweight and portable – for a hard-shell, anyway – but still offers a substantial enough load capacity, storage options, and accessories to provide a comfortable fishing experience.
Given the price point that we're talking about here, it doesn't get much better than that!