Stand-up paddleboarding sounds like the ideal summertime activity, doesn't it? But here's what you might not realize:
You can actually take your SUP to the water any day of the year – you're not limited to the warm summer months.
You do have to know what to wear paddle boarding to do so comfortably and safely, though – and that's kind of the point of this guide:
I'll walk you through some essential tips for paddleboarders, share general safety and clothing recommendations, and talk about how to dress for paddleboarding in the summer and winter.
Deal? Deal!
Let's get to it!
We may receive a commission if you click a link on this page and then go on to purchase something, but at no extra cost to you. Learn more here.
General Clothing Recommending & Tips For Paddle Boarders
Let's start with some "common sense" type of advice. You are (probably) aware of most of these things already – but it doesn't hurt to go over the basics, just to be on the safe side.
So, with that said, here are some general guidelines on how to choose SUP clothing and be prepared for anything whenever you hit the water.
#1 Choose The Right Materials
Rule number one of dressing for any on-the-water activities:
Avoid cotton at all costs because – well, cotton kills.
I know that last bit sounds like an exaggeration, but cotton can soak up insane amounts of water – and fast – takes much longer to dry, and provides virtually no insulation when wet, meaning you will be forced to spend the day cold, wet, and miserable.
And since cotton attracts water, sucking it right up, it tends to become incredibly heavy, which, in turn, makes it harder to swim – and is uncomfortable, in general.
Instead, you generally want materials that are:
Quick-drying and won't retain moisture for long
Breathable enough to allow air – and moisture – to "move" through the fabric
Waterproof, as in, capable of preventing water from penetrating the material altogether
Windproof, as in, capable of preventing air (or, more specifically, wind) from penetrating the fabric
Insulating enough to provide sufficient warmth by trapping a layer of air between you and your clothes
Moisture-wicking, or capable of moving any moisture (including sweat) away from your body
#2 Check The Weather Forecast
It's generally vital to know what kind of weather to expect when you're heading out on the water; you don't want to get caught in the rain, stormy weather, and high winds.
There's one more reason why you should check the weather forecast, though:
Knowing what to pack and how to dress for the weather.
If the forecast predicts warm, sunny weather, there's no need to wear a thicker, full-body wetsuit; that would be unnecessary and uncomfortable. But if the weather forecast seems "iffy," you want to be prepared for whatever Mother Nature throws at you.
#3 Pack Spare Clothes
I hate to break it to you, but you'll get wet. I mean, I'm sure you don't mind; you wouldn't be into paddling sports otherwise, would you?
But that's not the point.
The point is:
You should remember to pack spare clothes – and, preferably, a towel – in a dry bag. Bring it with you – or just leave it in the car. Either way, you'll appreciate having a change of clothes when it is time to head home.
#4 Dress For Immersion
Yes, being physically active will technically keep you warm enough on your SUP – but that is the best-case scenario, one where you manage to stay dry the entire time.
What if you fall in the water, though?
Trust me; it happens to the best of us – and there is virtually no way you'll manage to remain dry and out of the water for the entirety of your outing.
And if (or, rather, when) you end up in the water, it'll cause your body's temperature to drop a lot faster than you realize, putting you at serious risk of cold shock and hypothermia.
That's why the general rule for all on-the-water activities is to dress for immersion.
#5 Dress For The Situation
If you're going whitewater paddle boarding, you'll need a few extra items that you wouldn't need for a casual outing on a nearby lake. Or let's assume that you'll stay on the water past sundown; in that case, you must be prepared for the temperature drop and low-light conditions.
Can you tell where I'm going with this?
You want to prepare and pack based on the environment you will be in and the kind of stand-up paddleboarding you plan on doing.
#6 It's All About The Layers
Layers are your friends – that applies to paddle boarding as much as it does for any other kind of outdoor activity.
Why is everyone so insistent on dressing in layers?
Layering up makes it a lot easier to "adjust" how you are dressed based on the sudden – and, at times, unplanned – weather changes.
If, for instance, the temperature spikes all of a sudden and a cloudy day turns into a sunny one, you can shed a layer (or two) to be more comfortable. The same goes for the weather taking an unexpected turn for the worse; you can throw another layer to stay warm.
And you can't do that if you only have one layer, can you?
#7 Make Sure Your SUP Clothing Fits Right
Okay, I'm probably stating the obvious, but it doesn't hurt to mention that, besides choosing the right type of paddle board clothing, you also have to ensure that they fit you.
Comfort and complete freedom of movement are imperative when you're on the water.
So, everything from your SUP shoes to your PFD should be of suitable size; nothing should ever feel tight or restricting – not even the more form-fitting items.
You always have to have your full range of motion – especially since you'll be swinging a paddle around – and remain comfortable and, hopefully, chafe-free for the entirety of your outing.
Must-Wear Paddling Boarding Safety Equipment
Paddleboarding is generally safe – but that's the thing about any kind of on-the-water activity:
When things go wrong while on the water, they can go very wrong – and fast.
So, a safety-conscious attitude is a must, as well as the right SUP gear and accessories. On that note, the single most crucial thing you'll wear when paddle boarding is your safety and protective gear, including your PFD, helmet, and SUP leash, among other things. 
Here's an overview of each:
PFD – Coming in first as the single most crucial piece of safety gear for any kind of water activity will be a life jacket. Both Canadian and US water authorities consider paddle boards to be a 'vessel', therefore all boarders must wear a USCG approved life jacket. .It's not about your swimming abilities; even if you are a pretty decent swimmer, you still need a PFD. The O'Neill Reactor USCG Life Vest is a fantastic choice.
Helmet – If there's any possibility of you hitting your head – and there usually is since you never know if there's a huge rock hiding just beneath the surface – you'll need something to protect your "thinking equipment." So, don't forget your helmet.
SUP Leash – A SUP leash is basically there to ensure that you don't get separated from your board by accident. That can happen in a split second, especially in choppy waters or strong currents – but it can easily be prevented by simply wearing a SUP leash. Santa Barbara's Surfing SBS SUP Leash is an affordable option worth considering.
Quick-Release Waist Leash – If you plan on going whitewater paddle boarding, wearing a quick-release waist belt will be mandatory. It serves a relatively similar purpose as your "regular" SUP leash – but it attaches to your belt using a quick-release mechanism. That way, if the leash gets caught in something and you can't break free, you can simply pull it open. So, be sure to add the NSI Whitewater Quick-Release SUP Leash to your list.
What To Wear Paddle Boarding In Summer And Warm Weather
It's a wonderful summer afternoon. The weather's nice; the sun is shining – and the temperature has reached its peak. You can't wait to grab your SUP and hit the water. And you're probably not too concerned about your outfit choice, either.
Shorts and a T-shirt, or maybe a swimsuit, should be more than enough.
Could it be that simple?
Unfortunately, it's not.
The tricky thing about stand-up paddle boarding in the warmer weather is that you can't choose your clothes based on air temperature alone. Water temperature should be a factor for paddlers year-round.
Why, though? Do you get wet paddle boarding?
You absolutely do!
Beyond that, you have to think about sun exposure. It's not like you'll have access to any shade while you're on the water. So, you have to choose something that will protect you from UV rays but prevent you from overheating – which is a tough balance to find.
With that said, here's what to wear when paddle boarding in summer: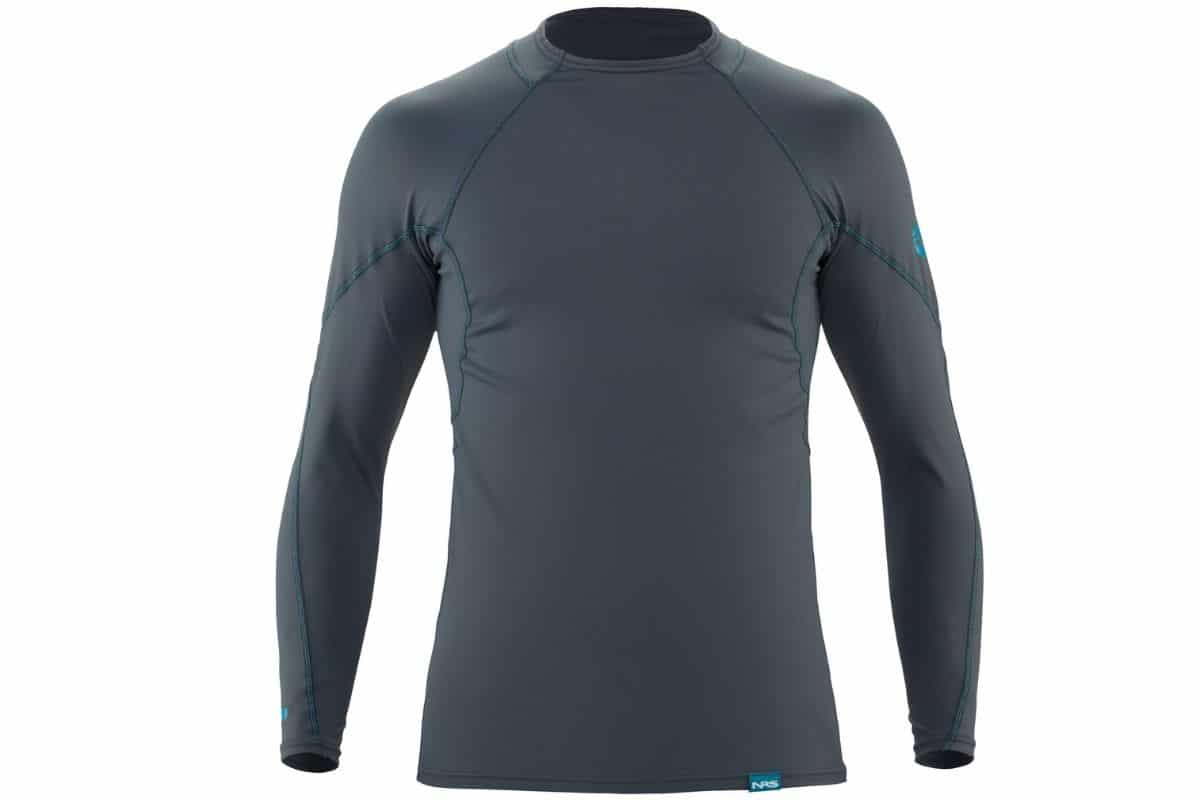 Long-Sleeve Rash Guard – A rash guard – a fitted, long-sleeve top made of breathable, synthetic material, like Spandex or polyester, for example – is essentially your first line of defense, proving an extra layer, protecting you from rashes and chafing, as well as from UV rays. NRS H2Core Rashguard is a fantastic form-fitting choice, with friction-free zones in all the right places.
Board Shorts – Do you know what pairs nicely with a long-sleeve rash guard? A pair of loose-fitting board shorts. They're typically longer to provide more coverage and made of a quick-drying material. If you don't already have a pair, I recommend Hurley's One and Only board shorts; they'll serve you just as well on your SUP as they will while you relax at the beach.
Bikini (Swimsuit) – Nothing says "I'm ready for summer!" like putting on your swimsuit, does it? Even if you end up adding more layers on top, you should generally start with a bathing suit – be it a one-piece swimsuit or just your favorite bikini.
Sun Hat – You can go with a regular baseball cap, a bucket hat, or even a stylish sun hat if you'd like; the choice is yours. What's important is that you wear one because a hat will protect your face and the top of the head from the sun's rays. A wide-brimmed hat with a neck flap, like this one, is perfect for the job.
Water Shoes – Can you paddle board barefoot? Well, technically, you could – although I don't necessarily recommend bare feet. I guess it depends. If the terrain is rough, though, or you need some extra grip on the SUP, a pair of water shoes will be a must.
Sunglasses – The sun glare on the water is insane – and much harder on the eyes than on land. Wearing sunglasses in these high-glare conditions isn't optional – or a matter of style; it's a must. Otherwise, you're risking a painful condition known as photokeratitis. If you don't already have a favorite pair, I recommend Cressi's Ninja with polarized lenses.
Light Wetsuit – Wearing a lightweight wetsuit – even a summer-friendly, shorty wetsuit – will make your time on the water a lot more comfortable. As I said, you are bound to get wet – and a wetsuit will help keep your core temperature in check. I recommend this one for men – and this one for the ladies – but be sure to check out my full round-up for more picks.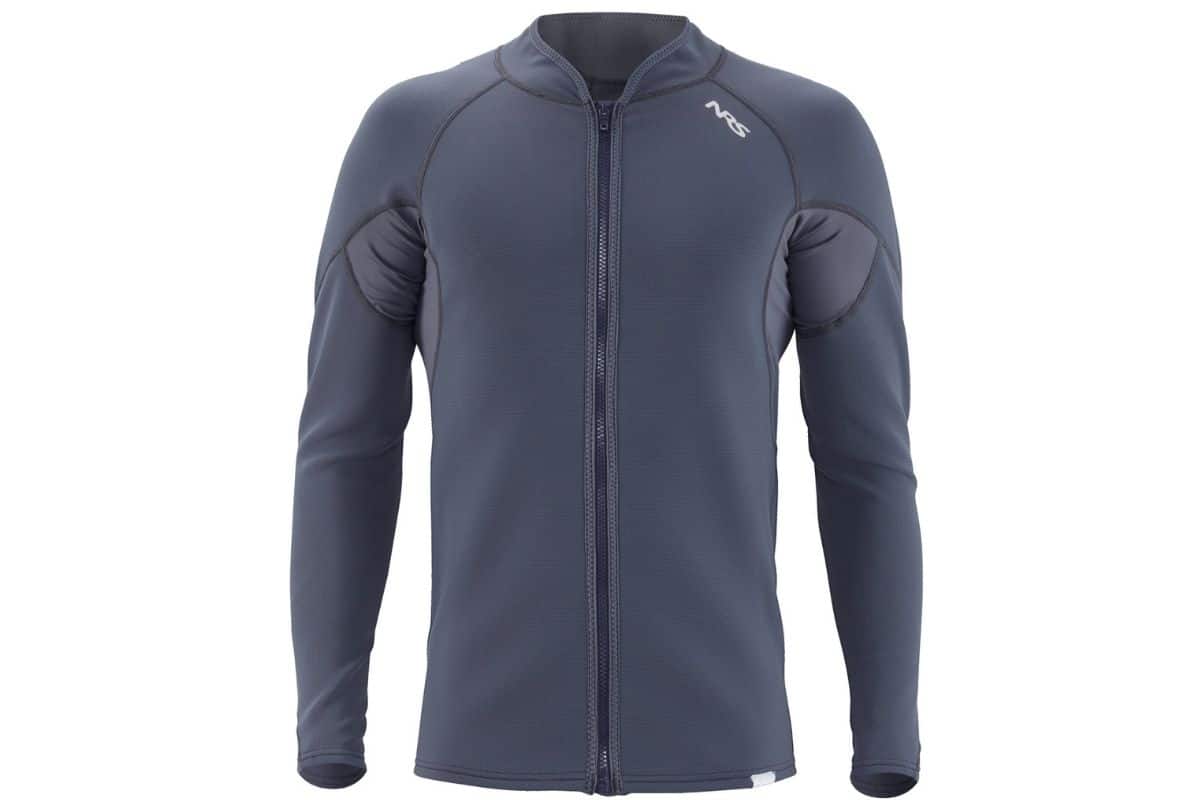 Paddle Jacket – I know I'm supposed to be talking about what to wear stand up paddle boarding in the summer, but you never know when the weather might take a turn for the worst. Temperature drops aren't reserved only for winter. The NRS Hydroskin 0.5 is the perfect light-weight waterproof jacket for staying warm while paddling in the summer – and it's available in both men's and women's versions.
Sun Protection – Don't forget about sunscreen. While you have other means of covering up and protecting yourself from the UV rays, throw a broad-spectrum sunscreen into this mix and re-apply it during the day. Banana Boat's Sport Ultra Spray has an SPF rating of 100, and it's resistant to water and sweat, making it an excellent choice for paddlers.
What To Wear Paddle Boarding In Winter: Cold Weather & Water
I get that paddle boarding generally seems like something you would only do during the summer months, but the truth is, you can take your SUP to the water any day of the year.
The trick is in knowing how to dress for the occasion, and by "occasion," I mean the frigid waters and near-freezing temperatures.
Obviously, your summer attire won't cut it when the temperatures drop. A wetsuit – or, depending on the conditions, a dry suit – becomes necessary in these cold conditions.
That begs the question:
What to wear stand up paddle boarding? Do you have to wear a wetsuit paddle boarding?
Well, that depends. If the temperatures go down to 60 degrees Fahrenheit, then yes, a wetsuit – and a thicker one, at that – will be necessary. And the lower the temperatures go, the thicker the neoprene you should go with here.
Of course, as convenient as wetsuits are, they have their limitations.
And in water temperatures below 45 degrees Fahrenheit, wearing a drysuit is the only real way to stay safe and warm. On that note, the Kokatat Hydrus 3L Meridian drysuit is a firm favorite in the paddling community – but you'll find more great options here.
Here are a few other things to add to the list when choosing what to wear paddle boarding in winter:
Thermal Base Layers – Layers are your friend – which becomes even more apparent if you hit the water in the winter months. A proper choice of base thermal layers makes all the difference in that scenario. Guys, you can go with long underwear and a long-sleeve shirt. Now, the ladies may be wondering, "Can I wear leggings paddle boarding?" Well, if my wife's experience is anything to go by – and it is – a pair of leggings and an insulating, quick-drying long-sleeve shirt make for a warm and comfy base layer combo. They also
Wet Weather Gear – The best way to stay warm is to – well, stay dry. And while that's not always possible, a good choice of wet weather gear – including a waterproof jacket and a pair of so-called rain pants – will keep you warm (and dry) if you end up getting caught in heavy rain or windy weather.
Hood – You actually lose a significant portion of body heat through your head. So, it'll be crucial to keep it covered while paddling in colder weather. Adding a full-coverage hat, or a wetsuit hood, to your winter-ready paddle boarding outfit would be a smart choice.
Gloves – You want to protect your hands; just trust me on this one. Blisters and calluses are no fun – and neither is feeling like your fingers are slowly turning into icicles. A good pair of gloves provides a better grip on your paddle, too – and that's always a plus. If you don't already own a pair of gloves, I would suggest the NRS Hydroskin; they'll keep your hands toasty – while allowing you to grip the paddle properly.
Wetsuit Booties – I addressed that whole "Should I wear shoes paddle boarding?" thing earlier, so you know how I feel about that. That said, during the winter, shoes are no longer optional; they are another crucial way of adding insulation. Neoprene booties – like these – are the perfect choice for harsher environments and cold weather. I'm sure your feet will appreciate the added warmth in such conditions.
Additional SUP Clothing For Paddle Boarding At Night
Going paddle boarding at night sounds like a terrific idea. You get to paddle across calm waters, enjoy the serenity of being alone, and just be in the moment.
Sounds ideal, doesn't it?
But you should be aware that the low-light conditions and poor visibility pose some unique – and serious – risks that you can't afford to overlook.
One, it's easier to get lost. Two, you're just a person on a SUP; most other boats in the area will have a hard time seeing you – which, in itself, can be dangerous. And three, should you run into trouble, a rescue mission will be much trickier to execute at night.
So, if you decide to go paddleboarding at night, you'll have to add a few more items to your gear checklist:
Reflective Clothing – You don't have to go out dressed in a head-to-toe neon suit – but a few reflective stripes here and there wouldn't hurt, that's for sure.
Head Light – You want to see where you're going. While a moonlit evening on the water sounds wonderful in theory, you're going to need a bit more help in that department. And since you have to free up your hands to paddle, a waterproof headlamp will be your best bet.
Safety Whistle – A whistle doesn't seem that important and often gets overlooked until you find yourself in a situation where you need one. You can use it to signal to others – be it other boaters or a rescue team – that you're there.
Distress Light – Recreational boats are required by law to carry visual distress signals – like an electric SOS distress light. And while we could waste time arguing whether SUPs fall into this category or not, I'd prefer it if you just took my advice and carried some form of visual distress signals with you.
Personal Locator Beacon – Emergency scenarios can happen regardless of the time of day – but it's even more crucial to have an emergency beacon on you at night. Hook it to your PFD; you won't even know it's there. But if things go south, it will transmit a distress signal and help the authorities locate you.
I know it seems like you're adding a lot of additional stuff here, but your board can handle it. Just throw everything in a dry bag – and secure it somewhere on your SUP.
You never know when you might end up staying out on the water past sundown.
What To Wear For SUP Yoga
If you're going to be doing SUP yoga, it's important to wear clothing that won't restrict your movement. You want to be able to move freely and not have to worry about your clothes getting in the way. So, what should you wear for SUP yoga? Here are a few suggestions:
Yoga Pants – Although you could wear board shorts, a good pair of yoga pants will be comfortable and allow you to move freely, making it easier to perform the various yoga poses. I recommend Dragon Fit's High Waist Yoga pants; they're lightweight and breathable, making them perfect for a workout on the water.
Yoga Top – A yoga top should be comfortable and offer a good range of motion. You don't want something that's too loose or too tight fitting. I like Under Armour's Racer Tank; it offers good support without being constricting.
What To Wear SUP Fishing
SUP fishing is a great way to spend a day on the water. If you're going to do some SUP fishing, you'll need clothing that will keep you cool, comfortable, and UV-protected.
Here are a few additional items you might want to add to your paddle board clothing list:
Fishing Vest – A fishing vest will come in handy while fishing from your SUP. It will provide you with storage for your gear, as well as protection from the sun and wind. I recommend this one from FROGG TOGGS.
Fishing Hat – A hat will help protect your head and face from the sun's rays. I recommend a wide-brimmed hat with a neck flap, like this boonie from KastKing, to keep you well-protected – you'll also find few more great fishing hat options here
Fishing Shirt – A fishing shirt should be light and breathable, to help keep you cool in the summer heat. I like this one from HUK, because it's UPF 50 and has durable poly-knit construction for extra ventilation.
Bug Repellent – Mosquitoes can be a nuisance while fishing, so be sure to pack some bug repellent. I like this DEET-free spray from Ranger-Ready.
Summary: Paddle Boarding Clothing For All Weather Conditions
If you're having a hard time deciding what to wear paddleboarding, here's a quick checklist to get you started:
Must-wear safety equipment, including a personal flotation device (PFD), a helmet, and a SUP leash or, alternatively, a quick-release waist leash
For stand-up paddle boarding in the summer, consider wearing a long-sleeve rash guard and board shorts, a swimsuit – or a lightweight, shorter wetsuit – paired with water shoes and adequate sun protection (including a sun hat and sunglasses)
For stand-up paddle boarding in the winter or cold water, a wetsuit or a dry suit (depending on the air and water temperature) will be a must; complete your outfit with the appropriate thermal base layers, and top it off with a hat, gloves, winter jacket, and a pair of neoprene booties
Additional SUP gear, including an emergency beacon, a whistle, a headlamp, any kind of visual distress signals, and clothes with reflective stripes