Kayaking is all about exploring nature – hidden bays, islands, coastlines, and other remote spots with limited water access – like very few other watercraft can.
It's easy to go too far when you venture out in the unknown like that. Before you know it, you may lose track of where you are – or how to turn to where you've started.
Getting lost out on the water is no joke, though – and all my fellow paddlers should invest in the best kayak GPS.
I have a few of the best GPS system recommendations listed below!
We may receive a commission if you click a link on this page and then go on to purchase something, but at no extra cost to you. Learn more here.
In A Rush? The Winner After 40 Hours Of Research:
Our Rating: 5/5 Stars
★★★★★
Why is it better?
It utilizes a standard GPS satellite system but also relies on GLONASS for added accuracy
The quad-helix antenna ensures a reliable connectionIt comes preloaded with TOPO US 100K maps
An explainable internal memory, via micro SD card slot, for downloading additional mapping
It has a rugged construction with an IPX7 waterproof rating
The device features a dual battery system, compatible with disposable AA batteries or a rechargeable NiMH
Do Kayakers Need A Dedicated GPS Device?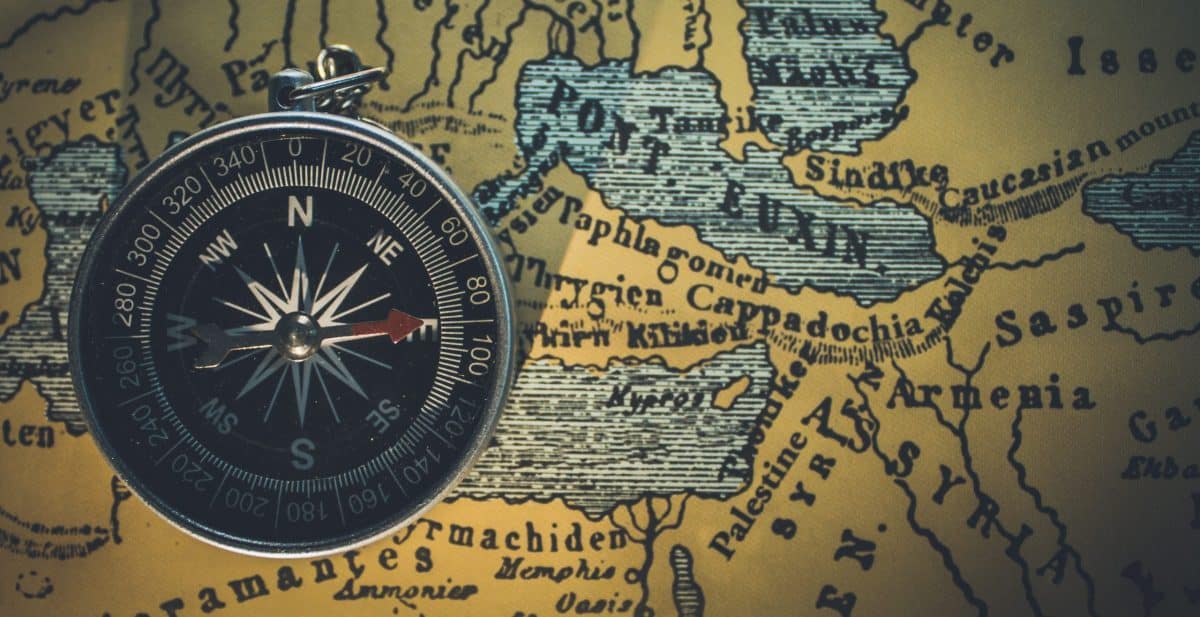 Why would you waste money on the best kayaking GPS when you already have a smartphone with built-in GPS, right?
Wrong.
Smartphones are undeniably useful in day-to-day life. Half the time, I wouldn't reach my travel destination, let alone find the right address without my phone's built-in GPS.
Navigating unknown waters and finding your way back to the shore is a whole different story, though.
Getting away from civilization – as one does on a kayaking trip – often means no Wi-Fi or cellular network access. That's where smartphones become useless – and where the top kayak GPS devices enter the spotlight.
Dedicated Kayak GPS units utilize a satellite-based system, meaning that they don't require any additional network connections.
Instead, the Global Positioning System – or GPS for short – continuously receives satellite information, allowing you to:
Pinpoint your exact location at any moment using coordinates
Guide you to and from a specific location, such as returning to laid crab traps
Track your route and memorize your favorite spots as waypoints
Show the direction that you're heading and how fast you're traveling
I'd like to bust another common misconception while I'm at it:
A GPS unit isn't the same as a fish finder, and you can't use the two interchangeably.
The former relies on satellites to transmit information and map the land, while the latter is designed to outline the underwater landscape and detect fish using sonar technology.
As handy as a kayak fish finder can be for anglers, it doesn't do much for navigational purposes – and you can't expect your GPS device to find fish, either.
Top Tip – always pack a kayak compass and physical map as a back up.
Kayak GPS Device Buying Guide: How To Pick a GPS for Kayaking
Wearable, Handheld, Or Console Kayak GPS Unit: Which Style Do You Prefer?
Let's start your search for the best GPS for kayaking with the basics, like the device's preferred style.
It's a seemingly simple choice that comes down to three options, which are wearable, handheld, or mountable. However, it affects other aspects of the GPS unit's design and performance, including size, weight, portability, and even functionality.
Here's an overview of the three basic styles:
Wearable, wristwatch-style GPS devices take up virtually no space onboard, you always know where they are, and there's less chance of dropping them by accident. You have to make peace with the limited features and display size, though.
Handheld GPS devices are the go-to choice of most paddlers because they're lightweight, portable, and can fit in the pocket or a dry storage bag. They typically have a larger display and more advanced features than their wearable counterparts, too.
Console-mounted GPS devices – although highly advanced and feature-rich – aren't commonly found on kayaks. They're bulky and usually powered by an external source. You may find the ones with integrated fish-finding functionality on fishing kayaks, though. Such as the Humminbird Helix 5
Check The Water Resistance Rating
Many GPS units aren't explicitly designed for watersports, so you must check the IP, or Ingress Protection, rating when shopping for the best GPS for kayaking.
I'd generally recommend completely waterproof GPS units that can be submerged without suffering permanent damage, especially if you kayak in choppy waters. For instance, a higher IP rating, such as IPX7, offers reliable protection against water damage, even in case of immersion.
If the GPS offers only basic water-resistance levels, look into waterproof cases – or, at the very least, store it in a dry bag.
It might only get a little splash from the paddle or full-blown capsize. Either way, if you're taking the GPS on a kayaking trip, the chances are that it will get wet.
And when it does – note that I didn't say "if" – you'll be glad that it's resistant to water.
Accuracy And Coverage As Two Key Performance-Related Factors
Standard US-based GPS technology utilizes a total of 31 satellites for tracking your location. However, some GPS devices are paired with GLONASS – a Russian-based system – adding 24 more satellites into the mix for improved speed and precision.
While a GPS-only device should be more than enough for most paddlers, the best GPS for kayaking should be compatible with the US and Russia's leading satellite navigation systems. That way, you can count on a reliable signal and highly accurate navigation in a wider variety of places.
WAAS, or Wide Area Augmentation System, is another feature used by Kayak GPS units to further improve accuracy and reliability. The US Federal Aviation Administration developed the technology to address any minor errors in GPS readings, especially in adverse conditions.
The HotFix is another welcome feature for kayak GPS devices. By collecting data and allowing your unit to predict satellites' position, it can speed up GPS loading times significantly – a must have feature if you want the best GPS.
Detailed Mapping Is Essential
Navigation, tracking, and mapping are pretty much why you're getting a kayak GPS in the first place, right? It makes sense to check the default maps that the device comes with and those that you can download additionally.
Most GPS devices will come with preloaded maps – although the detailing and type of chart can vary from one GPS receiver to the next.
Some may only feature a default map of the US and surrounding waters. But the best GPS systems on the market will come with a pre-installed map of the world. Either way, you should have the option to download additional maps or upgrade the existing ones.
Marine cartography and maps with coast guard locations can be particularly useful for kayakers, along with detailed topographical information, fishing contours, tidal graphs, current arrows, and the like.
Display Size And Readability For A Better User Experience
The display is where you turn to for information. You don't want to strain your eyes every time you do, let alone miss something important because it's not visible.
So, you can't pick a kayak GPS device without factoring in display size and readability. Things to look for here are pretty much the same as with any other electronic device:
You want the screen on your GPS unit to be reasonably sized, easy to read in various lighting conditions, and, if possible, high-resolution.
The tricky part is that you'll probably have to make some compromises. Small screens are harder to read, yet large ones can be hard to carry.
Also, you can't expect handheld or watch-style kayak GPS units to compete with a mountable one in terms of screen size. However, the display can measure anywhere from 2 to 5 inches diagonally, corner to corner.
Battery Life: The Longer, The Better
When you're taking your kayak on the water, the last thing you should worry about is if your GPS' battery will hold. A dead GPS unit won't be of any use when you're in the middle of nowhere.
So, battery life is something to consider.
At the very least, you should get 16 to 18 hours out of the battery – enough for a day on the water. Battery-saving mode is a welcome feature too, even if it limits the GPS unit's functionality to a degree.
Also, check what type of battery the device uses:
Lithium-ion batteries tend to be long-lasting, but pretty much useless when you don't have access to electricity and no way to recharge them.
I advocate against disposable batteries because of their environmental impact, but if your kayaking trips last more than a day, they may be more convenient. You can always bring a couple of spare batteries and swap them out when needed.
Best Kayak GPS Device Reviews & Recommendations: Top 7 Picks For 2020
Award: Overall Best Kayak GPS
Rating: 5/5 Stars
Price: 5/5 Stars
The handheld GPSMAP 64st is small, lightweight, and looks a bit like a walkie talkie – but it still offers hard-to-beat functionality.
It's compatible with GPS and GLONASS systems and fitted with a quad-helix antenna for excellent accuracy and reception, even in remote areas. Moreover, it's preloaded with a world base map, TOPO US 100K maps, and one-year BirdsEye Satellite Imagery subscription.
The 2.6-inch screen, although small, is easy to read, even in broad daylight conditions. It's not touch-sensitive, but that shouldn't be a deal-breaker.
Also, I love the dual battery system. It's powered by AA batteries or an optional rechargeable NiMH battery for maximum convenience.
Technical Specs
Handheld design
GLONASS-compatible GPS receiver
IPX7 waterproof rating
2.6-inch color display
16-hour dual battery system
Pros:
Compatible with GPS and GLONASS systems
Preloaded with TOPO US 100K maps, 250K Worldwide Geocaches and BirdsEye Satellite imagery subscription
A daylight-friendly display for direct or bright sunlight
Uses a dual battery system; NiMH battery pack or 2 AA batteries
Cons:
The 2.6-inch screen is rather small and isn't touch-sensitive
The interface isn't particularly modern-looking, intuitive, or user-friendly
Downloading additional maps is a bit burdensome
The Garmin GPSMAP 64st packs everything a kayaker could need to explore the waters. Plan your next paddling trip without worrying about finding your way.
Award: Best Kayak GPS For Anglers
Rating: 5/5 Stars
Price: 4/5 Stars
Expect the Magellan Marine Bundle to cost you quite a bit; it's as high-end as they come.
The eXplorist 510 is a handheld, waterproof GPS, fitted with a 3-inch touch screen and two programmable hard buttons. Your hands can get pretty dirty when you're kayak fishing; it's nice to have an alternative to touching the screen.
It features a 3.2MP camera, microphone, and speaker for making geo-tagged content on-the-go. Plus, it's loaded with a massive collection of topographic maps, featuring 12000 lakes in the US.
Two AA batteries are included, but keep spare ones on hand. This thing eats through batteries in under 15 hours.
Technical Specs
Handheld design
WAAS-enabled GPS receiver
IPX7 waterproof rating
3-inch touch-sensitive display
15-hour battery life
Pros:
HIgh end build quality and features
Equipped with a touch-sensitive 3-inch display
Easy to view high resolution screen
Has two programmable buttons
Features a camera, microphone, and a speaker
Preloaded topographic maps of 12000 US lakes
Cons:
It's the most expensive on the list
Eats through batteries despite claiming to provide 15-hour battery life
The screen visibility drops in direct sunlight
Magellan is one of the GPS industry's leading names. Although expensive, the eXplorist 510 still shines as one of the best kayak GPS devices for anglers.
Award: Best Sea And Ocean Kayak GP
Rating: 4.5/5 Stars
Price: 4.5/5 Stars
Garmin steps up to the plate again, this time with the GPSMAP 78sc – a handheld GPS unit designed specifically for watersports use:
It not only has an IPX7 water-resistance rating but floats in water, too!
Although it's not GLONASS-compatible, it utilizes WAAS-enabled GPS technology with HotFix prediction for quick and precise navigation. BlueChart g2 coastal charts and worldwide base maps come pre-installed, but you can load additional maps on a micro SD card.
I would've liked a slightly bigger display, but the 2.6-inch screen displays depth contours, harbors, marinas, and shorelines well. Plus, the 78sc has more-than-impressive 20-hour battery life.
Technical Specs
Handheld design
WAAS-enabled GPS receiver
IPX7 waterproof rating
2.6-inch color display
20-hour battery life
Pros:
Marine environment suitable; waterproof IPX7 rating and floating design
WAAS-enabled GPS receiver with HotFix technology
Preloaded coastal charts and worldwide base maps, can store additional maps
20-hour battery life
Cons:
The 2.6-inch screen is relatively small and is not touch-sensitive
It's not GLONASS-enabled
The interface feels a bit outdated and hard to navigate
If you're predominantly a sea or ocean kayaker, the Garmin's GPSMAP 78sc floatable, waterproof – and most importantly, highly accurate – handheld GPS is what you need.
Award: Best Budget Kayak GPS
Rating: 4/5 Stars
Price: 5/5 Stars
Garmin's eTrex 10 is one of, if not the best budget-friendly kayak GPS on the market. There, I said it.
For a basic, cheap GPS unit, the eTrex 10 delivers exceptional accuracy. You won't find that many GPS receivers at this price point are WAAS-enabled, include GLONASS support, and employ HotFix technology. However, it only contains a worldwide base map as default.
It has a 25-hour battery life and an IPX7 water resistance rating, which is pretty impressive for a kayak GPS that's this cheap.
The only tell-tale sign of its pocket-friendly price is the 2.2-inch display. Not only is it low-resolution but monochrome, as well.
Technical Specs
Handheld design
WAAS-enabled, GLONASS-compatible GPS receiver
IPX7 waterproof rating
Built-in 3 axis compass and barometric altimeter
2.2-inch monochrome display
25-hour battery life
Pros:
Cheap but packed with features
Tough, water-resistant build
WAAS-enabled and GLONASS-compatible
High power rechargeable battery; excellent performance with 25-hour battery life
Straightforward use and daylight readability
Cons:
It comes fitted with a low-resolution, monochrome, 2.2-inch display
It's not possible to download any additional maps to it because of limited internal storage
Don't let the simplicity and price of the Garmin eTrex 10 fool you. It's as waterproof, easy to use, and accurate as the rest of them!
Award: Best Mid-Range Kayak GPS
Rating: 4.5/5 Stars
Price: 4.5/5 Stars
Garmin's eTrex 30x shares the same ease of use as the eTrex 10 and is pretty easy on the wallet. However, it's noticeably faster and more accurate – and comes with an upgraded screen.
It's still tiny at 2.2 inches, but it's a color display readable in direct sunlight.
As for accuracy, the eTrex 30x employs GPS combined with theGLONASS system, is WAAS-enabled for high sensitivity, and uses HotFix satellite prediction for faster readings.
A worldwide base map is preloaded. You won't get actual nautical charts, but the expandable internal memory makes up for it.
Plus, you can get up to 25 hours out of a single Li-ion battery!
Technical Specs
Handheld design
WAAS-enabled, GLONASS-compatible GPS receiver
IPX7 waterproof rating
2.2-inch 65K color display
25-hour battery life
Pros:
It's GPS- and GLONASS-compatible with WAAS and HotFix enabled for high sensitivity and accurate tracking
Built-in 3 axis tilt compensated compass and barometric altimeter
The high power battery lasts more than a day
Expandable internal memory with micro SD card slot
Cons:
The preloaded worldwide base map is very basic-looking and lacks any detail
A non-intuitive user interface
The screen, although readable, is still quite small
If you won't settle for a monochrome screen, eTrex 30x is worth considering. It holds an edge over the previous Garmin model in more than one way.
Award: Best Wearable Kayak GPS
Rating: 4/5 Stars
Price: 4.5/5 Stars
None of my previous kayak GPS top picks could be considered "bulky." You won't know the true meaning of "portable" until you've tried a wristwatch-style device, like the Garmin Foretrex 401, though.
The IPX7 rating indicates that it's waterproof – an essential feature for kayakers. Two AAA batteries power the device, and in GPS mode, you can get up to 17 hours out of it.
The Foretrex 401's loaded with a base map, with no option to store the additional mapping. Another potential downside is the 1.6-inch black-and-white screen, which feels a bit rudimentary.
However, for a wearable kayak GPS device, it still displays vital info regarding your location.
Technical Specs
Wearable 'Watch' design
GPS receiver
IPX7 waterproof rating
1.6-inch black-and-white display
17-hour battery life
Pros:
Lightweight, wearable design
Water resistant with an IPX7 rating
Provides navigation, compass, and barometric readings
It has a 17-hour battery life when in GPS mode
Cons:
The screen size measures a mere 1.6 inches, but is typical for a wearable watch style device
The black-and-white screen is rather rudimentary
Features a base map only with no option to add mapping
If you like to keep things light and kayak with minimal equipment, this little wristwatch-style Foretrex 401 GPS by Garmin is the way to go.
Award: Best Console-Mounted Kayak GPS
Rating: 4.5/5 Stars
Price: 4.5/5 Stars
Simrad Cruise 5 is the only console-mounting model on my list. Moreover, it works as a chart plotter and sonar combo, acting as a GPS navigation device with a built-in CHIRP sonar transducer for depth-tracking.
It's preloaded with a worldwide base map and US coastal charts, although I picked up some inaccuracies, presumably due to lack of updates. If you need more details, you should get additional mapping cards.
Since it's a mounted console-style kayak GPS device, it's bulkier than my previous picks. The large, 5-inch display, complete with a rotary dial and button controls, is a definite improvement.
Technical Specs
Console-mounting design
GPS receiver with CHIRP sonar
IPX7 waterproof rating
5-inch display
External power source
Pros:
A Console-style GPS with CHIRP sonar transducer
Tough water resistant design
Worldwide base map and US coastal charts preloaded
A 5-inch screen with button and rotary dial controls
Cons:
Detailed information requires purchasing additional mapping cards
It's heavier and bulkier than the previous picks
Needs an external battery
Not exactly a budget option
If you'd like to combine a GPS device's navigational benefits with a CHIRP sonar transducer, the Simrad Cruise is the best choice for you.
Final Thoughts On The Best Kayak GPS
Sure, as I said at the very beginning, kayaks are an invitation to explore. It doesn't matter how experienced the paddler or how well they think they know the waters:
The best kayak GPS is a smart investment safety-wise.
Any of the GPS systems you saw today will meet your basic needs in terms of navigation. So, choose one depending on what matters most to you: price, screen size, battery life, or advanced mapping features.
I'd suggest that you go with Garmin GPSMAP 64st.
It's GPS- and GLONASS-compatible offers a broad range of useful navigation features, a dual battery system, and expandable storage for downloading whatever additional mapping you need. Plus, it's waterproof.
What more could a paddler need?