Some might scoff at the mention of kayak outriggers and stabilizers – especially those who consider themselves too experienced to use the kayaking version of training wheels.
Me?
Well, I believe there's no such thing as being too experienced to appreciate the stability and buoyancy boost that comes with using the best kayak stabilizers and outriggers.
There are many reasons to use outriggers, but it all boils down to one thing – safety. And you can never have too much of it when you're on the water.
Read on for a rundown on this stability-boosting kayak upgrade and the top kayak stabilizer reviews!
We may receive a commission if you click a link on this page and then go on to purchase something, but at no extra cost to you. Learn more here.
In A Rush? The Winner After 38 Hours Of Research:
Our Rating: 5/5 Stars
★★★★★
Why is it better?
Uses inflatable pontoons made from heavy-duty PVC and includes four repair patches
Metal components, including the crossbar and hardware, are corrosion-resistant and suitable for saltwater use
Exceptionally lightweight and portable, with the whole kit weighing a total of 5 pounds
Easily adjustable float height for optimized stability with three different levels – low, medium, and high – using a simple twist-and-click mechanism
The kayak pontoons feature one-way valves and don't require a pump for inflation
Kayak Stabilizers 101: What's The Deal With Kayak Outriggers, Anyway?
The primary reasons to use stabilizers or outriggers – floats that sit parallel to your kayak's hull – are improving kayak stability and kicking buoyancy up a notch.
In most cases, you should be able to do just fine without them. I mean, if kayaks were so unstable without outriggers, floats would've been a standard part of paddling equipment – but they're not.
Instead, kayak outriggers and stabilizer floats are optional accessories for those who want to stay on the safe side – and could come in useful in the following scenarios:
Increasing buoyancy if you're a heavier paddler or carry a lot of additional weight 
Adding stability for stand-up fishing, duck hunting, or photography 
Using them as "training wheels" if you're a beginner struggling with finding your balance
Improving the kayak's stability when you're paddling with kids or pets 
Providing counterbalance to the force created by the wind when you're kayak sailing 
There is one downside to fitting your kayak with outriggers, though:
You're essentially adding "extra hulls" to your 'yak here, which is bound to impact your kayaking experience by slowing you down – and there's not much you can do to change that.
Laws of physics and hydrodynamics aren't particularly kind to kayak outriggers.
Choosing the Best Kayak Outriggers and Stabilizers: Things To Look For & Features To Consider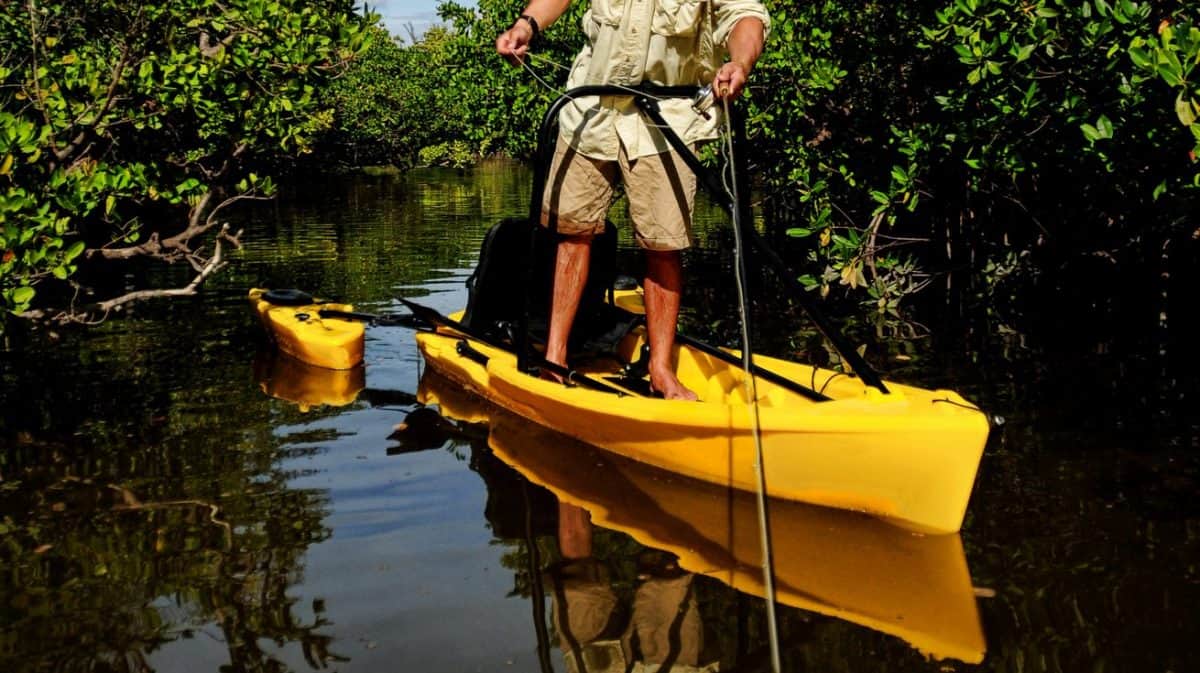 Picking the best kayak outriggers and stabilizers can be quite daunting – if you don't know which features are essential for ensuring the right fit, that is. And getting the wrong set of kayak outriggers won't do much for your vessel's stability or buoyancy of your kayak, rendering them useless.
So, I figured I should go over a few things with you before getting to the outriggers and stabilizers reviews.
Varying Degrees Of Buoyancy
The whole point of using a kayak stabilizer system is increasing your vessel's on-the-water stability and buoyancy, right? It wouldn't make much sense to overlook these things when choosing the best outriggers and stabilizer floats. It could even be flat-out counterproductive.
That said, depending on the stabilizers' size, you can expect different buoyancy levels – and ultimately, stability – added to your vessel.
Kayak outriggers tend to measure between 30 and 36 inches in length, but shorter and longer options aren't that uncommon, either. That's why buoyancy levels tend to vary from one outrigger stabilizer to another.
Based on the size of your kayak, larger floats make for a larger surface area, which, in turn, adds more buoyancy and more side-to-side stability.
Inflatable Or Solid PVC Outrigger Floats?
As with any piece of kayaking equipment, construction materials matter; your gear's performance and longevity depend on it.
Stainless steel for the hardware, corrosion-resistant aluminum for the crossbars, and PVC for the floats – that's pretty much the golden standard construction-wise.
But with floats, things run deeper than that, as you generally have two options:
Inflatable Outriggers – Inflatable pontoons combine an air-filled bladder that adds buoyancy with a tough exterior shell that adds puncture-resistance. They're hard to beat in terms of portability and lightweight construction – they might not last as long – but they are easy to transport
Solid Outriggers – Solid floats boast a buoyant but rigid – often molded – PVC construction, which lends them some much-needed durability and ruggedness. The downside is that they're generally heavier and harder to transport and store.
Both have their strengths and weaknesses – and ultimately, it's up to you.
Easy Installation & Compatibility
Some kayak outriggers are made to work with specific kayaks, while others have a universally-fitting design. Either way, you want to make sure that the stabilizer system you're getting fits your vessel and can be installed without too much hassle.
If you're not – how should I put this – the most DIY-inclined person mounting outriggers and stabilizers to your kayak could end up being more than you bargained for here. You might even have to pay extra to have it installed by an expert.
Easy-to-install stabilizer systems – one that lines up with your kayak's pre-existing holes and doesn't require drilling or other permanent modifications – is generally your best bet.
If you have the experience, though, you could probably try the kayak outrigger DIY by making one yourself:
Also, consider the placement of your kayak stabilizer system. You should install it closer to the stern and leave enough clearance so that it doesn't interfere with your fishing line or paddling strokes.
Additional Accessories You'll Need
Okay, yes – the phrase "additional accessories" may be a bit misleading in this case. These are, for the most part, essential pieces of a kayak stabilizer system.
Think about it: The floats alone won't be of much use to you if they don't come as a full assembly system, mounting hardware and connecting outrigger arms.
Some brands include the installation hardware and everything you need to set up the kayak outrigger, but others, for whatever reason, do not. That's why the final consideration should be whether you're getting an "all-inclusive" kayak stabilizer kit.
If not, you'll have to get these accessories – namely arms, nuts, and bolts – separately, which not only adds to the cost but makes the entire process a drag, too.
7 Best Kayak Outriggers And Stabilizer Systems Reviewed & Rated
Award: Best Cheap Kayak Outriggers and Stabilizers
Rating: 4.5/5 Stars
Price: 5/5 Stars
The first one up is Pactrade Marine's kayak outriggers and stabilizer system. It strikes the price-to-value balance, doing everything more premium systems do – but at a significantly lower price.
It includes two rigid PVC floats, 31.5-inch aluminum crossbars, high-impact fiber-reinforced polypropylene deck mounts, and stainless steel mounting hardware. Plus, the whole system weighs as little as 5 pounds.
The large lock nuts allow for some adjustments – and I like the idea of quick-release locks, too. However, they may fail from time to time, possibly due to the drag created by the floats – which, by the way, can be overwhelming.
Technical Specs
Rigid PVC floats
31.5-inch aluminum crossbars
5 pounds
Pros:
The system weighs only 5 pounds
Easy installation with quick-release button locks for detaching
Includes stainless steel hardware
Suitable for most kayaks and canoes
Cons:
Adds a lot of drag during active paddling
Locking mechanisms might fail occasionally
The mounts don't seem as sturdy as the rest of it
If you want a simple, lightweight, easy to install – and reasonably priced – kayak outrigger system, then the Pactrade Marine is the cheap kayak outrigger deal you should consider.
Award: Best Inflatable Kayak Outrigger Stabilizer
Rating: 5/5 Stars
Price: 4.5/5 Stars
Another popular kayak outriggers system – especially for anglers – is the Scotty #302. The Scotty #302 kayak stabilizer system kit includes two inflatable pontoons constructed out of puncture- and tear-resistant two-layer PVC and 28-inch anodized aluminum arms. You also get locking side deck mounts and – get this – two fishing rod holders.
Stability boost with a touch of functionality thrown into the mix; if that doesn't make it the perfect fishing kayak upgrade, I don't know what will.
Also, the Scotty #302 kayak outrigger stabilizers weigh a total of 10 pounds but still adds around 30 pounds of extra buoyancy to your 'yak. Unfortunately, it might make it more susceptible to currents and drag.
Technical Specs
Inflatable PVC floats
28-inch anodized aluminum crossbars
10 pounds
Pros:
Thick outer PVC shell for puncture-resistance
Lightweight and portable kayak outriggers and stabilizers weigh only 10 pounds
Adds 30 pounds of buoyancy
Includes two rod holders
Cons:
It's a little pricey
Possible increase in drag and susceptibility to currents
Doesn't include a pump for the floats
Hard to make finer adjustments
Scotty #302 kayak stabilizer system makes it possible to add stability, buoyancy, and functionality to your 'yak – all in one lightweight but rugged kayak outrigger package.
Award: Overall Best Kayak Outriggers and Stabilizers
Rating: 5/5 Stars
Price: 5/5 Stars
Every paddler knows that the name "Hobie" stands for quality – and the Hobie Sidekick Ama kayak stabilizer and outriggers system is no exception:
The Hobie sidekick kit's construction quality is top-notch throughout, featuring heavy-duty inflatable PVC pontoons, corrosion-resistant aluminum arms, and mounting hardware.
Ease of use and adjustability are nothing short of impressive, as well. Support bars allow height adjustments at three different levels with a simple twist-and-click motion. Moreover, one-way valves make for super-easy inflation with no pump required.
Also, as the Hobie Sidekick Ama weighs just a total of 5 pounds, it's one of the more lightweight kayak stabilizer kits, which only adds to the convenience. And sure, it's pricey – but all things considered, it's a worthwhile investment.
Technical Specs
Inflatable PVC floats
31.8-inch aluminum crossbars
5 pounds
Pros:
Exceptionally lightweight
Twist-and-click adjustable float height with three positions
Easy to inflate and deflate – No pump required for inflating the pontoons
Corrosion-resistant components suitable for saltwater use
Includes repair patches
Cons:
Relatively pricey, as most Hobie accessories are
May require drilling and modifications on non-Hobie kayaks
Not be the best choice for fishing kayaks
There's more than one reason to invest in this high-quality kayak stabilizer system – and if you're a sucker for inflatable outriggers, you'll love the Hobie Sidekick Ama kit. WIthout out question one the best outriggers on the market today
Award: Best Affordable Kayak Outrigger
Rating: 4/5 Stars
Price: 5/5 Stars
My previous picks were nothing short of outstanding – but they weren't exactly affordable. Does that mean that you can't get a good set of stabilizers for your kayak if on a limited budget?
Not at all: Meter Star's inflatable kayak stabilizers are one of the more budget-friendly options – even though you still have to purchase connecting arms and hardware separately.
The 35.4-inch floats are made of PVC – similar to inflatable kayaks – which keeps things portable and lightweight. They weigh a mere 2.6 pounds, making them easy to transport. Moreover, the floats will fit any 1.3-inch-diameter rod; besides that one requirement, they're universally-fitting.
Oh, and you get four circular repair patches, so puncture-resistance shouldn't be a concern.
Technical Specs
Inflatable PVC floats
Crossbar not included
2.6 pounds
Pros:
Lightweight and portable easy-to-inflate design
inflatable design
Twist-and-click adjustable float height
Includes four circular repair patches for inflatable floats
Universal fit for any 1.3-inch-diameter rods
Budget-friendly option
Cons:
Connecting arms, mounting hardware, and tools are sold separately
The floats don't seem particularly puncture-resistant
No instructions on how to use the repair patches
If you're on a budget – and you prefer the lightweight and portable design of inflatable stabilizers, anyway – METER STAR's blow-up floats could be the way to go.
Award: Best Universal-Fit Kayak Outriggers
Rating: 5/5 Stars
Price: 4/5 Stars
Now that you've checked out the budget-friendly range, it's time to dive into the premium end of the market. Allow me to introduce you to USA-made Spring Creek Manufacturing's stabilizers. This universal-fit kayak outriggers set is impressive all around:
The polyethylene floats feature a hydrodynamic design that minimizes drag while boosting stability and adding 27 pounds of buoyancy. Plus, they come in three colors. The universal telescoping arms – available in four different sizes – extend about 20 inches on either side for maximum adjustability, too.
The system adds about 18 pounds to your vessel, though. Keep that in mind if your kayak's capacity is limited.
Technical Specs
Rigid polyethylene floats
30, 36, 40, or 45-inch aluminum crossbars
18 pounds
Pros:
Universal-fitting stabilizers with an extendible crossbar
High quality hydrodynamic float design minimizes drag
Can be adjusted with locking cam lever arms
Each float adds 27-pound buoyancy
Cons:
It's a somewhat expensive stabilizer system
The kit is hefty and weighs 17.5 to 18 pounds
You have to get kayak-compatible mounting hardware separately
If you're not afraid of paying more for a top-notch kayak stabilizer system, Spring Creek Manufacturing's universal-fit hydrodynamic floats are certainly an option worth considering!
Award: Best Kayak Outriggers Stabilizers
Rating: 4.5/5 Stars
Price: 4.5/5 Stars
Brocraft Kayak Outriggers couldn't be further from an affordable kayak outrigger kit.. These brightly-colored floats will probably burn a hole in your wallet. There's a reason why the Brocraft Kayak still a relatively popular choice, though – construction quality:
The set includes molded PVC floats – brightly-colored for on-the-water visibility – and 32-inch long outrigger arms made from marine-grade aluminum. Add the stainless steel Brocraft mounting hardware, and you have one tough-as-nails kayak outrigger system.
Moreover, with Brocraft's aluminum adapters, adjusting the floats' height shouldn't be an issue, either. If you go with the deck-mount version, though, you'll have to drill four holes for each Scotty-style mounting base.
Technical Specs
Rigid molded PVC floats
32-inch aluminum crossbars
9.4 pounds
Pros:
High-quality, durable, corrosion-resistant construction
Vibrant yellow-colored ensure on-the-water visibility
Aluminum adapters adjust the height of the floats
Easy to install – simple to attach and detach when needed
Cons:
Not the most affordable option
Awkward pontoon shape may create additional drag
Hard to adjust when out on the water
Installation requires some drilling
Brocraft Kayak Outriggers are a solid – pun intended – option for those who prefer the durability and toughness of molded floats, even if it comes at a price.
Award: Best Kayak Outrigger Arms
Rating: 4.5/5 Stars
Price: 4/5 Stars
I'll wrap things up with a pair of Lixada sidekick arms for those of you who ended up getting stabilizers without the rods to connect them to the kayak.
The 39.8 inches long sidekick arms have a 1.3-inch diameter and are constructed out of aluminum alloy, which adds durability while keeping things relatively lightweight. The two-piece, easy-to-connect rods also feature locking ferrules on each end for improved security.
Stainless steel mounting hardware is included, although the parts needed to attach the kayak floats are missing. Also, given that some complete kits cost as much as Lixada's pair of sidekick arms alone, this could be considered pricey – for what it is, anyway.
Technical Specs
Floats not included
39.8-inch aluminum alloy crossbars
2.5 pounds
Pros:
Sturdy but lightweight construction
Features secure locking ferrule at the ends of the crossbars
Two-piece, easy-to-connect design
Includes stainless steel hardware for mounting
Cons:
Specific parts needed to attach the kayak floats aren't included
A simple assembly diagram would be nice
Relatively pricey for what you're getting
If you already have floats and don't need the whole kayak stabilizer system, Lixada's sidekick arms could be the right – although comparatively pricey – option for you.
Best Kayak Outriggers and Stabilizers – Which to Buy and Why?
That would be it for my round-up of the best kayak stabilizers and outriggers found on the market. I hope that, out of the seven options mentioned above, you managed to find one that suits your stability-boosting needs.
But if not, I'd like to finish things off with one final recommendation – the Hobie Sidekick Ama Kayak Stabilizer Kit. Again, it's not the most budget-friendly option, but it adds an outstanding amount of value, nonetheless.
The PVC pontoons inflate and deflate quickly, you can adjust their height based on water conditions, and you're getting corrosion-resistant components to boot. Plus, everything's kept as lightweight as possible – with little to no compromises in construction quality or durability.
It's hard to deny the value this Hobie kit brings to the table – a definiane kayaking experience enhancer.